Faking your live location can be a game-changer in many instances, like playing a location-based game such as Pokémon GO from your room without moving or using a fake live location on WhatsApp to protect your privacy.
But how do you fake live location on your device? In this guide, you will learn:
Can live location be faked?
Look at the different ways you can fake your live location
Let's jump right in!
Can Live Location Be Faked?
Yes, it is possible to fake your live location on any location-based apps such as Pokémon GO or WhatsApp. Using GPS spoofing apps is one of the most well-liked and efficient ways to achieve this. You can alter the location that your device's GPS reports by using GPS spoofing apps.
By doing this, you can give the impression that you are somewhere else than where you actually are by using these apps.
It's critical to remember that the apps that depend on location data can detect GPS spoofing apps when using them. Therefore, it's recommended to use a trusted app that is regarded as reliable, efficient, and secure. Next, we will introduce several reliable tools to help you fake live location.
Fake Live Location Using iOS GPS Changer
MockGo is an iOS location-spoofing app created especially for iOS gadgets. Users can use it to change GPS or fake live movement for their devices on WhatsApp and other apps in just clicks.
Here are its best features:
Teleport your GPS location to anywhere you want
Fake live location as you set
Import GPX files to simulate custom movement
Control your movement using a joystick
Works with many location-based apps like Pokemon GO, Snapchat, WhatsApp, etc
Compatible with the latest iOS versions
Step-by-Step Guide
The steps to use MockGo for your iOS device are as follows:
Step 1. Download and install Foneazy's MockGo and launch it on your Windows or Mac PC.
Step 2. Connect your iOS device to the computer and click Start.
Step 3. After clicking start, your current location will show on the screen. On the upper-right corner of the screen, click the One-Stop Mode icon, type in your destination, and click Go to search for the location.
Step 4. MockGo will load a route on the map, click Move Here to proceed.
Step 5. Choose between walking back and forth between the two positions (A->B->A) with predetermined timings or repeating the same path (A—>B, A->B) in the new popup box. Click Start to start the moving.
Now you can open the Map app on your device to verify the GPS movement!
It's also important to keep in mind that using GPS spoofing applications might be against WhatsApp and other apps' terms of service that depend on location data. Before choosing to use one of these apps, it is crucial to weigh the risks and possible repercussions.
Fake Live Location Using Android Location Faking App
The first option you have is to use location-faking apps from Google Play. It's easier to spoof location on Android since there are fewer measures in place to avoid it. This is also why location spoofing apps on Google Play are a dime a dozen.
Here's what a good spoofing app needs:
It should accurately show your new location up to 20 meters
Allows you to spoof your location to anywhere in the world
Let's you navigate through the map easily
Works well with other GPS-enabled apps like Pokémon GO
One such app that you can use is Fake GPS Location on Google Play. It helps you spoof your location on different apps like WhatsApp and Pokémon GO and does not require any sort of payment.
Step-by-Step Guide
Start by opening the Play Store on your device. Search for "Fake GPS Location" and download and install the app.
Open your device's Settings.
Look for "Developer Options" and turn them on. If you can't find this directly, go to "About Phone" and tap "Build number" seven times to unlock Developer Options.
While you're in Settings, go to "Developer Options."
Toggle on "Allow mock locations."
In the same menu, find "Select mock location app" and set it to your GPS Joystick app.
Go back to the main Settings menu.
Find and tap on "Location."
Change the Location mode to "GPS only."
Open the Fake GPS app and set your desired fake location.
You can spoof to any location on your Android device in ten simple steps. What's more to need when you have all these easily available features?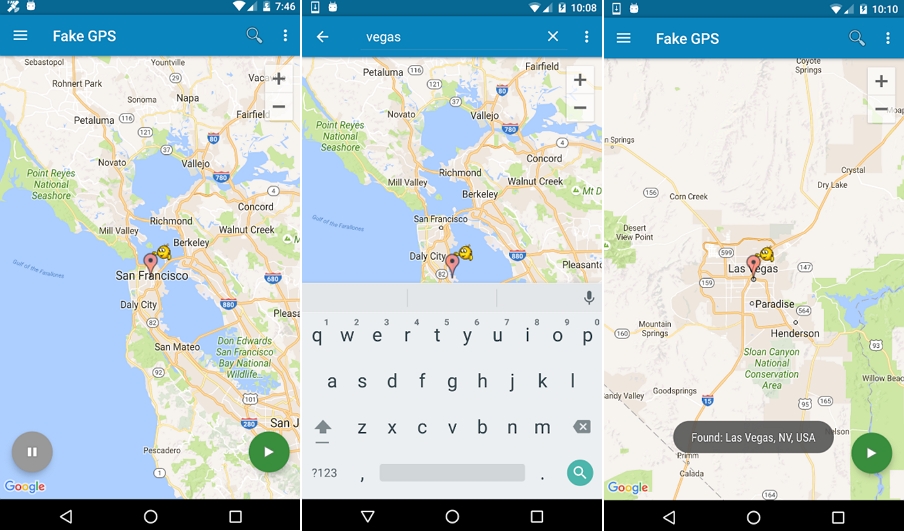 FAQs
Can you fake live location on Life360?
Life360 is one of the most commonly used apps when it comes to tracking friends, family members, and significant others. However, in some cases, you might want to be discreet about where you go and who you meet.
That's why you would need to spoof your live location on Life360, and fortunately, you can also use the above methods to fake live location for Life360.
Can you fake live location on Pokémon GO?
Pokémon GO is a fun game where you win cool stuff by visiting different places. You must explore outside your neighborhood to find Pokemon and have battles to do well. But don't worry if you can't go to all these places in real life; the above GPS spoofers can also help you fake live location on Pokémon GO.
But remember, be careful! If Niantic figures out you're faking your location, they might ban you from playing. So, enjoy the game, but don't go crazy with GPS spoofing!
However, when you spoof in Pokémon GO, you need to stick to cooldown timings to make sure Niantic doesn't take any action against your account.
Can you fake live location on WhatsApp?
The well-known instant messaging app WhatsApp has become a crucial component of our daily communication. It is one of the most popular messaging apps for both personal and professional use, with over 2 billion active users worldwide.
Instant messaging is convenient, but there is a chance that it will compromise our right to privacy. Faking your live location on WhatsApp can also be easily accomplished using the above methods.
Using a fake live location on WhatsApp can be helpful in a number of circumstances. For instance, if you want to keep your location secret while conducting business or if you want to protect your privacy from nosy friends or family members. Whatever your motivation, hiding your real-time location on WhatsApp can help you stay safe and private.
To Conclude
When it comes to faking your live location, there are multiple ways to get the job done, depending on what type of device you have. The safest way is to use a location spoofing app for your phone.
Just make sure it doesn't require you to jailbreak or root your device since that can be harmful in the long run. With the right location spoofing tool such as MockGo, you can use any app with a new location, whether it be Life360 or Pokémon GO! So, what are you waiting for?