With the recent rise of games like Pokemon GO, various apps that use the same augmented reality (AR) formula have also sprung up. One of those AR technology-based games is Pikmin Bloom.
Pikmin Bloom is a relaxing game that incentivizes you to walk outside. You can command your Pikmin to pick up certain items you find, giving you in-game rewards in exchange.
However, since Pikmin Bloom is an AR-based game, you must have your location data on as you explore outside. But that concept has left some wondering if there's a way to spoof Pikmin Bloom GPS.
If you don't have time to go out but still want to experience the game in full glory, continue reading the article to discover how to spoof Pikmin Bloom GPS.
What Is Pikmin Bloom Spoof
As briefly discussed earlier, Pikmin Bloom is an app that utilizes GPS data to pinpoint your location.
Coupled with the app's augmented reality technology, you can integrate the game's characters called Pikmin into reality through your phone.
However, those who cannot leave their home for some reason will find playing this game virtually impossible since it requires you to be on the move constantly.
Pikmin Bloom Spoof bypasses this problem by allowing you to teleport to specific locations and control where you want your character to go.
With a helpful map and joystick fully accessible on the user interface, operating your in-game character is a breeze.
Furthermore, the app uses the same layout, so there's no more guesswork involved regarding where you are or where you need to go.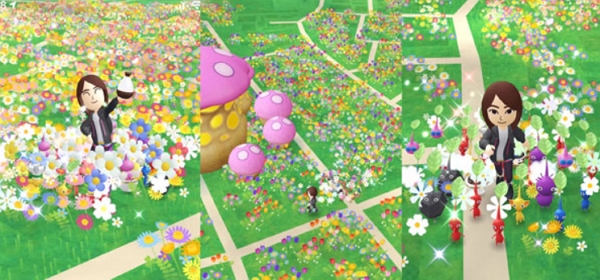 Can You Still Spoof GPS on Pikmin Bloom in 2023?
Without the help of third-party software that spoofs the GPS of the game, it's possible to fake the GPS within Pikmin Bloom.
The game is also made by the developers of the highly-touted Pokemon GO, so you can ensure their expertise, especially regarding GPS.
However, if and when you decide to use third-party software for your spoofing needs, you also have too many options to the point that it can get overwhelming.
Different programs have different capabilities, so finding the best one among the sea of similar apps can be tricky.
The best thing you can do in this situation is to look for reviews online to find the best one. A little research can go a long way too.
We will introduce a reliable iOS GPS changer in next part to help you spoof GPS for Pikmin Bloom.
How To Spoof Pikmin Bloom on iPhone (iOS 17 Supported)
Spoofing Pikmin Bloom on iPhones is easy once you've found the perfect spoofing program.
When dealing with this issue, the real challenge is researching what each program offers.
Nothing is more heartbreaking than getting one program and discovering that it doesn't have the features you're looking for.
Another issue is the compatibility with your device's operating system (OS) or phone version.
The best app recommended to spoof Pikmin Bloom for iPhone is MockGo. The program's features include the following:
Change the location for location-based apps without having to jailbreak the device.
Simulate GPS movement.
Use Joystick feature to set auto or manual movement.
MockGo for Mac is now compatible with the latest iOS 17, while the Windows version is on its way to supporting iOS 17. Stay tuned!
Here's how to fake location in Pikmin Bloom using MockGo:
Step 1: Download and install MockGo onto your computer. Run it and then click "Start" in the main window.
Step 2: Connect the iPhone to the computer using USB cables. When prompted, enter the device's passcode to allow the program to detect the device.
Step 3: A map will appear on the screen. Click on "Teleport Mode" at the top left corner. Enter the location you want to use in the search bar or choose a spot on the map.
Step 4: Click "Move Here" to confirm the selected location and the GPS on your device will change to this new location.
Now you can open Pikmin Bloom to confirm that the location has changed.
How To Get a Joystick on Pikmin Bloom
MockGo also has a joystick feature, which allows you to boast natural movement through its joystick function.
Here are the steps on how to get a joystick on Pikmin Bloom through this program:
Step 1. Choose the Joystick feature to enable joystick overlay and input.
Step 2. Choose from different speed options that emulate walking, running, or cycling speed.
Step 3. For automatic movement, click the Start button in the center of the joystick control panel.
FAQs
Is it safe to spoof in Pikmin Bloom?
Any form of spoofing is considered hacking by the game developers and is punishable by banning, so using these programs sparingly is generally the best approach to not being caught.
The best time to use this program is when you find yourself in situations where you cannot go out. However, if you're free, play it how it was meant to be played.
Will you be banned by spoofing Pikmin Bloom?
The short answer to this question is yes. In connection with the previous question, game developers consider spoofing as hacking, so the repercussions are punishable by the same sanctions as hacking.
Pikmin Bloom's warning system has three stages: warning, suspension, and termination. The best course to avoid the complete termination of your account is to play the game how it's meant to be played when you get a warning.
While there is no foolproof way to avoid being banned once they spot your account, the best thing to do is be cautious when using spoofing programs for Pikmin Bloom.
What is the best Pikmin Bloom iOS spoofer?
With so many location spoofer programs for iOS that you can use for Pikmin Bloom, the MockGo stands head and shoulders above the competition.
Aside from features like the joystick and location spoofing, this program boasts a low chance of detection from the game's developers.
Summary
AR-based games like Pokemon GO and Pikmin Bloom certainly had a specific demographic in mind when they were created.
Those who wanted to play the game but didn't have the time or means to do so were left out.
With the spoofing programs discussed above, you won't have to worry about constantly going outside to play your favorite game.
By getting one of these programs, you can play these AR-based games in the comfort of your home and never miss out on the fun.