GPS Location has become a big part of being a person using a smart device in the digitalized world. Whether to fool a loved one, not to spoil a surprise, or make your life easier in games like Pokemon Go and get an edge over your peers, all of it has to do with spoofing, and iPoGo is a tool that does it for you in Pokemon Go.
This article will look at 6 of the best iPogo alternatives. But before we do that, let's take a look at iPogo itself.
What is iPogo?
iPoGo is a prominent mobile application tailored to enhance the Pokémon Go gaming experience. This application provides free and previum plans and serves as an indispensable companion for Pokémon Go enthusiasts. Its primary objective is to enrich the gameplay by offering a variety of valuable features and functionalities.
iPogo is a great way to make Pokémon Go more enjoyable, but sometimes, you want to change the location for Pokémon Go in a safer way. The following are some of the best iPogo alternatives to choose from:
Best iPogo Alternative: MockGo
Moving on to alternatives, the first you should consider, is MockGo. It is an extremely versatile iOS GPS changer tool which is running on the computer to teleport the GPS. Additionally, the tool lets you keep the original copies of the Pokémon Go you've downloaded from Play or Apple Store, making it much more secure to use.
Features:
Easily teleport your location to any place with just one simple click.
Comes with a built-in a timer for cooldown periods.
Simulate movement at a customized speed, ideal for catching Pokémon without going outside.
Spoof your location on up to 5 devices simultaneously.
More features: Wi-Fi connection, joystick, favorite, historial records.
It supports all versions of iOS and iPhone including the latest iOS 17 and iPhone 15.
Pros:
There is no need to jailbreak your iPhone.
With a single click, you can change the GPS location of your devices to anywhere.
Simulate a movement naturally on a map and adjust the speed as needed.
Spoof your location in a variety of apps and games, including some of the most popular, such as Pokemon Go and some fitness apps.
It is compatible with most iOS devices and iOS versions.
It is compatible with both Windows and Mac computers.
Cons:
Now, imagine you're at home, cozy and relaxed. With MockGo, you can magically move your in-game self to any place on the planet! Fancy a visit to the Eiffel Tower or want to explore the Grand Canyon? No problem!
And if that isn't enough for you to consider MockGo, it is also extremely easy to use! All you have to do is:
Step 1: Download and install MockGo on to your computer and launch the program.
Step 2: Click on "Start" in the main window and connect the iPhone to the computer.
Step 3: You should see a map on the next screen. Click on the "Teleport Mode" icon in the upper-right corner of the screen (it is the third icon from the left).
Step 4: Type in the new location that you want to use in the box on the top-left corner or choose a location on the map.
Step 5: Click "Move Here" and the iPhone's GPS location will change to this new selected location immediately.
You can verify that the location has changed by opening any location-based app on your device such as Apple Maps or Pokémon Go.
iTools
iTools is an iOS management tool developed by ThinkSky. This desktop tool comes with a feature known as Virtual Location that allows users to change the GPS location on their devices to anywhere in the world.
It is very easy to use, with a simple interface that allows most processes to be completed in a single click and you don't need to jailbreak your device to change the location.
To use iTools, you have to install it on your computer and connect the iPhone. It is a premium program although there is a free version that you can use to change the location up to 3 times for free.
Pros:
There is no need for a jailbreak.
Premium users have access to an unlimited number of spoofing options.
It can also be used to backup and restore your iPhone data. It is simple to use and works on all major operating systems.
Cons:
The free version allows for only three location changes.
Premium plans begin at $5 per month (per phone).
The software takes sometime to load.
Dr. Fone – Virtual Location
Dr. Fone - Virtual Location is another great tool to change the GPS location on your iPhone even if the device is non-jailbroken. It is a desktop app, which means you will have to connect the devoce to the computer to use it. The program's interface makes it very easy for you to do this with simple processes.
You can use Dr. Fone - Virtual Location to teleport the device to any location in the world, simulate movement between two spots or even simulate movement along a specified path at a specific speed.
Pros:
There is no need to jailbreak your iPhone in order to use Dr.Fone - Virtual Location
With a one-click Pokemon Go spoof solution for iOS, the app is extremely simple to use.
You can also simulate walking between different locations at your own pace.
Every major iOS device is fully compatible.
Cons:
There is only a free trial version available.
Tenorshare iAnyGo
Another way to change the location on your iPhone without jailbreaking the device is to use Tenorshare iAnyGo. Like most of the other tools on this list, this is a desktop software solution available for both Mac and Windows and you will need to connect the device to the computer using USB cables to change the GPS location.
It is also an ideal solution when you want to simulate GPS movement between two or more spots on a map at a specified speed. Its user interface is very easy to use, allowing you to change the GPS or simulate GPS movement in a single click quickly and easily.
Pros:
With a single click, you can change the GPS location of your devices.
Plan routes on a map and adjust the location as needed.
Save your favorite locations for later use.
It is compatible with common iOS devices and iOS versions.
Cons:
The app does not come cheap.
SpooferX
Spooferx is a super popular app that Pokémon Go fans on iOS absolutely adore. It's packed with a bunch of awesome features that make your Pokémon Go experience even more exciting. And guess what? You can use it to teleport or "spoof" your location within the Pokémon Go game, so you can explore new places without moving there. Pretty cool, right?
But that's not all! With Spooferx, you can stay in one spot and still walk around in the game. This means you can catch new Pokémon and discover the best coordinates for spinning Poké Stops. Plus, if you've been dreaming of catching those super rare Pokémon, Spooferx can help you with that too.
Just keep in mind that Spooferx is exclusive to iOS devices, so Android users will have to look elsewhere.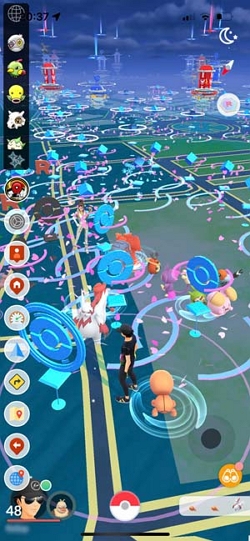 Pros:
Fake location
Auto walk
Joystick feature
IV previews
Load up the map fast
Block non shiny
Fast catch
Freeze Pokemon

Cons:
Only works with iOS.
It may be risky to use because it is a modified version of Pokemon GO.
SpooferPro
With SpooferPro, you can do some cool things, like using a joystick to control your movement and teleporting to different places in the game. But wait, there's more!
It also comes with a bunch of other handy features, such as moving your character around in the game with ease, instantly jumping to different locations, checking out the Individual Values of your Pokémon, getting better at throwing Poké Balls, having your character walk automatically or follow a custom path, and more!
One cool thing about SpooferPro is that it's designed specifically for iPhones, so you don't need a computer to use it. Additionally, the tool very often gets updates, so you can always expect new features to look forward to.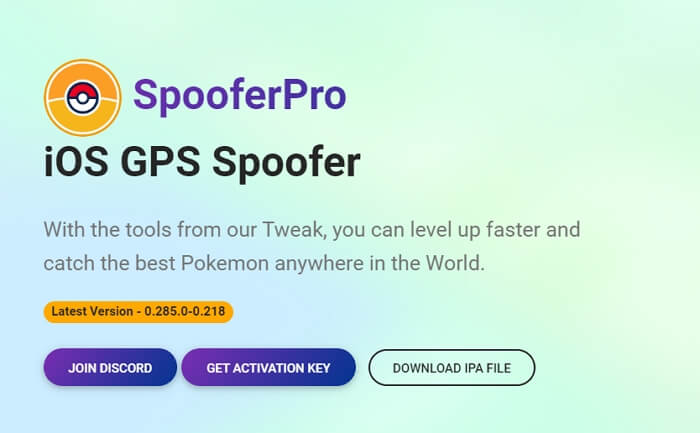 Pros:
Teleport anywhere
Auto walk
Joystick feature
Supports GPX routes
IV previews
Auto feed & pet buddy
It comes with an in-built map that shows pokemons, pokestops, gyms, and rockets around you.
Cons:
It is also a modded app of Pokemon GO, which may be unsafe to use.
Compatible with iOS only.
Conclusion
And there you have it! All of the best alternatives to iPoGo that I could find. For people who want to easily and safely spoof your iPhone's location, I suggest you opt for MockGo as I found it to be the most effective and safest to use.