If you want to change your iPhone's GPS location to capture new Pokemons without going outside or protect your privacy in some location-tracking apps such as Life360, you may have heard of Tenorshare iAnyGo.
Here we will show you the features, guides, prices and reviews of Tenorshare iAnyGo. Keep reading on!
What is Ternoshare iAnyGo?
iAnyGo from Tenorshare helps iOS users to change their location without the need of leaving their own place. It's available for both Windows and Mac computers.
This iOS location spoofing tool provides a comprehensive, feature-rich utility. So, for a better understanding of its functionality, consider the following major features below:
Fake your location and you do not even need to jailbreak your device.
Fake GPS movement by using the iAnyGo options, Single-Spot Movement and Multi-Spot Movement.
Customize the speed of your movement from 3.6 km/h to 108 km/h.
A Cooldown timer to prevent you from being caught that you are using a location-spoofing app while playing games like Pokemon GO.
Using the Joystick to simulate real physical movements.
Supports all iOS devices, including the latest iOS 17.
Is Tenorshare iAnyGo Safe?
Many people wonder, is Tenorshare iAnyGo safe? The answer is yes.
Due to the fact that it has undergone several tests from professionals who have determined that it is virus-free, it is completely safe to use.
Not only do experts give it a perfect score for security, but also for effectiveness, reliability, and performance.
Therefore, it is safe and trustworthy, and as a bonus, it's also 100% compatible with all the latest iOS operating systems.
Pros and Cons of Tenorshare iAnyGo
Every piece of software has different benefits and drawbacks. Tenorshare iAnyGo is an excellent location spoofing application, but it comes with its own limitations.
Listed below are this instrument's key pros and cons.
Pros
Location switching is a quick and easy operation.
Using this tool will enable you to travel to a wide range of locations.
There is no need for another software to fake GPS location on iOS devices.
During the trial period, each mode is free to use three times.
Cons
Location spoofing only works with iOS devices. On Android phones, it is not possible to spoof your location.
You can only walk at a certain speed, which in the long run can be detected by location-based apps.
The price is expensive compared to other similar apps such as MockGo.
The price of Mac version is expensive than Windows version.
Steps to Use iAnyGo To Change Your Location
Follow these simple steps to change the GPS location of your iOS device (iPhone and iPad):
Step 1. On your PC or Mac computer, download iAnyGo from Tenorshare.
Step 2. Plug your iOS device into the computer using a USB device. Make sure that the device is unlocked.
Step 3. Next, run the iAnyGo program and it will automatically detect if the iOS device is connected or not.
Step 4. Choose one of the options from the left sidebar. Options available include: Change the GPS location, Single-Spot Movement, and Multi-Spot Movement. Once the option is selected, just hit Enter key.
Step 5. Now you can, from the map screen, choose the location you want. It will replace it with the current location. You also have the option to choose your location from the search bar.
Step 6. You will also have the option to choose the fake start and end spot when using the Single-Spot Movement or Multi-spot Movement feature. The speed of the movement can be changed as well from the window, Change location.
Step 7. After you have selected all the desired location, speed, and spot movement options then just click the Start to Move button and you're good to go.
Check your iOS device and you can see that the location has been changed to the fake location selected on the map.
Similarly, you can see the GPS location changing if you have selected Single-Spot Movement or Multi-Spot Movement.
Now you know how you can use the iAnyGo tool from Tenorshare. Next, let us see what are the pricing options available as iAnyGo is a paid software.
iAnyGo Pricing
You can purchase the iAnyGo plans for Windows at $9.95 monthly, $19.95 for a quarter, $39.95 for a complete year, and $69.95 for lifetime.
Compared to Mac, this is the cheaper option as the Mac plan starts from $14.95 for the month, $19.98 for the quarter, $59.98 for the year, and $79.98 for lifetime.
iAnyGo also has a free trial version with restricted features such as you can use some of its features for three times.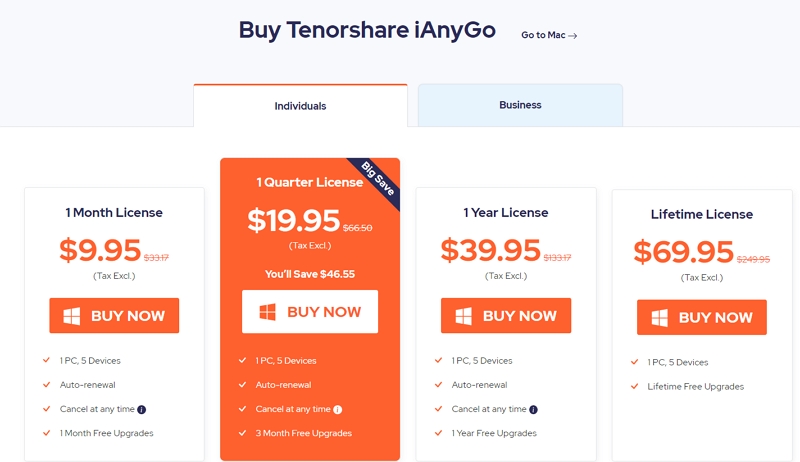 When compared to other paid fake GPS location tools, Tenorshare iAnyGo is much more expensive.
If you're looking for an afforable alternative, you can try MockGo, which provides similar features with cheaper price.
This is another tool that is highly recommended by many users that have tried and tested it.
Here is a comparison between iAnyGo and MockGo.
Comparing MockGo with iAnygo
Tenorshare iAnyGo
MockGo

Rate

⭐⭐⭐⭐

⭐⭐⭐⭐⭐

Teleport Mode

√

√

Two-spot Mode

√

√

Multi-spot Mode

√

√

Joystick Mode

√

√

Customize Speed

3.6km/h~108 km/h

3.6km/h~108 km/h

Import GPX

√

√

Multi-device Management

√

√

Historical Records

√

√

Search Specific Location

√

√

Platform

Windows 10/8.1/8/7/Vista/XP

Win 10/8.1/8/7/Vista/XP

MacOS 11.0 or later

Mac OS 10.11 or later

Price
Windows:
1-Month Plan: $9.95
3-Months Plan: $19.95
1 Year Plan: $39.95
Lifetime Plan: $69.95
Mac:
1-Month Plan: $14.95
3-Months Plan: $19.98
1 Year Plan: $59.98
Lifetime Plan: $79.98
Windows and Mac:
1-Month Plan: $9.95
3-Months Plan: $19.95
1 Year Plan: $39.95
Lifetime Plan: $59.95
Pros:
A wide range of features
Easy to use
A wide range of features
Change speed while moving
Affordable price
Flexible license availability

Cons:

Limited trial features
Simulate walking with the initial fixed speed
Limited license availability
Mac version is more expensive than Windows
Expensive price

Limited trial features
MockGo is also a powerful tool and much cheaper. It is an ideal tool for playing any AR location-based apps and games.
Moreover, MockGo works without any hiccups and you can change the modes without any interruption in the gameplay. It allows you to change the speed of the movement to give it a more real feeling.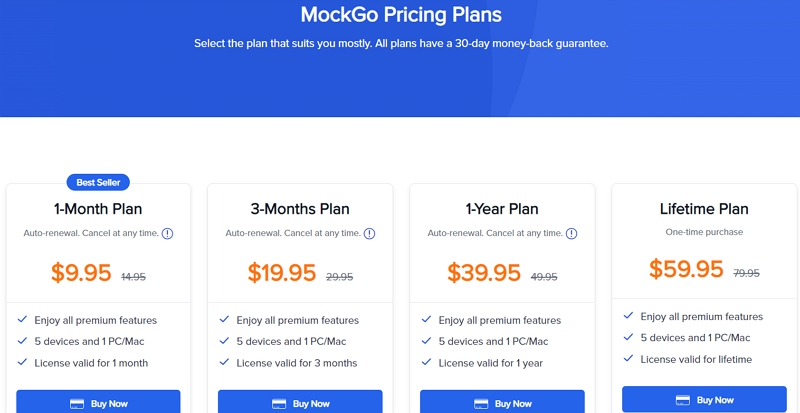 How to use MockGo
Check out these steps to launch MockGo on your computer:
1. Install MockGo and run it on your computer.
2. Plug your iPhone into the computer. Just check that the iPhone screen is unlocked and you have the device to "Trust This Computer?"
3. Then hit the Teleport icon on the map. Type in the location in the search bar and choose the location options available from the list.
4. Click on the Move Here button and it will take you to your new location.
FAQs about iAnyGo
1. What Devices does Tenorshare iAnyGo support?
Currently, they're supporting the latest iOS 17 and the newest iPhone 15, iPhone 13, iPhone 12 Pro, iPhone 12 Pro Max, and iPhone 12 Mini with older models for both iPhone and the iPad.
2. Does iAnyGo support android?
Tenorshare iAnyGo only supports iOS devices and does not work on any Android device.
3. Tenorshare iAnyGo Not Working, How to Fix it
If you're having any problems with iAnyGo, troubleshoot the following:
Enable the location service on your iPhone
Check if the iPhone is properly connected to your computer
Check if iAnyGo is updated to the latest version
Confirm that your iOS supports iAnyGo
Reboot your device or reset the location service and check again
Hope these troubleshoot methods have solved your problem and iAnyGo is working properly, if not, then contact Tenorshare.
Conclusion
Both MockGo and iAnyGo are location spoofing that both Pokemon Go players and other users can use to fake the GPS location.
When compared, MockGo is the better option as it comes with a lot of features not present in iAnyGo. Use it to change your location and capture new Pokemons or hatch those eggs.