One of the best ways to hatch eggs in Pokémon GO without walking is to use a Pokémon GO walker.
This guide will show you the latest 5 Pokémon GO walkers that help you play Pokémon GO without walking.
What is a Pokemon GO Walker?
A Pokémon GO walker typically refers to a feature or a third-party application that can simulate walking in the game without the need for you to physically move.
These walkers are often used to hatch eggs, earn distance-based rewards, or catch Pokémon without actively walking.
It's essential to note that using third-party apps or devices to automate gameplay can violate Pokémon GO's terms of service and result in consequences, including account suspension or banning.
So, while walkers might seem convenient, it's important to use them cautiously and within the game's rules to avoid any issues.
Features a Good Pokemon GO Walker Should Have
A good Pokémon GO walker should aim to provide convenience and an enhanced experience for players without violating the game's terms of service. Here are some features a well-designed Pokémon GO walker might have:
Undetection: It's important that the walker is not easily detected by the game's anti-cheat mechanisms, as using unauthorized tools can lead to account penalties. This often involves the walker mimicking natural human movement patterns and not using aggressive or detectable techniques.
Customization Options: The ability to customize settings, such as walking speed, specific routes, or actions, can be a valuable feature. It lets players tailor the walker to their preferences and playing style.
Joystick Navigation: Joystick navigation can be a useful feature for a walker, allowing the player to control their in-game movement more naturally.
Regular Updates: Frequent updates are crucial to keep up with changes in the game. Pokémon GO often updates its features and security measures, so the walker should adapt to these changes promptly to remain effective and safe.
MockGo Pokémon GO Walker for iOS
MockGo is one of the first-launched iOS GPS changers that can be used to auto-walk in Pokémon GO.
The following are its main features and also the reasons why we recommend it as the only Pokémon GO walker software for iPhone in this guide.
Change the location of any iOS device to anywhere you want to go.
You can also simulate GPS movement by selecting the route to cover the distances needed to hatch Pokémon eggs.
Customize moving speed to be walking, cycling, or driving speed.
Pause and continue the simulated movement at any time to make the movement appear more natural.
Support historical records, favorite list, multile device management, and more.
Compatible with all iOS devices and iOS versions, including the latest iPhone 15 and iOS 17.
To use MockGo to catch Pokémon without walking, follow these simple steps:
Step 1. Download and Install MockGo
Download and install MockGo on to your computer. Launch the program and then click "Start" to begin the process.
Step 2: Connect Your Device
Now, connect the iOS device to the computer and unlock it. Once the program detects the connected device, you should see a map on the screen.
Step 3: Choose "One-Stop Mode"
To create a customized route for simulated walking, select the second icon "One-Stop Mode" in the upper-right corner to enable it.
Choose the destination that you would like to go. You can do that by adjust the pin on the map. Then click Move Here to proceed.
Step 4: Start Auto Moving
In the pop-up window, select how many times you would like to move through the route and set the speed. Click Start to simulate the movement.
You can now just open Pokémon GO to begin hatching eggs without walking.
Defit App for Android
Defit is an Android app that can be used to auto-walk in Pokémon GO, thereby allowing users to hatch eggs without having to walk the long distances required.
Follow these simple steps to use Defit App to simulate walking:
Step 1: Go to the Google Play Store to download and install the Defit App on to your device.
Step 2: Open the app on your device and grant it all the necessary permissions.
Step 3: Then open the Google Fit app and grant access permission.
Step 4: Now, open Pokémon GO and turn on Adventure Sync.
Step 5: Close Pokémon GO and then go back to the Defit App. Tap on "AD" and leave Defit running for a while. When you open Pokémon GO, you will see that the distance covered has increased.
Fly GPS Pokémon GO Walker for Android
Fly GPS is another great Android app that you can use to auto-walk in Pokémon GO.
It is particularly useful when you want to simulate movement because of its joystick feature, which can be very effective in making the movement appear more natural.
But if your device is running Android 6.9 or higher, you will need to root the device to use Fly GPS.
Fly GPS is, however, very easy to use. Just follow these simple steps:
Step 1: To begin, you will need to install Fly GPS from the Google Play Store on to your device.
Step 2: Once the app is installed, you will need to enable "Developer Mode" before you can use it.
To do that, go to Settings > About Phone and then find "Build Number" and tap on it 7 times or until you see "Developer Mode has been Enabled."
Step 3: Now, go to Settings > Developer Options > Mock Location App and in the popup that appears, select "Fly GPS".
Step 4: Go to Settings > Location to turn on Location services and set the GPS method to "High Accuracy" mode. You should also make sure that "Location History" is turned on.
Step 5: Launch Fly GPS on your device. You should see the device's current location. To choose the location that you want to use, tap on an area near you within the map.
Step 6: Tap "Please Select the menu" in the popup that appears and then select "GPS Service Run" in the next popup menu.
Step 7: Tap on "Joystick Location Mode- (Pokémon)" to spoof your location and enable the Joystick feature.
Step 8: Now launch Pokémon GO and your trainer should be at the location you selected in Fly GPS. You should also see an on-screen joystick that you can use to move the trainer around.
GPS Emulator for Android
GPS Emulator is another popular and reliable location spoofing app for Android devices.
With GPS Emulator, you can easily fake walking on the Android devices to have more fun when playing Pokémon GO.
It's a simple and straightforward app that offers a variety of location options for different places all over the world.
Here are the steps to use GPS Emulator on your Android device:
Step 1. Download and install GPS Emulator from the Google Play Store and enable developer option on your phone.
Step 2. To do that, go to Settings > Developer Options, scroll down and click Select Mock Location App.
Step 3. Open the app and grant access to your device's location services.
Step 4. Choose your desired location from the list of options or search for a specific location.
Step 5. Click on the green button to activate the spoofed location.
Now your location has been faked using the GPS Emulator on your Android phone.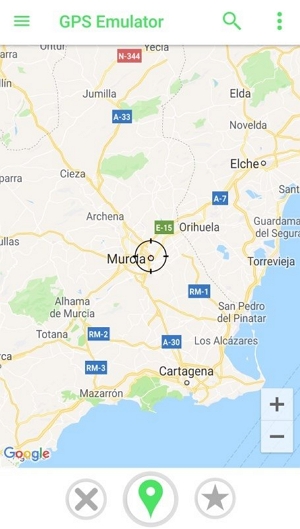 SPAZEL for iOS and Android
If you are looking for an accessory to move your player in the game and increase the number of steps without even leaving your home, SPAZEL is the tool you're looking for.
SPAZEL is a smartphone holder that can hold up to two phones at the same time.
What this accessory does is it helps you to automatically earn steps or trick the GPS and pedometer as if you were walking or running with your smartphone.
This accessory supports phones up to 7.2" in size and it can be used to hatch eggs quicker in Pokémon GO.
It can therefore trick the pedometer for any other purpose or game, and gain an advantage in AI games without having to shake your device to get extra steps.
Tips to Use Pokémon GO Walker
But to use the Pokémon GO walker App without getting soft bans or any other issues with Pokémon GO, there are some precautions that you need to take, including the following:
Common tips
You will have a higher success rate when using an older version of Pokémon GO. This is because older versions of the game have fewer restrictions when it comes to location spoofing.
If you are worried about your account getting banned, consider creating a secondary account for the auto-walking process.
If your account is temporarily banned, create a new one or try another method to avoid a total ban.
If you choose to end the spoofing, it is a good idea to turn off Wi-Fi on your device and use Mobile Data instead.
If the Pokémon you are trying to catch are fleeing or the PokéStops are not giving you any items, then your account may be soft-banned. In this case, just go to the nearby PokéStop and spin the wheel 25-35 times or wait 3-8 hours for the soft ban to be lifted.
Tips when faking walking
You might also want to wait a specific cooldown time before changing locations, particularly when spoofing to distant locations.
Once you have changed the location on your device, don't stay in that location for too long. This will make it harder for Pokémon GO to detect the presence of the spoofer.
Avoid very fast or sudden changes in your GPS location and spoof your location gradually
Do not try to teleport to a location that is too far away from your current location in a short-time. Niantic tracks your last location, so they will certainly notice if you suddenly shoot if to a location that is too far from your current location.
Ensure that the location you choose is realistic. Avoid jumping to another city in a matter of minutes.
When simulating movement, choose a speed and distance that makes the movement appear realistic.
Pokémon GO Walker FAQs
1. What is the suggested walking speed?
When hatching an egg in Pokémon GO, faster is not always better. In fact, you have to be careful about the walking speed when hatching eggs.
The most optimal walk speed when hatching an egg is 6.5 MPH (10.5 KMH). Going any slower than that will require more time to hatch an egg.
However, going any faster than this and you won't decrease the wait time since Pokémon GO will discount the distance you cover at higher speeds.
No matter what you do, you never want to go as fast as 22 MPH (35 KMH) as this will get you a speed-lock popup warning, and very little distance will be counted in.
2. Should I walk in a straight line?
Since Pokemon relies on your smartphone's GPS to measure the distance you cover, traveling in a straight line is the best way to ensure maximum distance is covered.
However, you can make turns when needed or even change direction after a minute or so when traveling in a straight line since the location gets updated every couple of minutes.
3. Can you jog or cycle instead of walk?
The great thing about Pokémon GO is that you can do any type of activity, as long as you keep the speed close to the optimal speed mentioned above.
However, while this might sound easy, it can be hard to keep the speed under the highest limit you shouldn't cross when you're cycling, skiing, or driving.
The top speed you should not exceed is 22 MPH (35 KMH).
Conclusion
Catching Pokémon or hatching eggs in Pokémon GO without having to walk is definitely a good way to advance in the game. With the right tool, it can even be an easy solution that makes the game more enjoyable. Just be sure to take the necessary precautions when spoofing your location to avoid getting banned.