Factory Reset Protect (FRP) has been added to all Android OS from 5.1 (Lollipop) and higher. This feature was made with the intent to protect its owner's data in case of theft.
The downside is that if you encounter the lock yourself, it's hard to get out of it. If you are part of the Android user population having problems with FRP, then you're in luck.
In this article, we'll be discussing how to get past this particular predicament using development settings FRP bypass APK.
Interested? Then let's continue.
What Is Development Settings FRP Bypass
Development setting FRP bypass is a built-in security precaution with the primary objective of stopping any third party from using your phone and accessing your personal data.
If and when somebody wants to reset their phone, the development settings FRP will ask them to enter the Google account that was registered on the device. Thus, any third party will be stuck on that screen and will be unable to access all information stored in your phone.
This tactic will be useful once the owner collects their phone again but will be as much of a hindrance if they have forgotten their own credentials. Therefore to get through this development settings FRP, an FRP bypass will be needed.
Download Development Settings FRP Bypass APK
To download this first bypass method, you need a computer, a flash drive, an OTG cable, and a Development Settings APK, which you can download using this link:
How to Bypass FRP Using Development Settings APK?
The bypassing using Development Settings APK is a little difficult to follow. You will need to follow these few steps:
Firstly, on your laptop/computer, download the APK file from the links that we provided or you found and install it from your OTG.
Second, plug your flash drive into the computer and copy the file to the root directory.
Plug the OTG cable into your phone, and then plug the flash drive at the other end of the cable.
Next, your device will automatically launch the file explorer and show the flash drive's root directory.
Tap on the APK file.
Then, a system dialog box will warn that sideloading apps are blocked by default. Select Settings to continue.
Select Unknown Sources, and then click OK. After that, proceed with the installation of the APK file.
When the installation finishes, click on Open. You should be able to access the Settings menu.
Unplug the OTG cable from your phone after.
Scroll down to Backup and Reset, then proceed with the Factory Reset.
The most challenging part is accessing Settings when you're locked out, but all you need to do after all those steps is do a factory reset. If successful, you can have full access to your phone again.
Alternative: One-Click FRP Bypass with Unlockit Android
The last method appears to be kind of complicated to follow. You may be wondering if it is possible to easily bypass the Developer settings FRP lock.
The answer is YES! Unlockit Android is able to help you remove the FRP lock with just 1 click and in under 10 minutes.
It has been proven to be one fo the reliable ways to bypass FRP without using an OTG cable and the one with the least risk of damaging your phone.
Not having any technical skills does not matter if you are using Unlockit Android. This is the best helping hand for Samsung devices if you want to bypass Development Settings FRP.
It will completely remove the Google FRP lock from all Samsung devices running Android 6-12. Once your device is unlocked, you can add a new Google account as you want.
All you have to do is download and install the app on your computer and proceed with the following steps:
Step 1. After installation, open the Unlockit software on your PC, and select Start.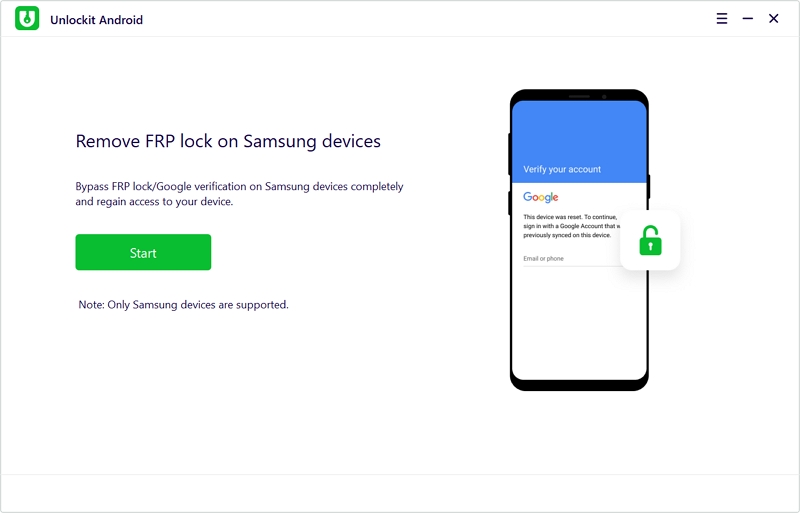 Step 2. Then connect your device to a PC using a USB cable.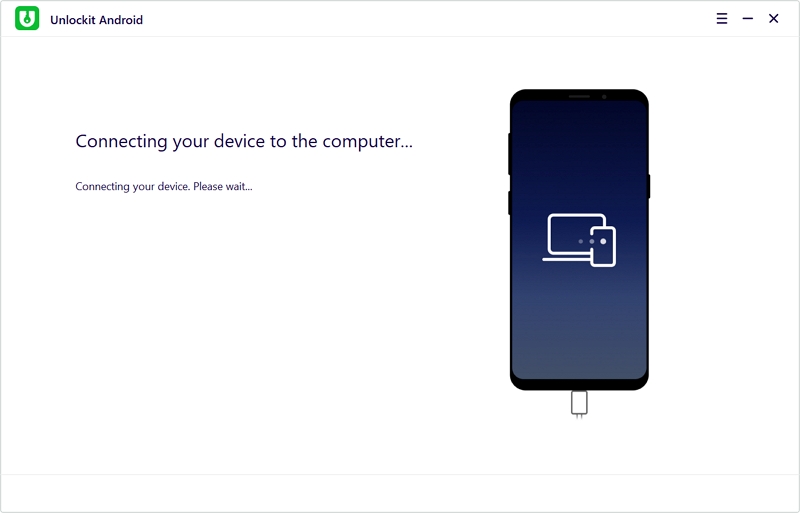 Step 3. Choose the first option All Android Versions in the list that should help you bypass all Samsung FRP lock in just one click.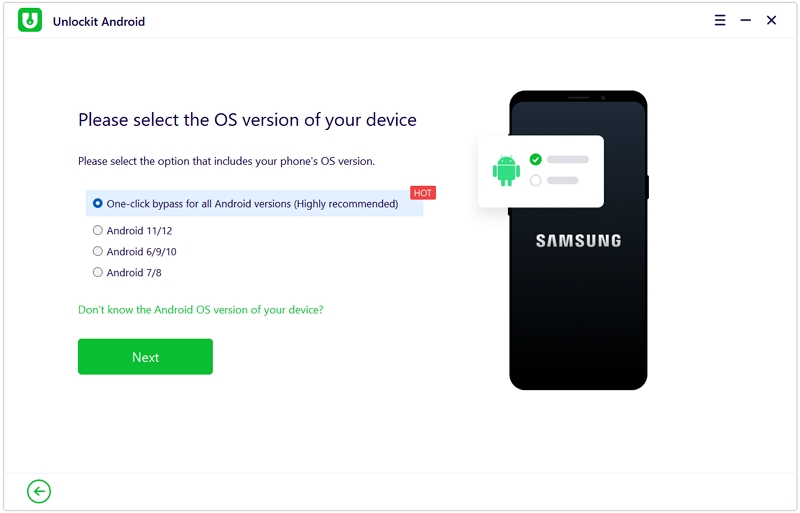 Step 4. After that, the instructions to enable USB debugging when FRP locks your Samsung will appear on Unlockit Android.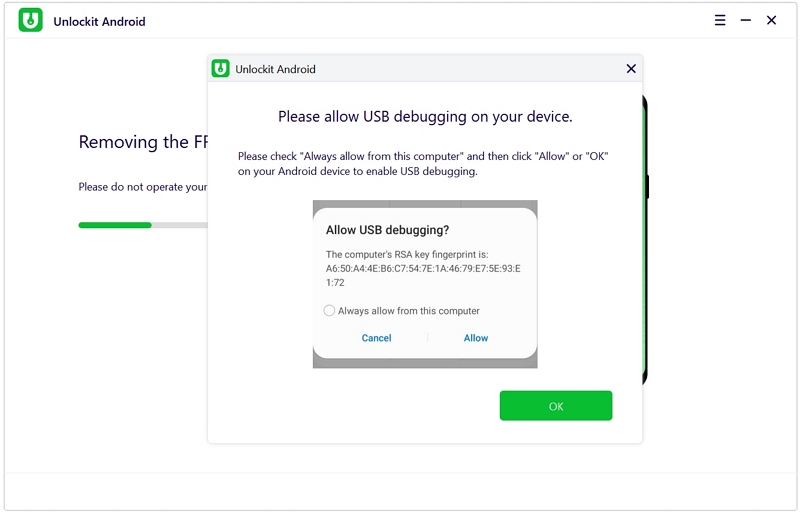 Step 5. For the next 5 seconds, the remaining processing will take place. After which, your device will restart and the FRP lock is now removed.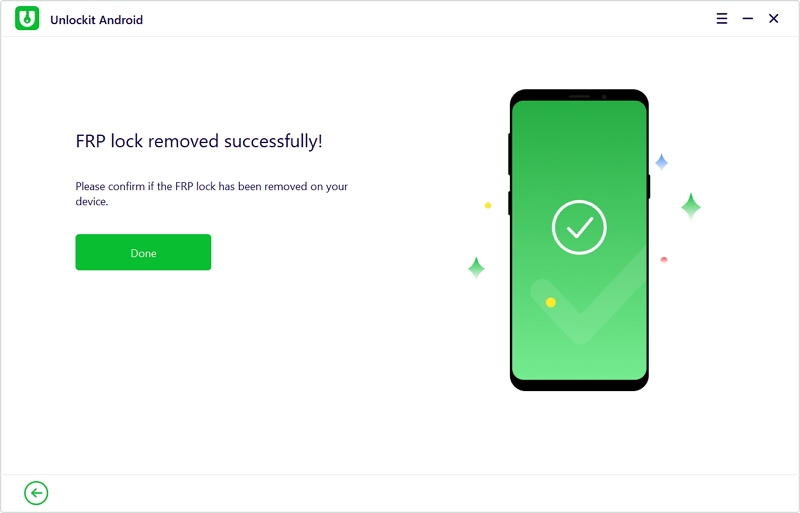 Then, you are free to set up a new Google account.
Go to Settings and tap on Cloud and Accounts (or Accounts for other phone brands).
Then click on Accounts.
Look for your Google Account and then tap Remove Account.
SelectI Agree or whatever the affirmative option in the prompt is.
FRP should be disabled after everything. Do note, however, that this only removes the Factory Reset Security but does not unlock it.
Wrapping Up
No doubt that Development settings FRP is a very efficient method to protect your device, especially when your phone is lost and found.
Trouble comes when you forget your account's credentials. To bypass development settings FRP, Foneazys Unlockit Android is the one we recommend because its credibility has been tested and trusted by many users online.
If you have any other inquiries about the Development Settings FRP, feel free to leave a comment below.