Factory Reset Protection (FRP) is a Google security feature that can protect the data on your Android device.
It is connected to a Google account and when you forget the Google account password that you used to set up the device, you may find yourself stuck on the FRP-lock screen unable to set up your device after a factory reset.
This is where tools like SideSync come in, allowing you to easily bypass this FRP lock and finish setting up your device.
In this article, we will talk about SideSync in greater detail to find out if it is a reliable way to bypass the FRP lock screen on Android devices.
What is SideSync?
SideSync is a PC-Mobile solution that makes it simple to sync screens, windows, and data. It allows you to share your PC's screen and data with your mobile device easily, and receive alarms of your phone through the PC.
Samsung created it to help customers manage Samsung devices, however, some users found out that it could also be used to remove the FRP lock on Samsung devices.
Compatible devices:
• All Samsung Android phones Galaxy S III and later running Android KitKat 4.4 and beyond.
• All Samsung Android tablets running Android Lollipop 5.0 and beyond.
• The Samsung Galaxy S9 and S9+, as well as later devices, do not support Sidesync. Samsung recommends using Samsung Flow as an alternative.
Download SideSync
You can download the official version of SideSync from this link.
Pros and Cons of Using SideSync for FRP Bypass
SideSync has been known to be effective in bypassing the FRP lock, however, it only works on Samsung devices running Android 6 and lower.
Furthermore, there are no instructions on the official website for using SideSync to unlock FRP.
Pros
It is completely free to use
It is developed by Samsung and therefore a reliable and effective solution
Cons
It only supports a limited number of Samsun device models, running Android 7 and below
Bypassing FRP lock using SideSync is not always successful
Although you might be able to bypass FRP lock, this is not what SideSync is used for
The process can be complicated for beginner user
How to Use SideSync for FRP Bypass?
Files you will need:
You can then use these steps to bypass FRP lock on Samsung devices using SideSync:
Step 1: Download and install the SideSync app onto your computer and connect the device to the computer using USB cables.
What we really use SideSync for is its automatic pop-up window, which allows us to skip the Android setup process, which you can't dismiss on your phone's screen.
Step 2: Once SideSync is installed on your computer, turn on your Samsung phone and follow the setup process until you reach the section where it asks for your original Google account.
Step 3: Connect your Samsung device to the Computer via USB cable, you should see a popup window on your device asking if you want to open Galaxy Apps, Chrome, or Internet Browser. Launch one of the browsers.
Step 4: Open this guide's page on your phone and download both the Google Account Manager APK (according to your Android version) and the Account Login APK.
Step 5: Once you download the APK files on your Samsung device, return to the Android setup process, disconnect and re-plug the USB cable to bring up the popup window again, and select "Galaxy Apps" this time.
Step 6: Now go to the Galaxy App Store and download the ES file explorer. Open the app after installation.
Step 7: Find the download folder using the ES file explorer. Tap on the Account Manager and Account Login APKs to install the apps.
Step 8: First, install the Google Account Manager APK. To proceed, you need to enable installation from Unknown Sources. Then install the Account Login APK as well.
Step 9: After installing Account Login APK, you will be redirected to a Google log-in page. Do not sign in here. Tap the three dots in the upper-right corner and select "Browser sign-in."
Step 10: This will open the internet browser to the Google sign-in page. Now sign in to the Google account you want.
Step 11: After login, restart your Samsung device.
Step 12: When your device restarts, you can now go through the Android setup wizard since your device now believes the new Google account you just added is the original Google account.
Thanks appuals.com for providing the detailed guide.
Unlockit Android as Alternative
Unlike the SideSync method, Unlockit Android is not restricted to a small number of Android operating systems. It is an all-in-one FRP bypass tool that can remove Google locks on all Samsung device models running Android 6, 7, 8, 9, 10, 11, and 12.
What's more, the process of bypassing FRP-lock on your device should be simple and effective. One of the few tools in the market that can guarantee you will unlock your device every time is Unlockit Android.
Bypassing has been made even easier in the latest version of Unlockit Android. You can remove the FRP lock with a single click. After using Unlockit Android to remove the FRP lock, you can add a new Google account to your device.
Here's how to use Unlockit Android to bypass the FRP lock on your device:
Step 1: Download and install Unlockit Android onto your computer. Open it when installation is complete.
Step 2: From the screen, click on the "Start" button and then connect the device to the computer using USB cables.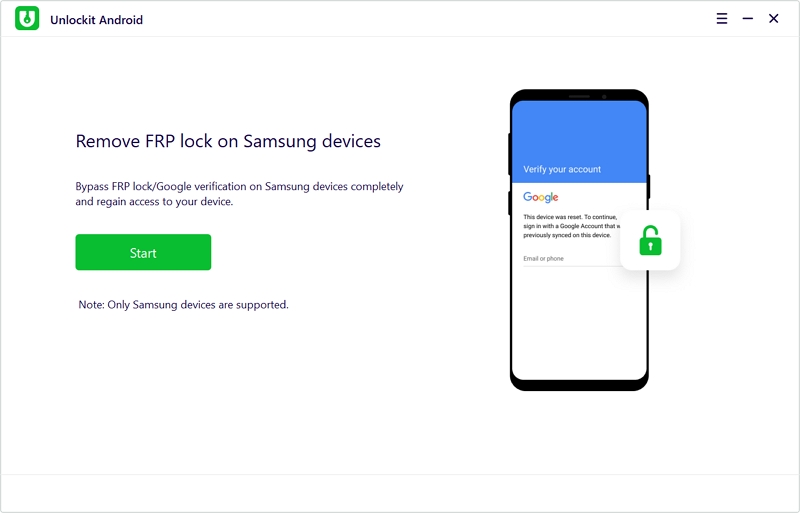 Step 3: On the next screen, select the first option "All Android Versions" from list, which applys the latest technique to bypass the FRP in one click.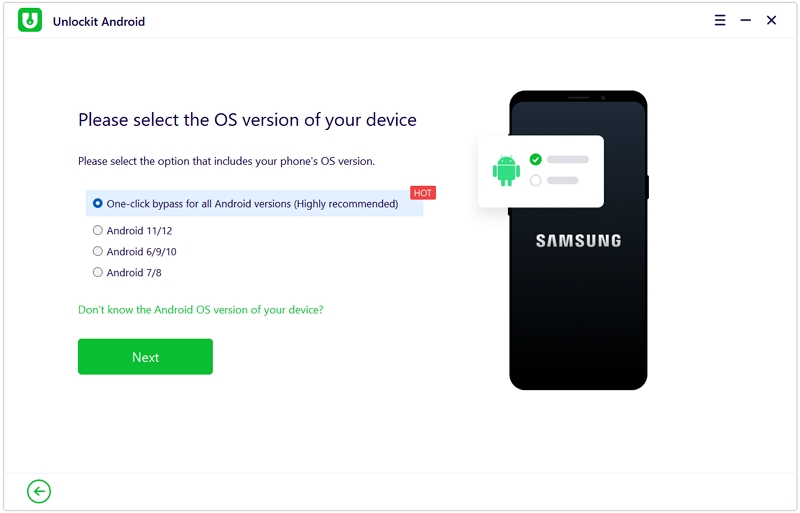 Step 4: The program will ask you to enter test mode on the device. Just follow the onscreen instructions to set the device.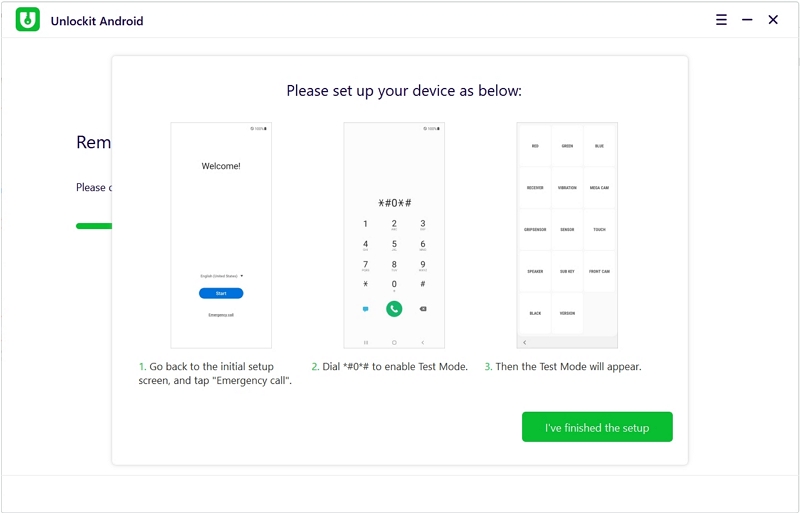 In a few seconds, your device will restart and you will be able to get into your device without getting stuck on the FRP lock screen.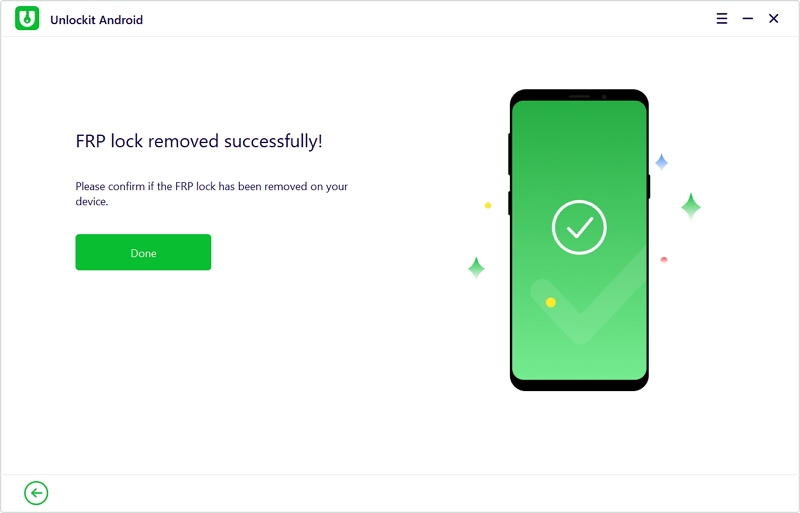 Conclusion
Getting stuck on the FRP lock screen occurs so frequently that the market is flooded with FRP bypass tools that can help.
But many like SideSync often turn out to be less effective. Unlockit Android is a better alternative thanks to its simple and effective FRP bypass process.