For second owners, the highly restrictive iCloud Activation Lock is a common problem that is faced by many and solved by a few. As you get your hands on a pre-owned device and find out it is still associated with the previous owner's iCloud account, there isn't much you can do, or is there?
Bypassing iCloud Activation lock seems like an arduous task unless you get access to the linked account, which, if you could, you wouldn't be here. Nevertheless, tools such as the iCloud Activation Bypass Tool Version 1.4 unlock the device.
In this review, I'm here to check the viability of these claims made by the service and if it's a scam or something you can trust!
What is iCloud Activation Bypass Tool Version 1.4
The iCloud Activation Bypass 1.4 turns out to be a savior when you are stuck with a locked phone. Though not a lot of details are known about how this tool actually works, it seems like a brainy combination of a proxy server and software.
It's basically a smarter and user-friendly interface that is designed to let you smoothly disable an existing account on your Apple device while also helping you to log in with your own account.
How to Use iCloud Activation Bypass Tool Version 1.4
For anyone wondering how the tool is used, here's a step-by-step!
Open your iPhone and begin the setup until you reach the Wi-Fi page.
Tap the "i" option present beside your Wi-Fi network and click on the "Configure Proxy" option. You have to enable the "Manual" and then enter.
Server: 10.117.220.87
Port: 1082
Keep the details saved and connect your iPhone to the network and computer.
After you come across the Activation Lock, open the tool. Don't forget to check all the mentioned options present on the left side of the screen and click "Connect iCloud Erasing Server" then "Bypass Activation Lock."
Now just click "Upload Activation File" and choose the required file.
Wait for the program to finish the step of unlocking, and then tap "Next" on your device.
After you've completed the above-mentioned steps, you can check your iPhone to see if it's unlocked.
Where to Download iCloud Activation Bypass Tool v1.4
Currently, there is no official website available for the iCloud Activation Bypass Tool Version 1.4 so, there is no link that can be referred to as the official one. You can download it from any site that seems the most authentic and feasible.
I would recommend you look for some safer sites and stay protected from any kind of clutter and viruses entering your device. Because what's worse than a locked device? A locked device with A LOT of malware!
Review of iCloud Activation Bypass Tool Version 1.4
I've spent quite a bit of my excessively busy schedule and had an in-depth analysis regarding this method of bypassing the iCloud locks. It is safe that say that the disappointment I feel in this tool is as severe as it gets, as it doesn't work like promised at all.
So, downloading this tool might not sound like a fair deal. But don't worry, I won't let you go away without a proper fix; my conscience won't allow it. So I'm here to help you whenever you are running out of time and want to log in to your new id after getting an iPhone.
My testing involved a variety of devices with different operating systems and model versions, and none of the devices was successfully unlocked. The following are the main drawbacks of iCloud Activation Bypass Tool Version 1.4:
Compatibility Issues
The tool doesn't work for the latest iOS and iPhone models. Therefore, the tools turn out to be fruitless when it comes to performing the desired function and might only work out for older systems.
Security Breaching
Using third-party bypass tools like iCloud Activation Bypass Tool 1.4 involves a lot of security risks. I suggest you always go for a trusted option rather than letting these tools access your sensitive information. They can potentially affect the security of the device and user data. It's crucial to counter-check and thoroughly analyze the tool's reputation before downloading it.
Lack of Updates and Support
The older versions of bypass tools might not receive regular updates or support from their developers. This leads to some compatibility issues with recent iOS updates, security vulnerabilities, and a lack of reliable customer support when experiencing difficulties.
Nullifying Warranty
When you download tools like iCloud Activation Bypass, it can affect the warranty of your phone. The developers always discourage the use of such tools, and whatever damage is caused won't be entertained by the company, even if the phone is under warranty.
Risk Factors
There are security risks associated with downloading such tools, as they can let scammers steal your data by bringing a fake version of the tool. It's really important to evaluate the authenticity of such tools to avoid any unwanted activity.
So after spending an adequate amount of research and analysis, I reached the conclusion that this tool is just barking up the wrong tree! But I've got an alternative for you!
Alternative to iCloud Activation Bypass Tool Version 1.4 You Can Trust
So here it is, a much more effective and simple alternative tool that saves you time and data when no other bypass tool works for you.
This tool goes by the name Unlockit iCloud Remover, a professional iCloud Activation lock removal tool which allows second owners to be at ease as it makes seamless iCloud Activation bypass happen.
What helps this tool stand out amongst a sea of solutions is the fact that it helps users keep most of the phone's functionalities intact!
Before we move any further, let us look at some of the key features the tool boasts!
Main Features of Unlockit iCloud Remover
It is very user-friendly and just takes half an hour to complete the download.
It is compatible with a range of iOS devices and operating systems, including iPhone 5S to iPhone X running from 12.0 to 16.
You can easily access the iTunes store with a new Apple ID and enjoy all functions except for calls, iCloud, and cellular after the removal.
The previous owner won't be able to access or track the phone after removal.
Step To Use Unlockit iCloud Remover
Additionally, the process of using this tool is quite straightforward as well! All you have to do is:
Step 1. Get the tool downloaded from the official website and have it up and running on your macOS computer.
Step 2. Once the tool is running, connect your device to the computer via your lightning cable, then press "Start" to initiate the process.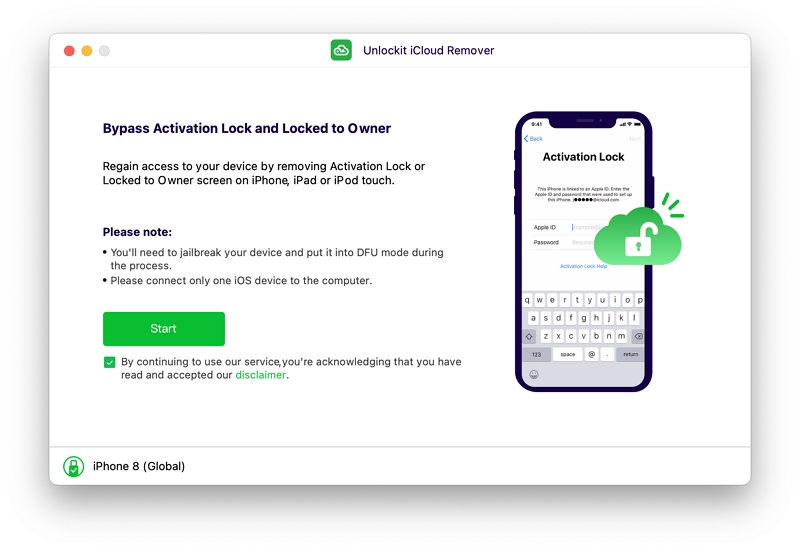 Step 3. To make sure the tool gets to perform its job, your device needs a jailbreak, however, Unlockit does it for you. As the process proceeds, the tool will automatically assess your device and download the most suitable jailbreak package.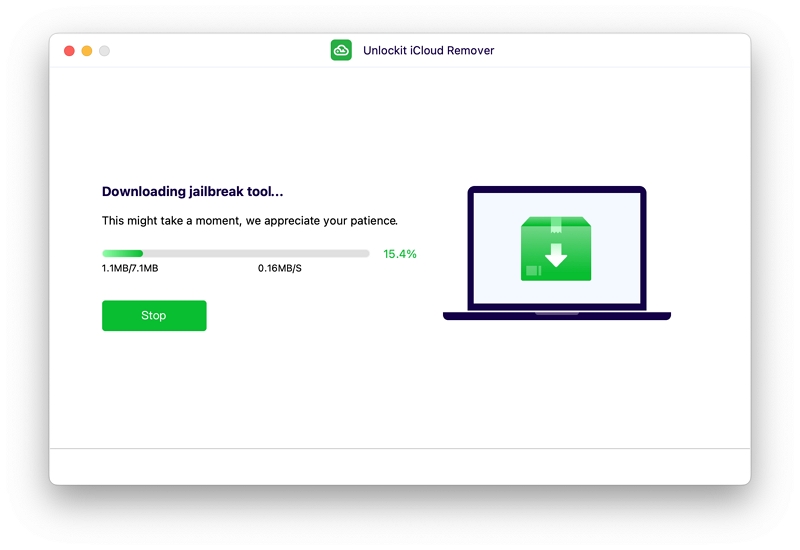 Step 4. Once the package is downloaded and the process is complete, you will be given another chance to double-check all information relevant to your locked device before initiating the final step.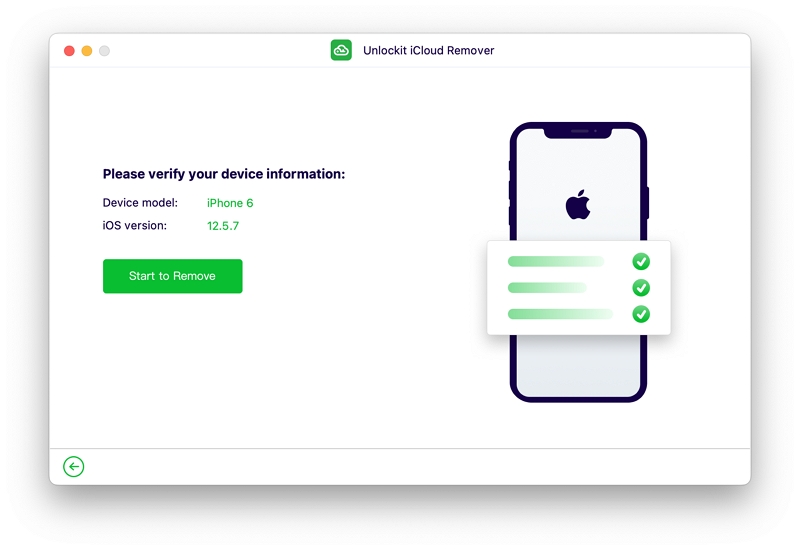 Step 5. Now all you have to do is click "Start to Remove" and watch a funny cat video while the tool takes the cause of all your iOS problems away!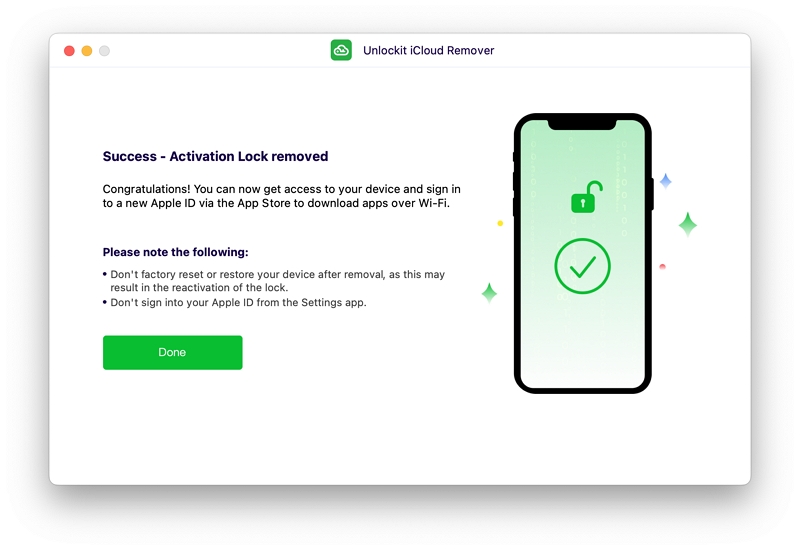 Conclusion
The availability of the iCloud Activation bypass tool V1.4 has become quite challenging as it no longer has an official website. However, it is worth considering that the tool has left our graces because, well, it didn't work.
I strongly recommend using a trustable tool with some goodwill to back it up, like downloading Unlockit as a reliable alternative to the iCloud Activation bypass tool. Unlockit can assist you in unlocking your iCloud lock quickly and efficiently. Now you won't have to sit around and look over old websites that look like a failed Craigslist, and you can just get rid of that lock once and for all!