By this point, I'm sure you're well aware of the fact that the iCloud Activation Lock is the bane of Apple users' existence. Have you ever gotten an iPhone from a relative or bought a 2nd hand iPad, only to find that you can't access its iCloud?
It's happened to me for most of my high school life, but that didn't stop me from getting the whole iPhone experience. What did I do? Oh, I just used reliable online tools to bypass the iCloud activation lock. That's why I'm here to help review iCloud Login Finder, a popular online tool, for you.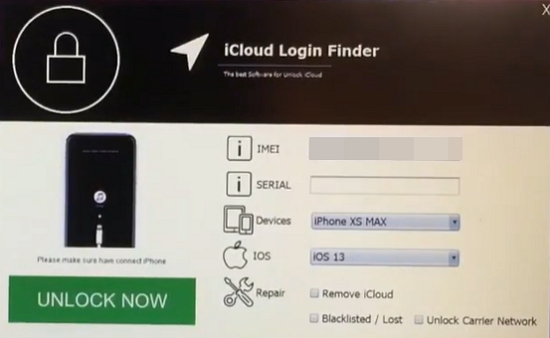 What is iCloud Login Finder?
iCloud Login Finder is a unique app that champions itself for being able to get past the iCloud activation lock in the simplest way possible. It doesn't require you to remember your Apple ID credentials or ask a previous owner for theirs. Instead, it simply goes past the lock and straight into your device.
Here are some of the devices you can unlock with it:
iPhones
iPads
Apple Watches
iPods
Features of iCloud Login Finder
Any tool's popularity is built off the utility that it offers. The iCloud Login Finder is known for being able to bypass many iOS-related issues. Let's take a look at them:
Unlock your iCloud activation lock
Get into a device that is reported lost
Unlock carrier network to change services
Most of these issues require you to either contact Apple for support or go through lengthy procedures that can take forever. But, with the iCloud Login Finder, you can easily get them sorted in a matter of minutes.
How to Use iCloud Login Finder
If you're ready to put this unique tool to the test, you're going to need a step-by-step guide to getting things done:
Get the iCloud Login Finder tool for your computer. Once downloaded, install the tool and run it while your device is attached via a lightning cable.
Now click the unlock options and enter the details of your device. You will be asked for the IMEI number, device model, and more.
Then you will need to put your device into Recovery mode.
Next, click the Unlock Now button to begin the unlocking process. You'll see a progress bar on the screen that will help you keep track of things.
Once the screen prompts you that the unlocking is over, it will ask whether you want to show the Apple ID now. Click Yes to check the result.
Now you can enter the provided Apple ID and password to unlock the Activation lock screen.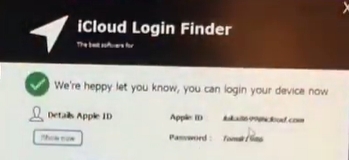 Review of iCloud Login Finder
Now we get to the tricky part. It's essential to understand that even though a tool may look good on the surface, it could have many potential downsides. The iCloud Login Finder is no exception to this.
One of the first issues that users encounter is that there aren't any authentic download links for the tool. This is mostly due to the fact that it doesn't have a proper website or customer support.
Secondly, there is a considerable lack of recommendation posts for the tool. I came across a few YouTube videos, but there isn't much to go around. Cases like these usually mean the link might have a high-risk usage.
You don't know whether you're downloading the tool or malware, and this can lead to severe security risks for your device and information. I once had my bank information stolen the same way.
Scams to Watch Out For
Another issue is that the tool claims it finds the iCloud account credentials and uses them to bypass the activation lock screen. The thing is, it doesn't work like that.
Any tool that claims to do so is a scam because Apple servers do not allow anyone to retrieve that information. So, if a tool says that this is how they get the job done, then it couldn't be further from the truth.
If that isn't convincing enough, many users on the internet claim that this tool simply didn't work for them. Their devices were compatible; they followed the procedure, they did everything needed, but it simply didn't work. This proves that the iCloud Login Finder has a terribly low success rate.
Effective Alternative that Works in 2023 to Bypass iCloud Lock
Since the tool we initially decided to review doesn't meet our expectations, I'm here with an alternative that will blow your mind. Introducing the Unlockit iCloud Remover. It's a pioneer in its category, leading the way with efficient iCloud unlocking and a plethora of other uses as well.
This is a godsend in so many ways because it makes the entire process of unlocking your phone easier for you. You might be wondering, 'How does this tool differ from the first one?' Well, where the first one was mostly cons, this one has an impressive list of pros under its belt. Here are some of them:
It truly works to bypass iCloud Activation lock without password
Provide official download link and user guide
You don't need the contact of your previous seller
It only takes a few minutes to unlock your phone and you don't have to be a tech master to figure it out
Compatible with iPhone 5s through iPhone X, most iPad models, the iPod touch 6, and the iPod touch 7 running iOS 12.0-16
Easy Guide for Unlockit iCloud Remover
Although it's fairly easy to use the tool, a step-by-step guide won't hurt. Here's how:
Step 1. Download and install the Unlockit iCloud Remover software on your computer and give it the access it needs to run.
Step 2. Launch the software, and connect your phone to the computer using the intended cable, and make sure the connection is secure.
Step 3. Once your device is connected, read the Disclaimer carefully and click 'Start' to move forward.
Step 4. The tool will start to jailbreak your phone, which is part of the unlocking process. You must have good internet access during this time.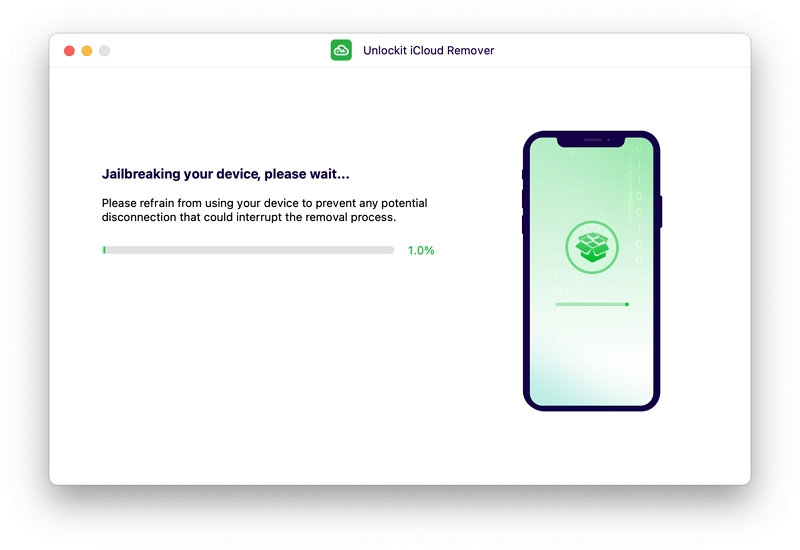 Step 5. Once your device is jailbroken, confirm your device information and click 'start to remove' to remove the iCloud activation lock.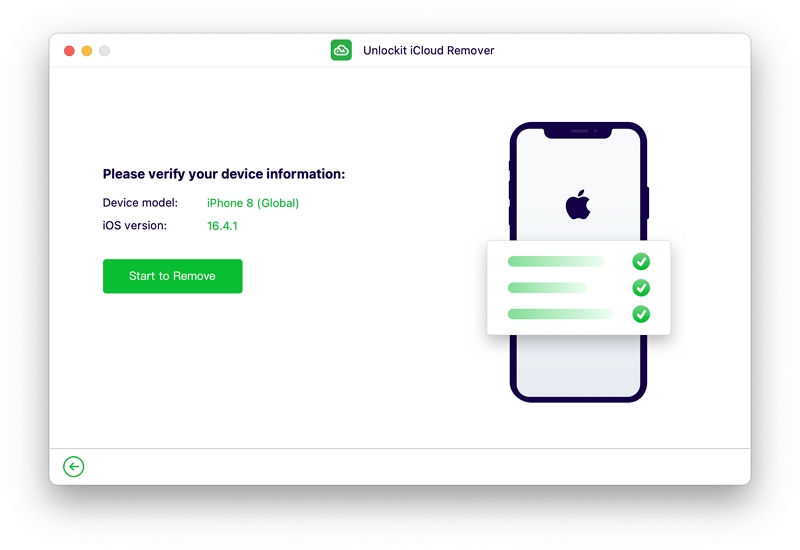 And that's a wrap. There's nothing more to it. Once the process is over, just check your device to see if you can get access to it, and you're good to go.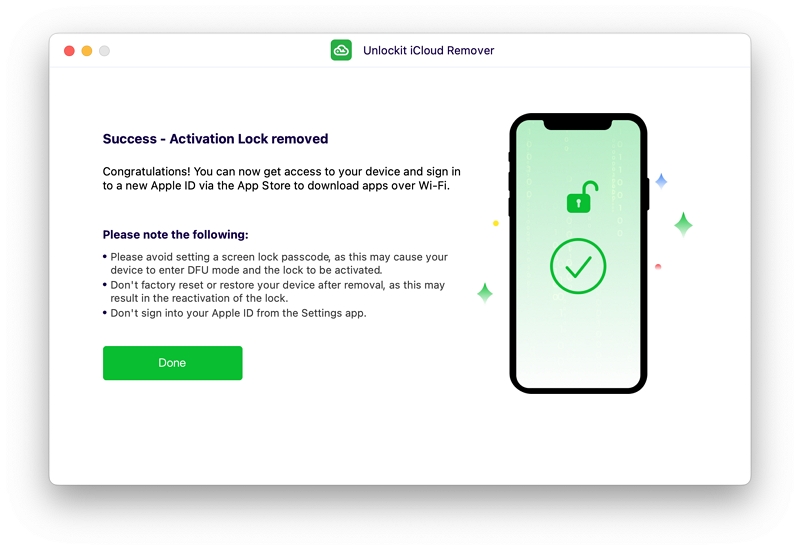 To Conclude
In a world where internet scams, malware, and viruses are the norm, going for tools with unreliable download links is a cardinal sin. Instead, you need to focus your energy on something that actually works and helps you out in the long term. And there's no tool better for that than the Unlockit iCloud Remover. Get it today and say goodbye to your iCloud activation lock for good!