When it comes to iPhones, the most common issue that users discuss is bypassing the iCloud Activation Lock screen. Have you been there? I remember when I got my first iPhone from my aunt before she moved states, and I couldn't get the thing to work because I didn't have her credentials.
To save you the trouble, I'm here to provide the easy way out so you don't have to sit through fake online tools or spend money on services that won't work. And when it comes to iCloud bypass tools, let's check out if iCloudin is a smart choice to bypass iCloud lock!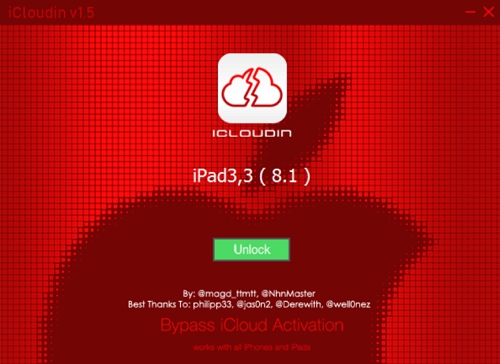 What Is iCloudin?
iCloudin is a tool designed specifically to bypass the activation screen on your iPhone or iPad without needing the credentials of the previous owner.
So, how does it help? Well, without a tool like iCloudin, you'd have to either get the Apple ID credentials from the previous owner to have them remove the lock remotely. From personal experience, I know that it can get hard to get in touch with a previous owner, so it's not worth it.
Moreover, the only other option you're left with, apart from this tool, is to go through lengthy and technical processes to bypass the iCloud lock. But, if you mess up any of the steps, you're at risk of damaging your device and setting it to a mode that you won't be able to exit.
Where to Download iCloudin?
Here's the tricky part. iCloudin doesn't really have a proper website or someplace with the actual download link. This causes many people to download faulty links full of malware and viruses.
Trust me, when I first used the app years ago, it took 4 tries and a whole lot of anti-virus scans to find the right one. That's something you don't want to put yourself through unless you're sure you are downloading the right link. Once you do find it, the installation method and using it is a piece of cake.
How to Use iCloudin?
If you're ready to get rid of the iCloud Activation Lock on your iPhone, then here's a handy guide on how to use iCloudin:
Using the download link for iCloudin, extract the ZIP files and install the tool on your computer. Make sure to launch it.
If iTunes is not already installed on your computer, install the latest version now to make the most of iCloudin.
Connect the locked device to your computer using a lightning cable. Once the drop-down menu appears, select "Host's file IMEI" from it.
You will now see the main iCloudin directory on the screen. Select "Hosts Activation IMEI.java." from the given options.
The unlocking process should begin immediately, and you can keep track of it by looking at the progress meter on the screen.
Once the tool indicates that the process is complete, check your device to see if you can access all of iCloud's features.
There, it was as simple as that. Only a few quick steps and your iCloud Activation Lock problem is resolved. It's the easiest method in the book, and it works quite a lot. The only issue?
You need to make sure you've found the right download link and have the latest version of the tool. Once that's out of the way, everything else just falls into place.
Does iCloudin Actually Work?
After having read that easy walk-through process, you must be wondering how effective this tool must be since we've already gone over the lack of an official website and download link, I know many of you are thinking it might be a fake.
The truth is iCloudin is a real and valid app. The only issue is that there are hardly any updated versions of it on the internet, and it doesn't work with any model over iOS9. That's a severe limit that puts a restriction on who can use the tool and make the most of it.
Another issue is that even if you have a compatible iOS for the tool, there is no guarantee that you downloaded the latest version. If it is an older version, it will follow through with the unlocking process, but there won't be any concrete results.
Review of iCloudin
Now we move to a holistic review of the app. Let's take a look at its pros and cons and what users on the internet have to say about it.
Pros
It can disable the iCloud Activation Lock
It is an easy-to-use tool
The interface is easy to understand for beginners
You don't have to pay to use the tool
Cons
Runs on devices with iOS 9 or lower
Doesn't have an official website with the link
Does not guarantee a high success rate
Requires you to have iTunes on your computer
Online Reviews
Users on the internet are at their wit's end with this tool. Many complain about not being able to find a download link with an updated version. This means that even when they go through with the unlocking process, it is all for nothing.
Others complain that their newer iPhones aren't compatible with the tool, so it's a waste of their time. I personally faced both these issues when I used the tool on an iPhone X.
iCloudin Not Working? Best iCloudin Alternative
After reading all that, anyone would be apprehensive about using iCloudin to unlock their iCloud Activation Lock. With tools on the internet, you just never know.
From fake reviews to a lack of updated versions, there are so many things that could cause problems. However, one alternative tool that I swear by is the Unlockit iCloud Remover.
So, what is Unlockit iCloud Remover? It's a tool to remove the iCloud Activation Lock from your iPhone or iPad without needing the Apple ID credentials or passcode. Whether you forgot the password to your iCloud or want to set up a pre-owned phone, this tool can unlock your device in a matter of minutes.
Here are some of its most prominent features:
Remove the iCloud Activation Lock without password.
Gain access to your device and set up a new ID on your iTunes store or App Store.
Compatible with with iPhone 5s through iPhone X, most iPad models, iPod touch 6, and iPod touch 7 running iOS 12.0-16.
After removal, the features of phone calls, cellular, and logging in with Apple ID from settings will be unavailable.
Imagine what just one tool can achieve. If you're ready to give it a shot, let's dive into the step-by-step method for it:
Step 1. Download Unlockit iCloud Remover onto your computer. Once it is installed, run it and connect your device via a lightning cable.
Step 2. When the app interface pops up, click on the "Start" button to start the removal process.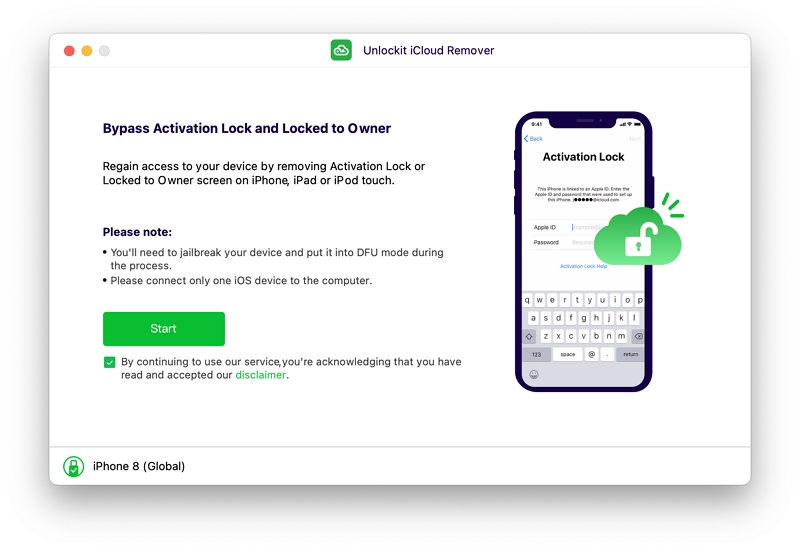 Step 3. The app will download a jailbreak process and jailbreak your device. Comply with the instructions on the screen and give it a few minutes to finish jailbreaking.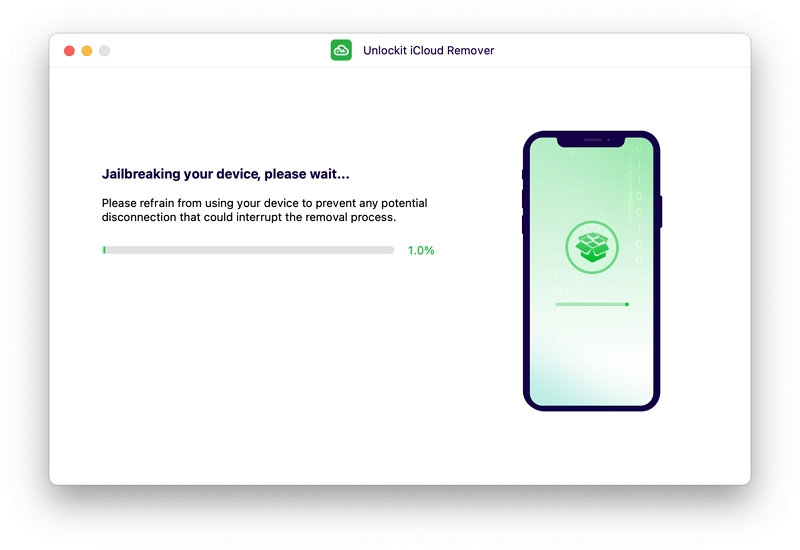 Step 4. Once the jailbreaking process is complete, click on the "Start to Remove" button to further the iCloud Activation Lock removal.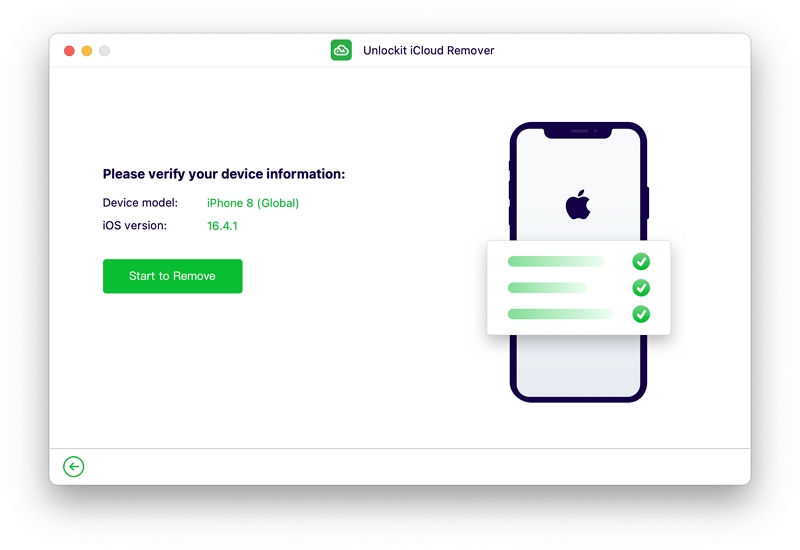 Step 5. Now the lock will be removed, and you can check your device to see if it lets you access the device.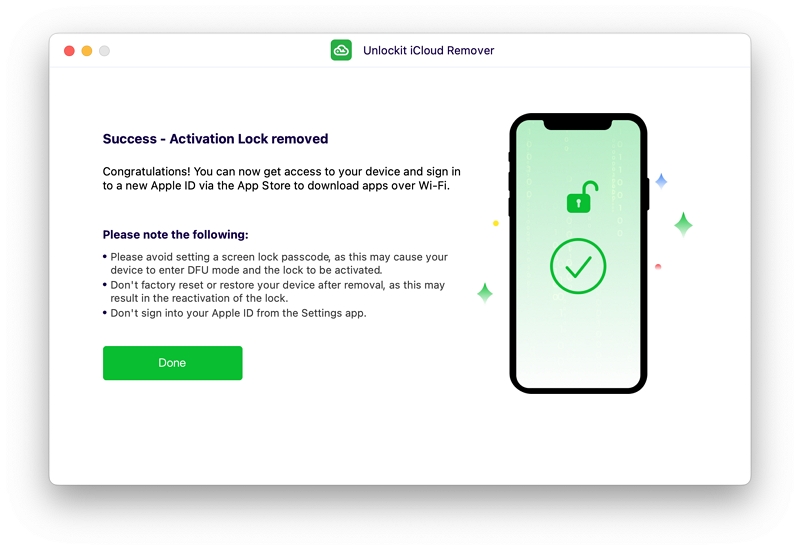 It's as easy as 1,2,3! With the enhanced security of this tool, you don't have to worry about any adverse changes to your device or about your information being stolen.
To Conclude
Moving on to the wrap-up, when it comes to iCloud removal apps, Unlockit iCloud Remover is as good as it gets. From its effective iCloud lock removal to the easy steps and user-friendly interface.
There is nothing about this app that could possibly disappoint. Unlike other apps on the internet, you don't have to worry about a lack of an official website or possible malware downloads as everything is as authentic as can be. I know I'd choose Unlockit, would you?