Do you ever wonder what Apple thought when introducing the iCloud activation lock? Like it makes sense, they wanted to prevent stolen phones from being sold, but it really was at the cost of everyone else's peace of mind.
If you're like me and bought an iPhone from a previous owner, I'm positive you must have come across the iCloud lock. If you're lucky, your previous owner either disabled it or gave you the credentials to log in, but for the majority of us, not only are we locked out of our phone's iCloud, but we can't get the credentials either.
That's where iCloud unlocking software come in. One such product is the Open My iCloud service, a program that helps bypass your iCloud activation and lets you manage the settings of your iPhone. Let's take a look at what all the hype is about!
What is Open My iCloud?
The Open My iCloud tool is an effective solution for unlocking iCloud activation lock. This tool claims to be able to bypass and remove the lock within 15 minutes, leaving your phone easy to set up and use. On many blogs, it is advertised as a tool that you simply need to download on your computer and run when the iPhone is connected.
There aren't any charges associated with the download, and on almost every platform, you can find it for free. In all my experience of using unlocking tools, I've never come across one that seemed so theoretically flawless.
Open My iCloud has an impressive list of features that attract potential customers and helps them maintain their popularity. Here are the most important ones:
iOS Device Compatibility: The program is compatible with most iOS devices running below iOS 9.
Ease of Use: With its simple interface, you won't get lost trying to understand how to go about each step. It's just a few clicks, and you're at the final product.
Results in Under 15 Minutes: No one likes having to wait all day for their phone to start working. This is why Open My iCloud usually gets the job done in under 15 minutes.
Although you're well aware of the features of the program, it's always better to take these things with a grain of salt. Make sure you download the right tool and never pay third party sites.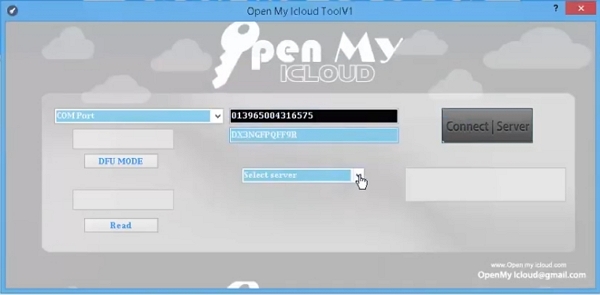 Is Open My iCloud Safe to Use?
However, once we get into the specifics of the tool, red flags start to rise. Although the website claims to be authentic, when you click on the download link, it redirects you to a third-party site.
In many cases, it takes you to web pages where you are required to punch in your credentials and sometimes takes you to ad pages. These are telltale signs of a download link being fake, but it also increases the risk of data phishing or cyber-attacks.
Many experts believe the way this program extracts your data to bypass the iCloud activation is also very rough. In the long run, it could lead to potential data damage, but users notice slight changes in their phone's performance even after the first time.
Even though the tool is completely free, its lack of authenticity and suspicious download links have caused it to lose popularity amongst people. I remember a time when there was a lot of hype around the tool, but it seems to be dying out.
How to Use Open My iCloud?
Although there is a proper tutorial for how to use this tool, the answer to whether or not it works rests on trial and error. If you want to run it on your computer and test it for yourself, here's what you need to do:
Download and install Open My iCloud on your computer and make sure to securely attach your iPhone.
Open the interface and click on demo.openmyicloud.com and then click on Connect to Server.
As soon as it loads, click on COM1.
Click on the DFU mode and then press Read.
Now watch as your iCloud is bypassed in under 15 minutes.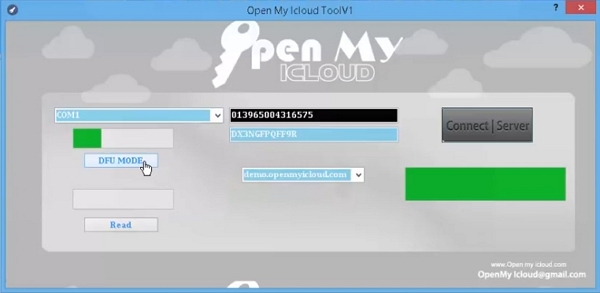 Even though the interface and method of execution are really simple, many people have complained about this process not working. And the funny thing is - it's surprising how so many people got to this part, considering any working links to the tool's download are very hard to find.
Does Open My iCloud Really Work?
Let's assume you do find the download link, even though it's virtually impossible, and get past the plethora of ads to install this tool on your computer. What next? You follow through with the tutorial only to realize nothing happened? Many users on the internet had an experience similar to this.
They downloaded the tool off a website that claimed pay-to-download and used it on multiple iOS devices. A great majority of them did not start, only adding to the existing mystery about the effectiveness of this tool. One of the main reasons for this was the incompatibility with iOS 9 or above.
When I tested it out, the devices I needed to unlock did not show any signs of an iCloud activation bypass, and on top of that, they sustained some damage as well. The issues faced during this testing were similar to the ones people had detailed online.
Pros
Completely free-of-cost service
Easy-to-use interface for beginners
Fast and efficient unlocking time of under 15 minutes
Does not ask for alot of permissions on the computer
Cons
Damages the phone's data
Hard to find the download link
Download speed is sluggish and unreliable
Does not work with iOS 9 and above
Has a relatively low success rate
Open My iCloud User Reviews
One of the telltale signs of Open My iCloud being a scam was the comments found on the Facebook and YouTube channels of the tool. People had openly expressed their concerns about not being able to find the download link, downloading viruses, and even being used to generate traffic to click on ads.
That's not all of it, though. Those who had managed to get the download link and followed through with the instructions reported that it made no difference to their phone's activation lock. Some comments claimed that their data had been damaged, whilst others called it a waste of time.
Another suspicious thing was that most of the positive reviews about the service came from blogs that biasedly sided with Open My iCloud. Even on the comments of these sites, people expressed their concerns over this app that they believed to be a scam.
Working Alternative to Open my iCloud in 2023
If like us you were unable to download Open My iCloud, or your device is running above iOS 9, we recommend using Unlockit iCloud remover instead. This is a trusted and effective way to remove iPhone and iPad Locked to Owner and bypass iCloud Activation lock.
It has several impressive features that help you complete the unlocking process faster and more effectively.
They include:
Remove iCloud Activation the Apple ID and password.
Fast and secure: you can unlock the device yourself in 30 minutes.
It is compatible with lots of iPhone models from iPhone 5s to iPhone X, running from iOS 12 to 16.
Official download and support.
Here's how you can use Unlockit to bypass iCloud Activation lock and use your device:
Step 1: Download and install Unlockit iCloud Remover on your computer.
Step 2: Open it and connect the iOS device to the computer using the USB cable. Then, click on the "Start" button in the main interface.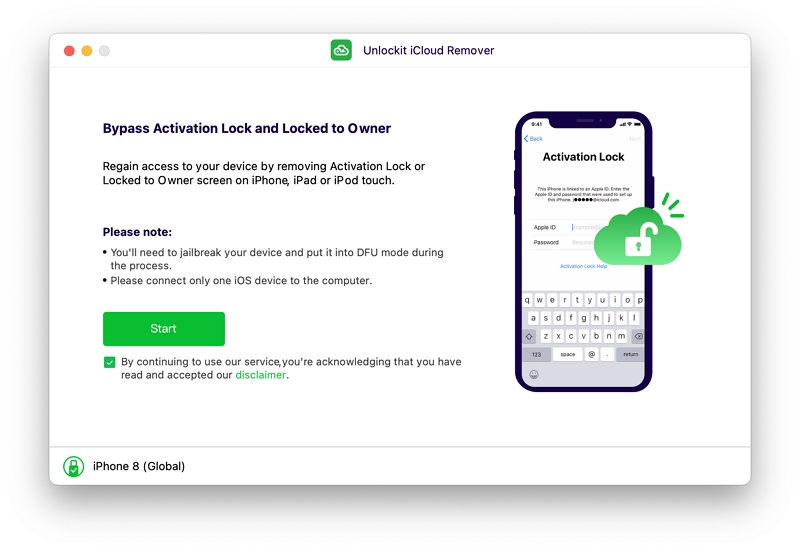 Step 3: After that, the program will prompt you to jailbreak your device. Follow the in-built instruction to jailbreak it.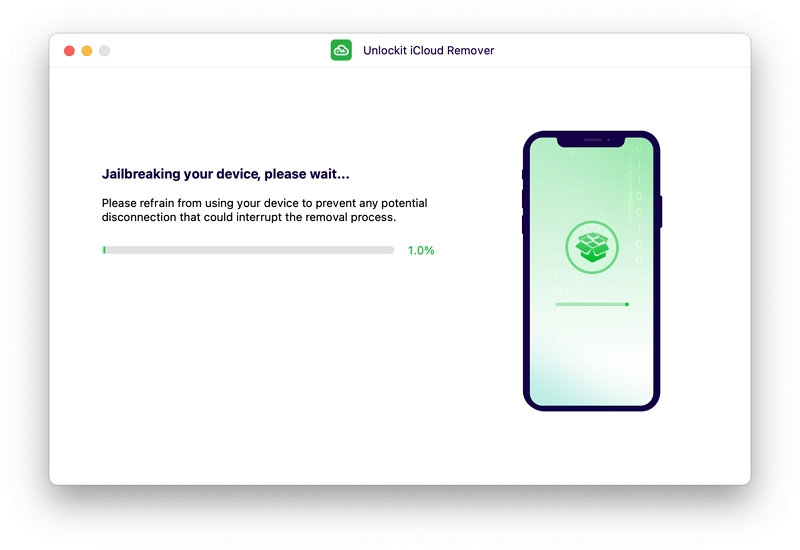 Step 4: Once you have successfully jailbroken the device, click on "Start to Remove" and Unlockit will remove the activation lock from the device. Keep the device connected until the process is complete.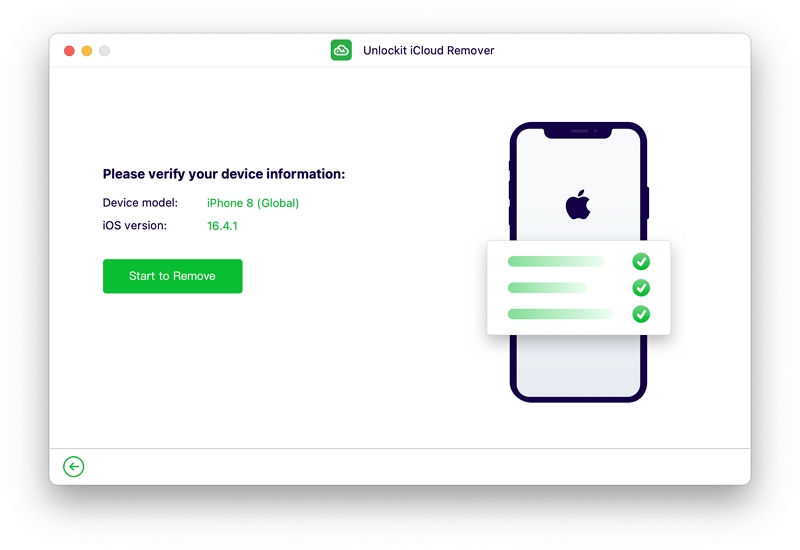 When Unlockit notifies you that your device has been unlocked, you can disconnect it and continue with the setup process. You should be able to regain access to your device once it is unlocked.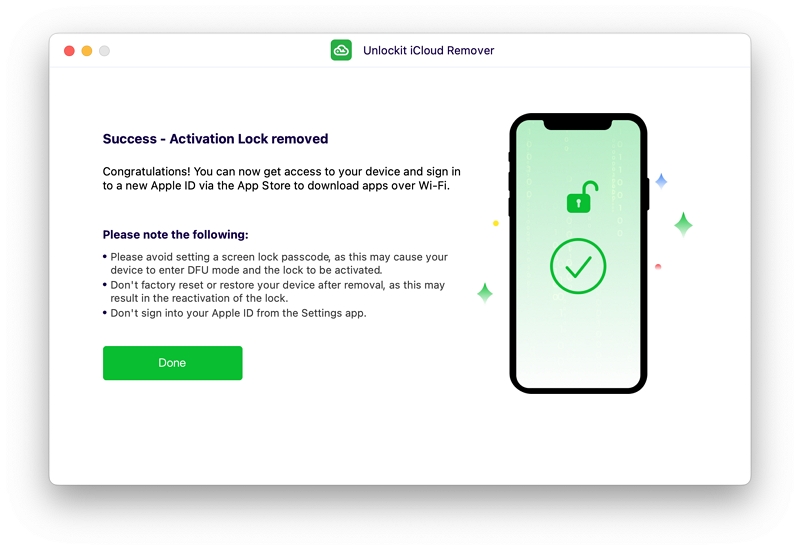 Conclusion
Now that you've read through my personal review and the struggles of many users on the internet, it's clear that Open My iCloud is not a safe service to avail. It firstly wastes time trying to get a hold of the download link and then subjects the user to potential viruses or security breaches.
Secondly, it resembles more a get-rich-fast scam on the internet than it does an actual tool that is intended to be helpful. An important lesson to learn is that you shouldn't be so easily persuaded by places offering services free of charge. When something is free, you're paying for it in some other way that you're unaware of.
Instead, consider using authentic iCloud removing services that protect your data and privacy. This blog has covered more than a handful, so finding the perfect one for you shouldn't be too big of a deal. When it comes to your iPhone, it's better to go through proper software like Unlockit iCloud remover than the ones you find for free on the internet.