Getting stuck with an iPhone with an iCloud Activation Lock can be a dreadful experience. But fret not, as quite a few internet services and tools are available. And 4MeKey is one of the best the interwebs has to offer.
However, like life, even this amazing service has to let down users sometimes, as keeping an unofficial service up-to-date takes quite an effort from the developers.
This is why you should always keep a plan B, and that is also why I'm here. To help you find the right alternatives so you don't end up loosening your wallet too much or with too many viruses on your device.
So without further ado, let's grab a cup of hot joe, take our minds off of our inaccessible devices and look at 5 the most effective alternatives for 4MeKey.
What is Tenorshare 4MeKey
Tenorshare 4MeKey is a software developed by Tenorshare that specializes in unlocking the iCloud Activation Lock on iOS devices. It is designed to provide a reliable and effective solution for individuals who are unable to access their devices due to this lock.
With this tool, users can remove the iCloud Activation Lock without any hassle, allowing them to regain full control and functionality of most of their iOS devices. The software is compatible with various iOS devices and supports a wide range of iOS versions, ensuring its versatility and usability.
As for usability, you can connect your iOS device using a USB cable after downloading and launching the software on your computer. The software then guides you through the necessary steps, including jailbreaking the device, confirming device information, and initiating the iCloud Activation Lock removal process.
Additionally, one feature that sets 4MeKey apart is, unlike some unreliable tools, it ensures that you can sign in to your Apple account even after bypassing the Activation Lock, allowing you to enjoy all the features and services associated with your device.
4MeKey Not Working? Check These Alternatives
If you are facing difficulties with 4MeKey, exploring alternative solutions to bypass iCloud activation locks is essential. Here are a few alternatives you can consider:
Best Alternative: Unlockit iCloud Remover
As 4MeKey sets up a high standard to meet, there aren't many options available over the internet. However, amongst the few we found, one has stood out since the very beginning. This tool is known as the Unlockit iCloud Remover and has proven to be one of the most effective solutions to the pesky Activation Lock problem.
Not only does this tool allow you to bypass iCloud Activation lock, iPhone and iPad Locked to owner, and allow you to get most of the access back to your device's features. This practical piece of software engineering has been helping countless people get rid of the complications posed by this lock and provides a ton of benefits, such as:
It's extremely easy to use and allows users to get rid of the Activation lock and Locked to owner with a few simple clicks.
The entire setup of the tool is very secure and professional while keeping things easy to understand.
It supports iPhone 5s to iPhone X, most iPad models, iPod touch 6, and iPod touch 7 running iOS 12.0-16.
Price:
1-month license: $29.95
1-year license: $39.95
Lifetime license: $49.95
And when I say it's easy to use, GOD is it easy to use. All you have to do is:
Step 1. Get your computer started, and make sure that there is an active internet connection going. Now download and install Unlockit onto your macOS computer.
Step 2. Now use a USB cord and have your phone connected to the computer. Have the tool up and running and click the Start button.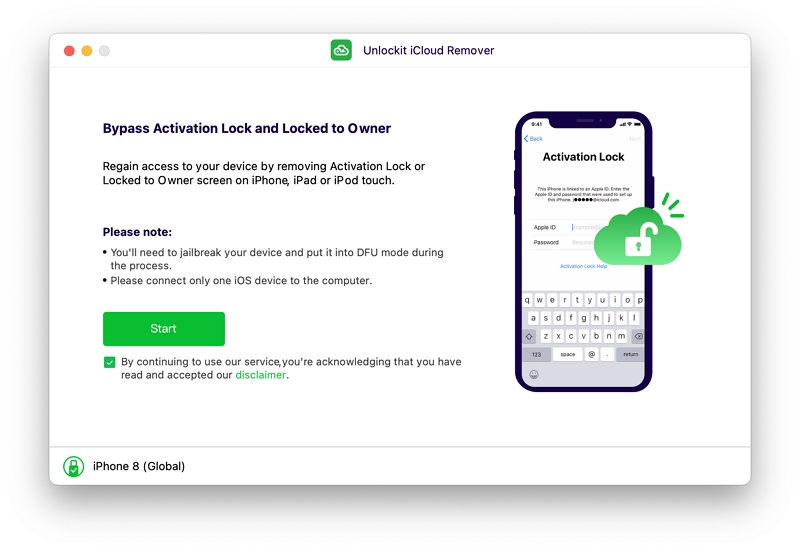 Step 3. Now put your device into DFU mode and then jailbreak your device by following the in-built guidelines!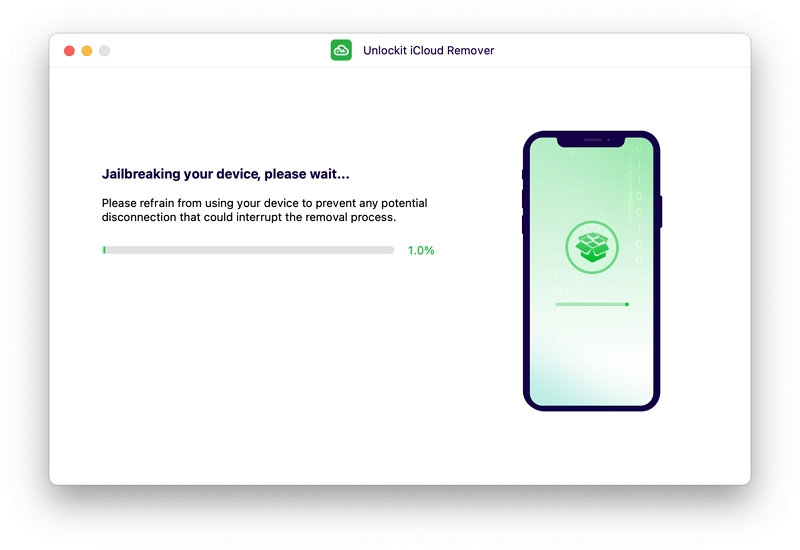 Step 4. After that, confirm the information of your device and click the Start to Remove button.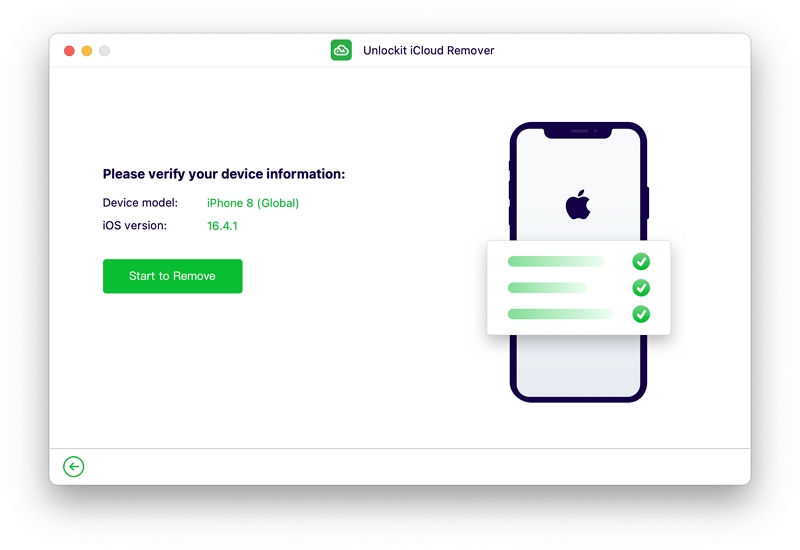 In a few minutes, your device will be unlocked and you can then get access to it!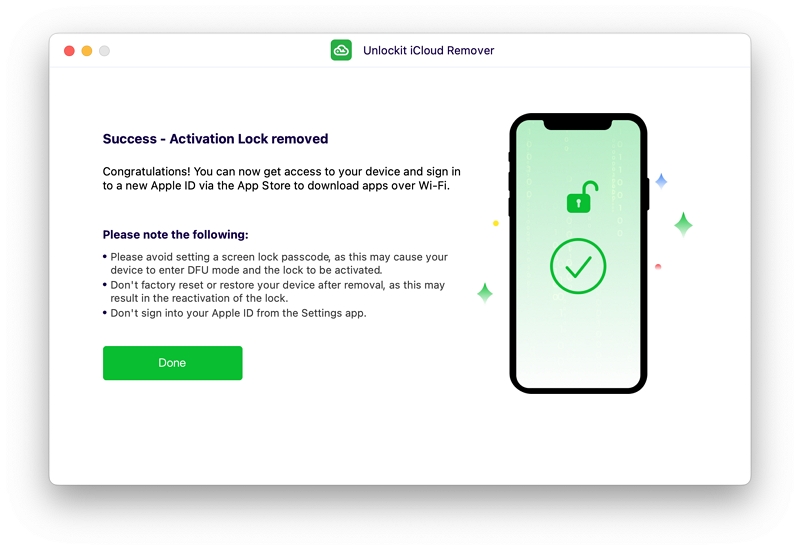 Dr.Fone
Coming second on the list is the well-known Dr.Fone, as it is one of the few tools that unlock the iCloud Activation lock. This tool has been keeping up with the times as it is supported with almost all the newest iOS versions and models.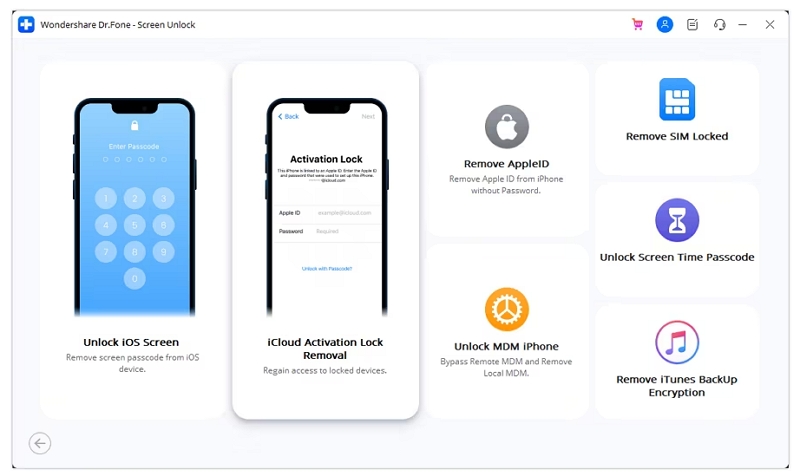 Here's a list of some of the features provided by Dr.Fone:
Remove iCloud Activation lock.
More screen unlock features available: MDM lock bypass, iOS screen unlock, Screen time passcode unlock.
The iCloud unlock feature is compatible with devices running from iOS/iPad OS 12.0 to 14.8.1.
Price:
1-year license: $49.95 per year for up to 5 mobile devices
Perpetual license: $59.95 for up to 5 devices
The process to use Dr.Fone is very straightforward as well; all you need to do is:
Get your hands on a copy of Dr.Fone and get it running.
Grab your lightning cord and connect your device to the computer the tool is running upon.
Now choose the "Screen Unlock" option, then "iCloud Activation Lock Removal" and let the tool do its magic.
Pros
Easy to use
Safe and reliable
Support to remove lots of screen locks
Cons
The iCloud unlock doesn't support devices running above iOS 14.8.1
The price is not competitive
EaseUS MobiUnlock
EaseUS MobiUnlock is an excellent alternative to 4MeKey, offering a reliable solution for bypassing iCloud activation locks on iOS devices. This tool is highly regarded for its effectiveness, user-friendly interface, and notable features.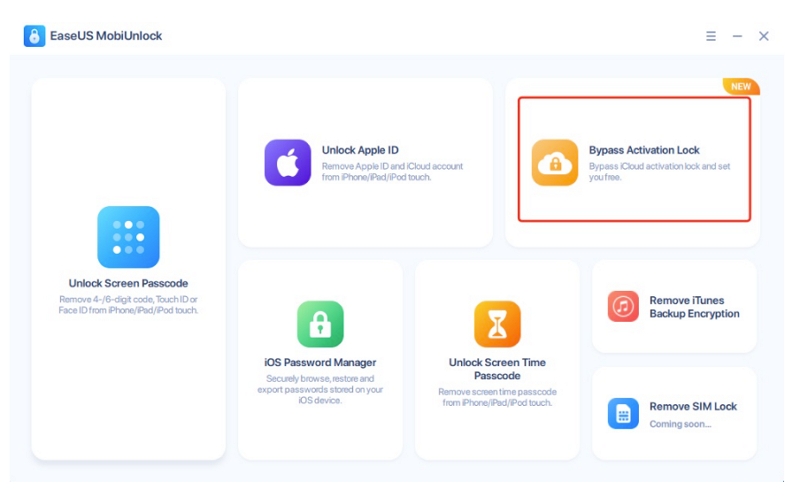 Here's why EaseUS MobiUnlock is a good tool to use:
The tool specializes in bypassing iCloud activation locks, allowing users to regain access to their iOS devices quickly and easily.
It also offers a straightforward and intuitive interface, making the unlocking process simple and accessible even for users without technical expertise.
The tool ensures your device's and personal data's security throughout the unlocking process, providing a safe and reliable solution.
Price:
1-month license: $29.95 per month for up to 5 mobile devices
Lifetime license: $49.95 for up to 5 devices
To use this amazing tool, here is a step-by-step guide to help you through it:
Download and install the tool on your computer from the official website.
Launch the installed software on your computer.
Connect your iCloud-locked iOS device to the computer using a USB cable.
Once you've done all that, you can go ahead and run the activator script to get rid of the lock once and for all!
Pros
Comes with a simple to use interface
Remove various screen locks for iOS devices
Safe and secure
Cons
The iCloud unlock feature isn't compatible with devices running above iOS 14.8.1
iRemove Software
Next up is the iRemove software that has recently gained quite a number of followers. Mainly used to remove the Activation lock screen on iCloud-locked devices. What helps this tool to stand out amongst the rest is its ability to remotely unlock a device and provide access to phones that have their permanent unlock passcode disabled.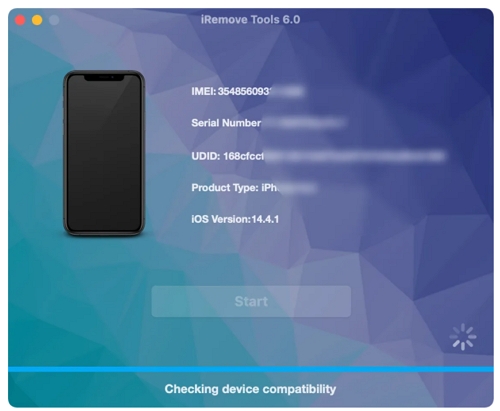 However, this tool ranks a little low on my list because there is no in-built Checkra1n jailbreak, so the user must perform the process manually. Other than that, this tool is a piece of art with the following key features:
It helps users bypass or remove the iCloud activation lock on iPhones, iPads, and iPod Touch devices.
The software also removes SIM locks on iPhone devices, allowing you to use your device with any carrier worldwide.
It can help you disable iCloud's "Find My iPhone" feature.
Price:
iPhone 5S: $14.99
iPhone 6 and iPhone 6 Plus : $24.99
iPhone SE, iPhone 6S and iPhone 6S Plus: $29.99
iPhone 7 and iPhone 7 Plus: $34.99
iPhone 8 and iPhone 8 Plus: $44.99
iPhone X: $49.99
And to further add onto that last feature, here is a quick step-by-step guide on how to use it:
Download the tool and launch it on your computer.
Connect your device to the computer using your lightning cable.
Next comes the icky part, the payments. Make sure you enter the correct information and proceed with the payment.
Click on the "start bypass" and watch the magic happen.
Pros
Simple to use
Compatible with devices running from iOS 12 to iOS 17.5.1
Clear website guidelines
Cons
The price for iPhone 7, iPhone 8 and iPhone X is relative expensive than other software
iMobie AnyUnlock
Last but not least, we have iMobie's AnyUnlock, a tool that can help you get rid of Activation Locks for free. Now you must be wondering, if it's free, why isn't it further up the list and even the best? Well, that is because this tool only works with a select collection of iOS versions and models.
If you are lucky enough to have a device out of the compatibility list, then it would never hurt to test this free tool first, before moving towards the premium options on this list.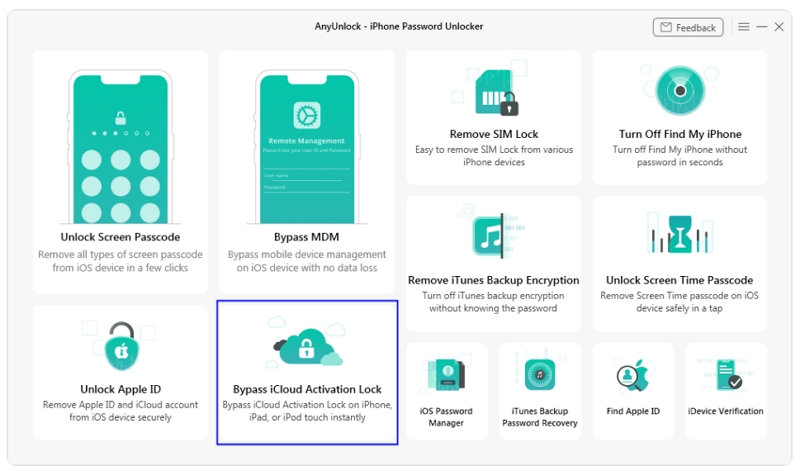 Here are some of its key features:
The software lets you remove or bypass Apple ID from your iOS device, allowing you to sign in with a different Apple ID or create a new one.
It can help you recover the password for encrypted iTunes backups.
AnyUnlock offers a feature to bypass iCloud activation lock on certain iOS devices.
It provides a user-friendly interface, making it easy for users of all technical levels to navigate and perform the necessary unlocking or recovery procedures.
iMobie emphasizes privacy protection and ensures that your data is kept secure during the unlocking or recovery.
Price:
3-month license: $35.99
1-year license: $39.99
Lifetime license: $59.99
To use AnyUnlock, I've put together a short step-by-step guide for you guys.
Get the software downloaded and unzip it into your preferred directory.
Connect the device to the PC with the help of your lightning cable.
Run iMobie AnyUnlock and select "Bypass iCloud Activation Lock" on the interface.
As the new window pops open, click "Start" And the unlock process should commence.
Pros
User-friendly interface
Support devices running from iOS 12 to iOS 17.5.1
Cons
The lifetime license is expensive than other software
Conclusion
While 4MeKey is a reliable option for iCloud activation lock removal, it's always better to be safe than sorry with a few additional options to count on!. Among the alternatives mentioned, Unlockit iCloud Remover stands out as a highly effective solution.
With its easy-to-use interface, comprehensive functionality, and ability to remove the activation lock and restore access to device's features, Unlockit iCloud Remover provides a practical and reliable solution.