We all know that if you enter the incorrect passcode several times on your iPad or iPhone, it gets disabled, rendering it useless unless you reset it!
So, what is the best way to reset it without losing data?
Well, there are some unique ways, and we are going to discuss them all in this article.
Check it out!
Why is My iPad Disabled?
If you entered wrong/incorrect screen lock passcode a specific number of times, your iPhone or iPad will get disabled.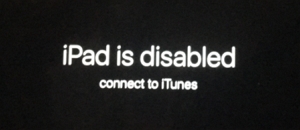 This feature was added as a security precaution to prevent your data from being accessed by hackers or thieves.
Though it is a welcome addition, what if you forgot your screen lock key or a child accidentally disables your phone by repeatedly entering the wrong passcode?
The only way to regain access to the locked device is to reset it.
In the following sections, we'll share ways to reset the iPad quickly.
Continue reading!
Reset Disable iPad via Unlockit iPhone
The first and most recommended way to reset the iPad efficiently is by utilizing a third-party phone unlocking software, such as Unlockit iPhone.
This intuitive program removes all types of screen locks, including 4/6-digit passcode, Face ID, and even touch ID in just a few clicks.
The catch is that you do not need access to iTunes or iCloud to reset the device.
Besides, it is compatible with all iPad models, so you do not have to worry about this.
So, how to use this software to reset the disabled iPad right away?
Follow the steps here:
Step 1. Launch Unlockit iPhone
Download and launch the software on your Windows or macOS computer.
Step 2. Choose Unlock Screen Passcode mode
On the home screen, click the Unlock Screen Passcode feature. At the same time, connect the iPad to the PC or Mac via a USB/Lightning cable.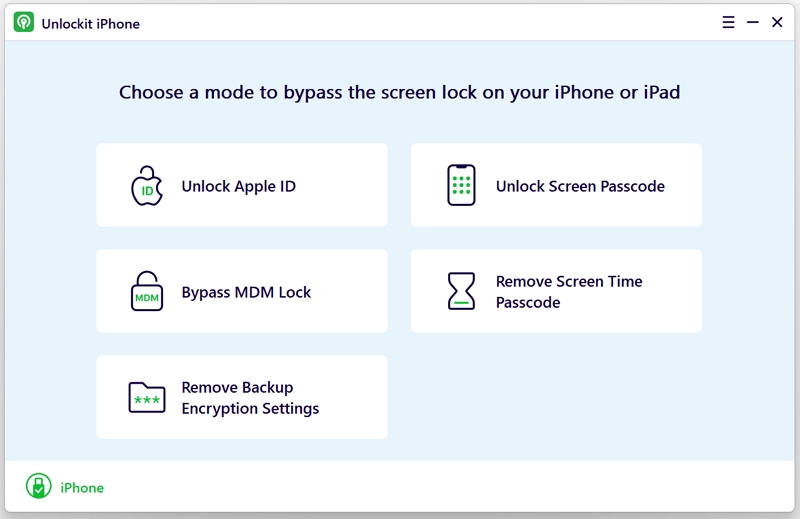 Step 3. Put your device in Recovery mode
Next, follow the instructions listed on Unlockit iPhone to put your device into Recovery Mode.
Step 4. Reset the device
After you device is Recovery mode, download the firmware by clicking the Download button.
As soon as the firmware downloading is done, tap Remove to reset the device.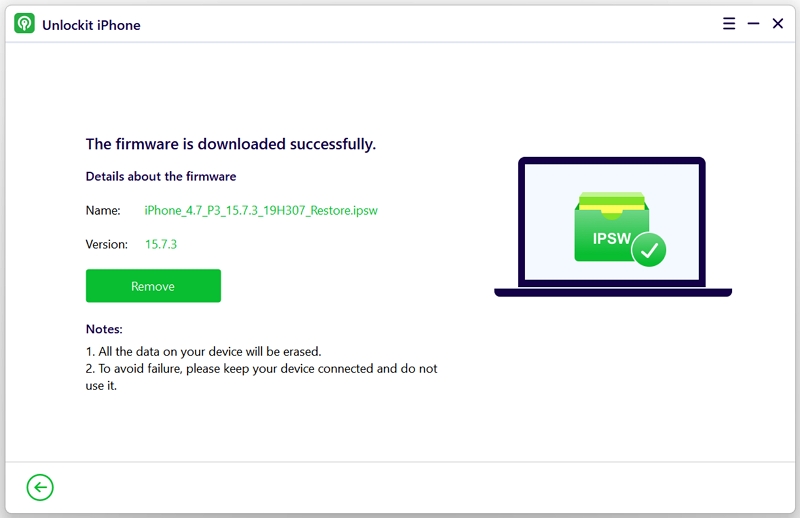 Once the iPad restarts, you can set a new passcode and return to business as usual.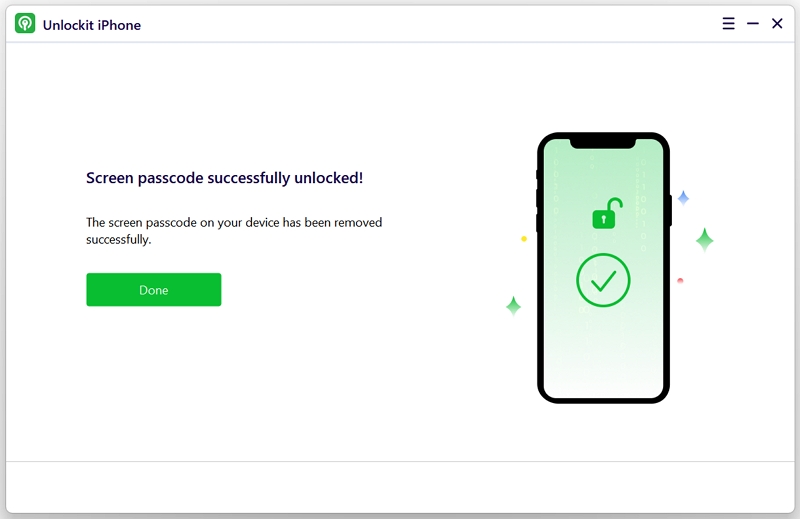 This software is easy to use, offers data security, and runs smoothly on all systems.
Reset Disable iPad with iTunes
Learning the official techniques to reset the iPad is vital, as you'll never know when you will need such a method.
However, it is vital to mention that all your data will be lost unless you have a backup created on iTunes or iCloud.
If the Desktop is Trusted
Check out the steps below:
Attach the iPad to a trusted Windows or Mac via a cable, and launch iTunes.
click the Restore iPad button and select Restore from iTunes Backup.
Choose the Most Recent Backup, and this action will restore your iPad.
If the Desktop is Not Trusted
Do not panic if you only have access to an untrusted desktop, as you can still navigate iTunes to reset the iPad.
However, the process is slightly different for iPad with the Home button and the ones without the Home key(Face ID).
iPad With Face ID:
Turn off your iPad by pressing the Top and the Volume Down buttons.
Keep pressing the Top button and simultaneously connect the iPad to the untrusted computer.
Once the Recovery Mode screen is visible, stop holding the Top button.
Now, launch iTunes, and click on Restore.
The device will be restored to its factory Settings.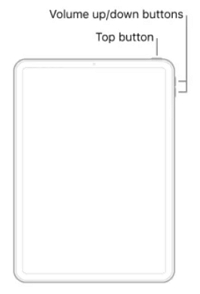 iPad With Home Button:
Instead of the Top button, press the Home key until the Power Off Slider appears.
Once the iPad is switched off, connect the device to the computer.
Keep pressing the Home button and release it once the device enters Recovery Mode.
Run iTunes, and click on Restore to reset the device.
That's it!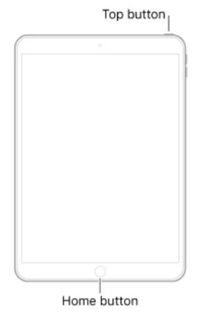 Reset Disable iPad Using Find My iPhone
We always knew that the Find My app was used to locate a lost iPhone or iPad, but only a few have a clue that it helps you remotely reset the iDevice.
However this method only works when the Find My iPad is turned on on your device before it is disabled and it is connected to a stable network.
Follow these steps:
Visit the icloud.com, and enter your iCloud credentials to sign in.
Click on the All Devices button and choose the iPad that is locked or disabled.
Next, click the Erase iPad option, and confirm the action by clicking Erase again.
This method also works on the Find My app. You only have to access another iPhone or iPad and enter your account details before selecting the disabled iPad to reset it.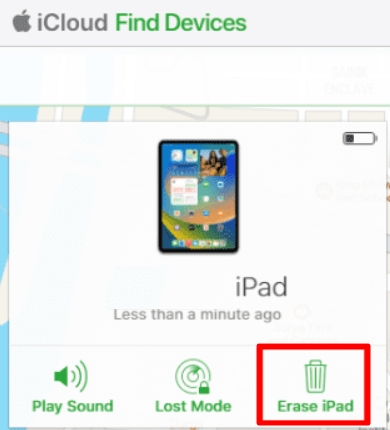 Note: This method will result in data loss. So, process with caution!
How to Prevent Your iPad from Being Disabled
Resetting eventually results in data loss, so it is best to avoid disabling or locking the iPad in the future.
But how?
First, if someone else regularly uses your iPad, we suggest removing the screen lock(Touch ID/Face ID) altogether.
Next, you can also enable the Guided Access® or Screen Time features that'll prevent other users from opening specific apps and help you set how long the iPad could be used by someone.
Regularly back up your data. This way, if it ever gets disabled, you can restore the device to its former glory by accessing the backup.
Disable the Tap to Wake setting on your iPad, primarily if the device is used by multiple people.
FAQs About Disabled iPad
Here are some common queries related to this topic:
1. How do I get my iPad out of disabled mode?
To exit the disabled mode, you need to reset the iPad using iTunes. Moreover, device reset can be performed via a third-party application like Unlockit iPhone.
2. How long does the iPad disable last?
If you enter the wrong passcode six times consecutively, then the iPad becomes locked for 1 minute. After 10 incorrect attempts, the device gets disabled indefinitely, and the only way out is to reset it.
We have bad news. You can't back up an iPhone or iPad if it is in disabled mode.
4. How to factory reset iPad without iTunes?
We recommend opting for third-party software like Unlockit iPhone to reset the iPad quickly without iTunes or iCloud. This solution is much simpler than others.
Conclusion
Resetting the iPad is a hassle, primarily if you do not have a backup stored on your cloud account or iTunes. However, it is an easy process when you know the correct solutions.
With this article, we hope you can easily reset the disabled iPad. Still, if you do not have access to iTunes or consider that method to be a bit complicated, try out Unlockit iPhone.