Oh, the dreaded "iPhone is disabled, connect to iTunes" message! We've all been there or at least know someone who has.
Whether it's the result of a mischievous toddler or a forgetful moment, a disabled iPhone can feel like a brick wall between you and your digital life.
But fear not, because we'll share some insider tips to help you effortlessly bypass that disabled iPhone screen.
Buckle up and prepare for a smooth ride back into your digital world with our easy-to-follow guide.
Why is Your iPhone Disabled?
Before diving into the many solutions to bypass the disabled iPhone, it is quite vital to determine the reason it all came to this!
Well, the iPhone gets temporarily or permanently into such a state when the incorrect passcode is entered too many times.
If you enter the wrong passcode 6 times, your iPhone will be disabled for 1 minute.
If you enter the wrong passcode 7 times, your iPhone will be disabled for 5 minutes.
If you enter the wrong passcode 8 times, your iPhone will be disabled for 15 minutes.
If you enter the wrong passcode 9 times, your iPhone will be disabled for 60 minutes.
On the 10th unsuccessful attempt, it gets permanently disabled with the message "iPhone is disabled, connect to iTunes". The only way out of such a tricky state is by resetting it.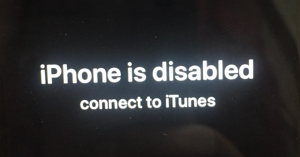 Continue reading to learn the top four solutions to restore the locked-out/disabled iPhone quickly!
Bypass Disabled iPhone without iTunes/iCloud via Unlockit iPhone
We'll start by suggesting a professional iOS unlocking tool: Unlockit iPhone to bypass the disabled iPhone.
Why does this software stand out?
It doesn't require to use iTunes, iCloud or enter Apple ID credentials. What's more, it is easy to use, and has the highest success rate in terms of job completion.
It doesn't matter if you forgot your passcode, have a shattered iPhone screen, or recently purchased a second-hand device, try and access this software instantly.
Its features include:
Removing all types of screen locks(4/6 digit passcode, Touch ID, Face ID)
Put your device in Recovery mode automatically.
Unlock iPhone disabled, unavailable, security lockout
Bypass Apple ID without password
Bypass MDM lock on iPhone
Bypass Screen Time passcode without losing data
Download the software now on your computer, and apply the following steps to bypass the disabled iPhone:
Step 1: Launch Unlockit iPhone
Once installed, run the software on your computer, choose "Unlock Screen Passcode" from home screen.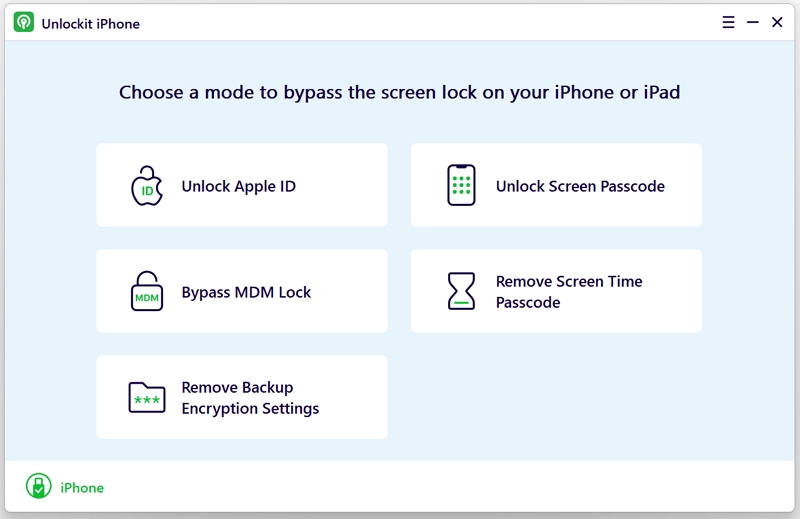 Then connect the device via a USB cable to the computer and click Start to proceed.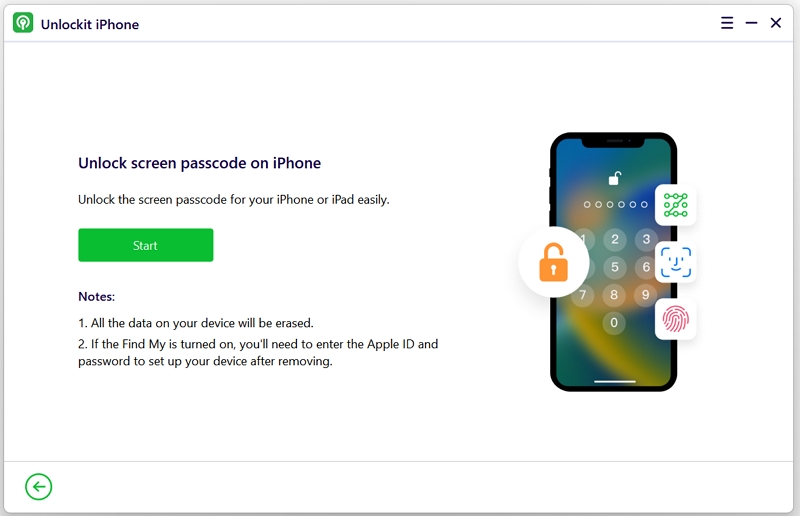 Step 2: Download Firmware
Once Unlockit iPhone recognizes the device, prepare to download the firmware and complete the action.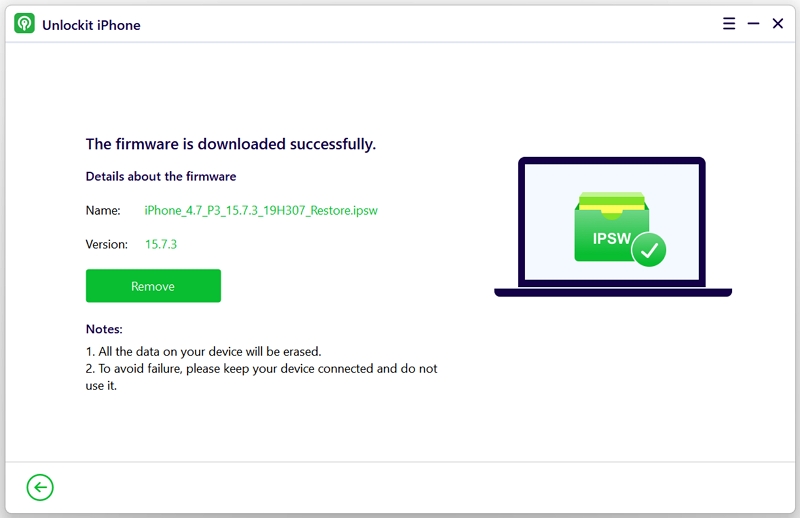 Step 3: Unlock the Disabled iPhone
Click Remove, and the program will bypass the security lock. It will notify you once the process is complete.
Click Done, disconnect the iPhone from the desktop, and set it up as a new iPhone now!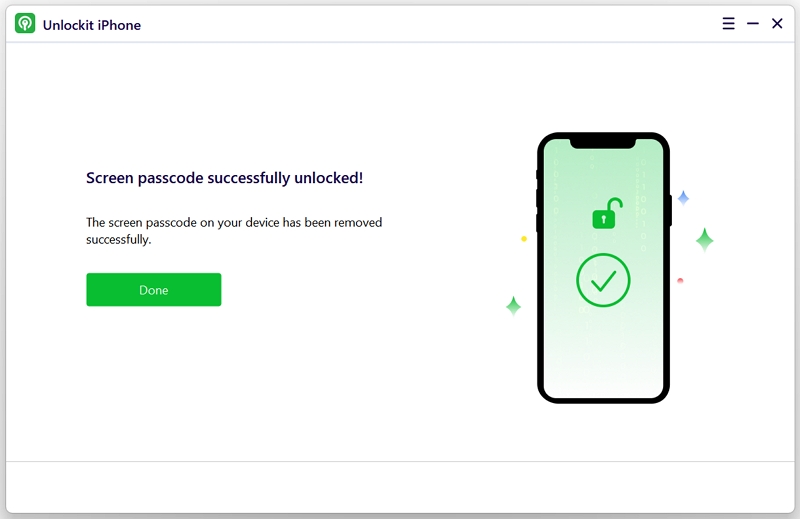 Using a Synced Computer
In case your iPhone is synced with iTunes on your computer, then you can easily restore it in no time.
Note: If the desktop isn't synced with the iPhone, jump to the next solution of this article.
The steps are as follows:
Step 1. Connect the locked iPhone to the synced/trusted computer, and launch iTunes. Open Finder if the Mac runs on macOS Cataline or newer versions.
Step 2. Click on the Summary button(for Windows PC or macOS Mojave 10.14 or earlier versions) or the General tab if newer macOS versions are enabled on the Mac.
Step 3. Tap the Restore button and follow the instructions promptly to complete the unlocking process.
Using Recovery Mode When iPhone Not Synced to Computer
So, you have no choice but to restore the iPhone on an unsynced computer.
Do not fear; it is possible once you learn how to enter Recovery Mode using iTunes or Finder.
Just apply the below-mentioned steps:
Step 1. Now, if you're using a Windows PC or an older macOS computer, open iTunes. For those with macOS Catalina or a more recent OS, open Finder instead.
Step 2. Power off your iPhone and follow these steps, depending on your iPhone model, to enter Recovery Mode:
For iPhone 8, 8 Plus, and iPhone X/11/12/13/14, press only the Side button.
For iPhone 7 and iPhone 7 Plus, hold the Volume Down button until you see the Recovery Mode screen.
For iPhone 6s and older models, hold the Home button until the Recovery Mode screen appears.
Step 3. When the "There is a problem with the iPhone" message pops up, hit Restore to reset your device.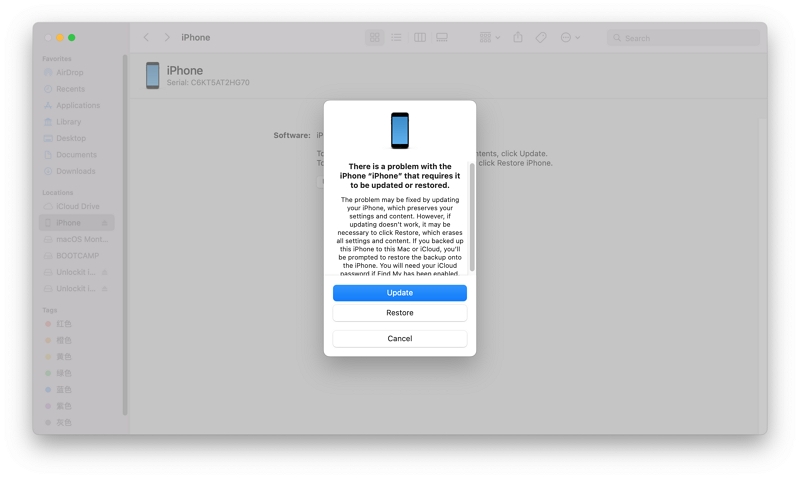 Step 4. Then click "Restore and Update" to start the process.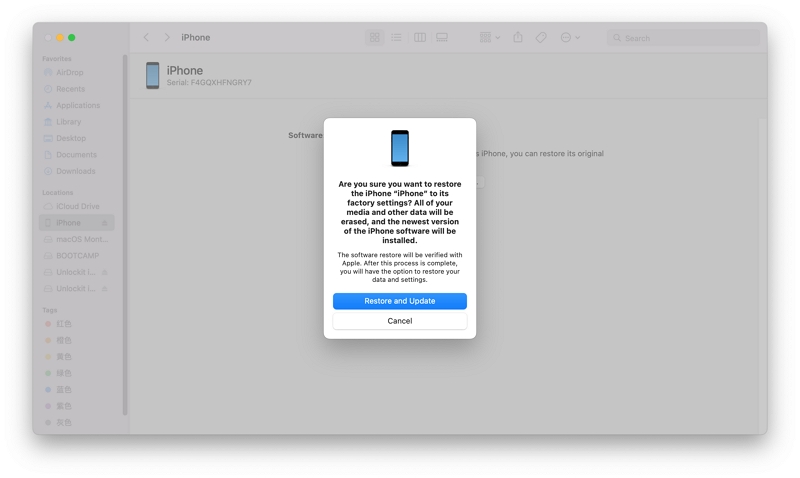 After that, you can always use iTunes to restore your iPhone backup. Voila! You're all set!
Bypass iPhone Disabled without Computer via iCloud.com
Do you not have a PC at your disposal?
You may think you are out of luck, and now the iPhone will remain disabled forever!
We have good news!
Simply access your iCloud using any device(phone or desktop) and restore the locked iOS device remotely.
However, ensure Find My is enabled on the iPhone and your iPhone is connected to a network.
Check out the step-by-step guide below:
Step 1. Visit icloud.com on a browser on your computer or mobile device, and provide your iCloud credentials.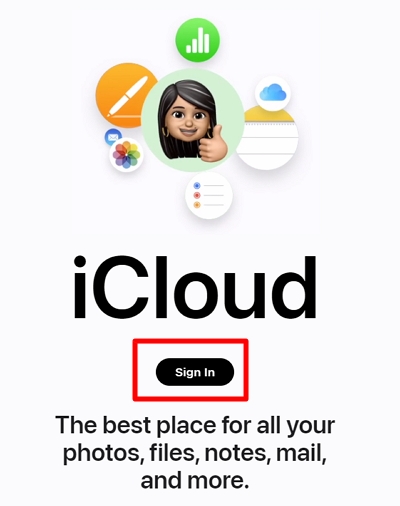 Step 2. Choose Find My from menu.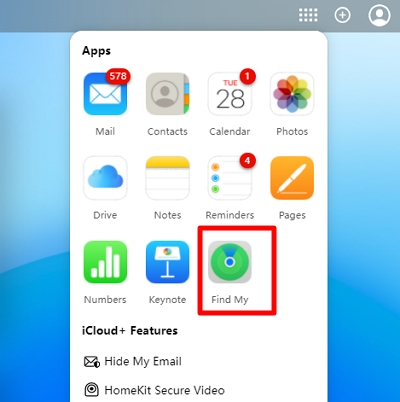 Step 3. Click on All Devices, and select the locked iPhone from the list.
Step 4. Next, click Erase iPhone, and tap Erase again before entering your iCloud password to reset the device.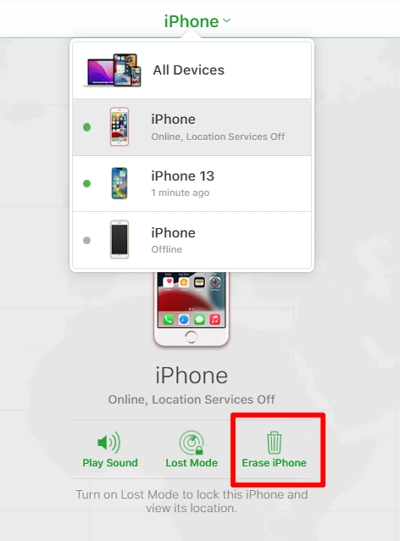 Finally, set up the device, and choose to restore the backup from iTunes or iCloud if you have one.
How to Avoid iPhone Disabled?
We get it! Getting locked out of the iPhone after forgetting the passcode can be pretty maddening.
Well, it is essential to follow specific tips to avoid such an inconvenience ever again.
Do not only rely on a 4-digit passcode or 6-digit code. Enable Touch ID or Face ID on your iPhone. So if you ever forget the lock, you can easily access it using alternative methods.
Moreover, note down the passcode somewhere. If you ever forget it, you may easily pick up your notebook, digital diary, or anything similar to discover the passcode.