Most Free Screen Time Bypass Methods Won't Work
You may have read a lot of free ways to bypass the Screen Time passcode on the internet. But the truth is, most of them failed to work based on our testing.
The main reason why free bypass methods no longer work is because Apple updates its system frequently.
Regular updates mean that they routinely patch up holes in their system and keep its strict security of only allowing Apple-approved softwares to run on their devices.
Some users are used to doing several hacks such as:
Stealing your Screen Time Passcode by stealthily setting up the screen recorder to extract and disable the restrictions.
Deleting and reinstalling restricted apps to get around the lock.
Utilizing Apple's Ask Siri function to access messaging apps or do it through Contacts.
Accessing Youtube links through iMessage.
These may or may not work due to these frequent iOS updates, but you're welcome to give them a shot either way.
Continue reading as we will discuss the working ways nowadays to help you get past the Screen Time on iPhone.
Get Past Screen Time on iPhone Via Unlocking Tool
Unlockit iPhone screen Unlocker is the best solution if you're looking for a straightforward way to bypass the screen time passcode.
It's easy to use, and with just a few clicks, you can remove the screen time passcode from your device in no time.
What's more, it is compatible with most iOS devices and versions including the latest iPhone 15 and iOS 17.
Here's how to use Unlockit iPhone to get past Screen Time on iPhone:
1. Start by downloading and installing the tool on your Mac or PC.
2. Run the tool and select the option that displays "Remove Screen Time Passcode" from the tool's main menu to begin the process.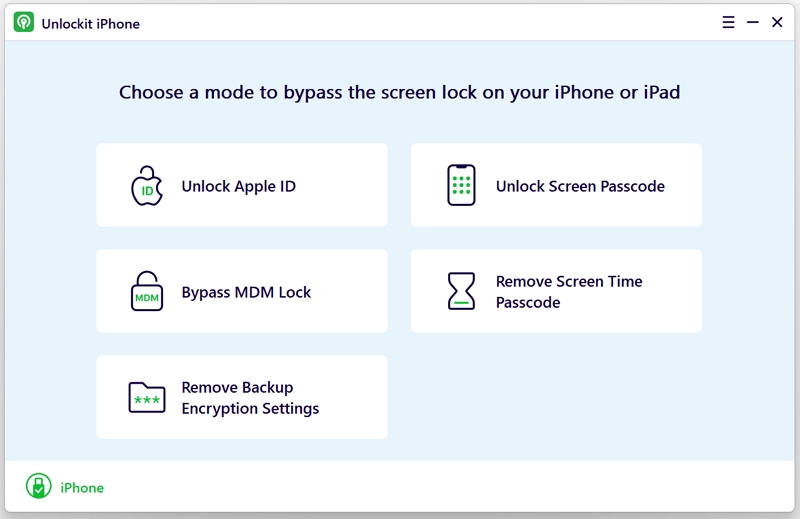 3. Then connect your iPhone with the computer. If you see a prompt on your iOS device asking to give permission to the computer, click on the "Trust" button.
Note: Make sure the Find My iPhone feature is switched off before you can start the process to remove the passcode.
4. Wait for the removing process to be completed, then follow the on-screen instructions to bypass Screen Time.
5. The whole process should take only a few seconds. When it is done, you should be able to access your device without Screen time limits again.
Now, you can enjoy using your iPhone without any limitations or restrictions.
Via Screen Time Passcode Recovery
Resetting the Screen Time passcode is another quick and easy method to bypass it. Simply use the Forgot Passcode option to complete the task.
It's important to note that for this method to work, your iPhone or iPad must be running on iOS 13.4 or later.
Also, this will only work if you have access to the correct login credentials of your Apple ID.
Now, to reset the passcode using the Screen Time passcode recovery, here's how:
Go to Settings and tap on Screen Time.
Scroll your way down and tap on Change Screen Time Passcode.
Tap on Forgot Passcode.
Then, a pop-up will appear on your screen that says Screen Time Passcode Recovery.
Now, enter your Apple login credentials.
After you've logged in, enter your new four-digit passcode. Once you're done, confirm your new passcode.
Enter your Apple ID and password once again.
Go back to Settings and tap on Screen Time.
Scroll your way down and tap on Turn Off Screen Time.
Finally, your device will require you to enter a passcode. Enter your newly made passcode.
There you have it, make sure to take note of your passcode so you don't have to worry about recovery in the future.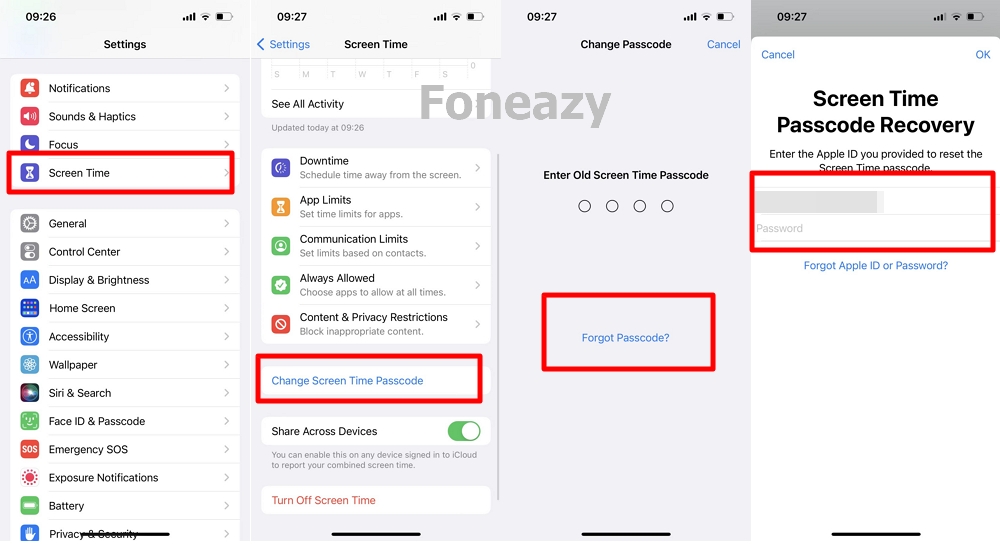 By Restoring iPhone With iTunes
This approach is not normally advised: resetting the Screen Time password via iTunes or iCloud removes the Screen Time lock but deletes the data.
Moreover, you will need to have a iTunes backup without setting Screen Time to use this method.
If you decide to continue using these techniques, make sure you have a backup, otherwise, you may lose all of your data.
So if you're determined to try this method, follow these steps as a reference.
Launch iTunes on your Mac or PC.
Then, using a USB cord, connect your device to your computer.
Click on the iPhone icon when it shows up in iTunes.
Then select Restore iPhone from the right panel.
After that, click Restore to confirm and follow the steps to complete the process.
It's good to remember that since Apple hasn't updated iTunes in a while, the interface can be challenging to use and often lags.
It will take a few hours if you plan to use iTunes. Your device will also get updated to the most latest iOS update.
Another thing is that if Find My is on, you must enter your Apple ID and password to turn it off. If not, after being reset, the device will show an activation lock.
FAQs about Bypassing Screen Time Passcode
For some users, it can be confusing to understand the process of how to bypass the Screen Time passcode.
Or they might have trouble finding the best solution to remove the passcode from Screen Time. If you're one of these users, check out our FAQs below to get answers:
1. Does erasing all content and settings bypass screen time without a password?
No. Some claim that a factory reset of the iPhone will disable Screen Time without a password, but that's incorrect.
You must enter the Screen Time passcode and Apple ID password in order to completely delete all content and settings from an iPhone.
Additionally, if a Screen Time passcode was set up, it needs to be given before the iPhone is reset.
2. How to remove Screen Time passcode with credentials?
Putting the Screen Time passcode in your iCloud Keychain is the first thing you should do if you frequently forget it.
Nevertheless, there are simple ways to get rid of the passcode and keep utilizing Screen Time if you do not want to bother entering it. Here's how to do that:
Go to Settings, then Screen Time.
Click Change Screen Time Passcode.
Turn off the Screen Time Passcode option.
Simply enter your existing passphrase.
You can use Screen Time as usual now that your passcode has been deactivated.
It should be noted that removing the passcode would make it possible for anyone to use your device to examine the screen time history and turn it on and off without a passcode.
3. How many failed screen time passcode attempts can you have on an iPhone
Fortunately, Apple does not specify a maximum number of attempts if you forget your screen time lock. It is best to leave it alone because tampering with it could result in your devices being locked.
However, compiled below is a table of how long you have to wait to try again, depending on how many failed attempts you had.
| | |
| --- | --- |
| 6 failed passcode attempts | try again in 1 minute |
| 7 failed passcode attempts | try again in 5 minutes |
| 8 failed passcode attempts | try again in 15 minutes |
| 9 failed passcode attempts or more | try again in 60 minutes |
4. Do I need to set up a passcode for Screen Time?
It all depends on the situation and circumstances. You do not need to set up a passcode to use the feature Screen Time.
But if you would not like any other person or your child to change the settings of the Screen Time, then it is safe to set up a passcode.
If you have a habit of forgetting passcodes, you can use many online password managers or use a password-USB to store your passcode.
In most scenarios, the parents use this Screen Time feature to restrict their kids from spending too much time on the iPhone or iPad.
Usually, when it's a school night, therefore it's a great feature to help your children not become addicted to smartphones and tablets.
Conclusion
According to a report, 34% of people forget their passwords in a year. So, forgetting the Screen Time passcode can restrict you from using the iPhone to its fullest.
It can be annoying; for example, you're typing an important email, and suddenly the iPhone shuts down; now, you cannot access it unless you have your Screen Time passcode.
Fortunately, a handy tool can come to your aid and bypass the Screen Time passcode. I recommend you use the Unlockit iPhone Unlocker Tool because you might be a victim, or you can be one in the future.