The mobile apps on your Apple device have a time limit for use defined by the Screen Time. The Screen Time requests a passcode to proceed if you want to reset your device.
When you lose the password, the issue arises, and you wonder, how can you reset your iPhone without Screen Time passcode? This article will teach you ways on how to reset your Screen time passcode and then reset your device.
Interested? Read on.
Step 1. Bypass iPhone Screen Time Passcode
Via iOS Unlocking Tool
If you have forgotten or don't have access to the Screen Time passcode associated with the device, Unlockit iPhone, an iPhone screen unlocker, will help you bypass the Screen Time passcode easily without data loss.
Here are the features of Unlockit iPhone:
Remove the Screen Time passcode in just a few seconds.
It is easy to use, meaning that you will not need any technical skills to use it.
It is compatible with all versions of iOS and all iOS devices.
Follow these instructions on how you can bypass Screen Time passcode:
1. Download the Unlockit software on your computer.
2. After installation, run the software and click on 'Remove Screen Time Passcode' to begin the process.
3. Use a lightning cable to connect the iPhone with the PC. The tool will automatically detect the iPhone. Next, click on the 'Start' button.
4. The Screen Time Passcode on your device will now begin to be reset by Unlockit iPhone.
5. It should just a few minutes to complete this process. You'll see the successfully bypassed screen after it's finished.
Reset iPhone Screen Time Passcode with Apple ID
If you know the Apple ID credentials, you can reset the screen times passcode using the Apple ID. Just follow these simple steps below:
Please note that these options will only be available on an iOS device that is running version 13.4 or later.
From the home screen of your iPhone or iPad, go to Settings.
Scroll down and tap Screen Time.
Scroll down again and select Change Screen Time Passcode.
This time, you'll be given the option to either change or disable the passcode. Choose Change Screen Time Passcode to proceed.
After that, you will be asked to enter your current passcode. Tap on Forgot Passcode? below.
You can then reset the passcode by entering your Apple ID login information at Screen Time Passcode Recovery. Fill it out, then hit OK to move forward.
You will now be able to input a new Screen Time passcode.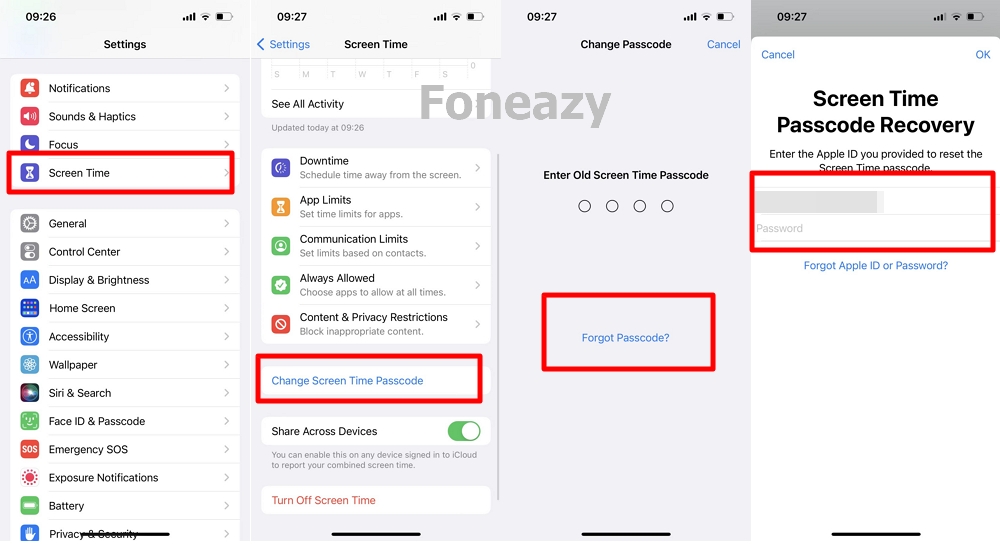 Restore iPhone from an Encrypted Backup
Another way that you can reset the Screen Time passcode from your device is to restore the device from Finder/iTunes.
This is because restoring the device will wipe all existing data from the device, including the passcode.
This method will also only work if Find My iPhone is turned off and you have made a backup without setting the screen time before.
Step 1: Go to Settings > Profile > Find My to turn off Find my iPhone and then follow these steps to restore your iPhone:
Step 2: Connect the iPhone to your computer and open Finder (on macOS Catalina or Later) or iTunes (on earlier versions of macOS or PC)
Step 3: Select the device when it appears and click on "Restore iPhone."
When the process is complete you can then choose to restore the device from a backup. To remove the passcode, select the encrypted backup you created before you forgot the screen time passcode.
Step 2. Reset Your Device
Once you have reset the screen time passcode, you can now reset your device without inputting the screen time passcode. Here's how to reset your device:
1. Go to Settings > General > Reset > Erase All Content and Settings and enter your screen passcode when prompted.
2. Once the device has been erased, follow the setup assistant to set up your device as new.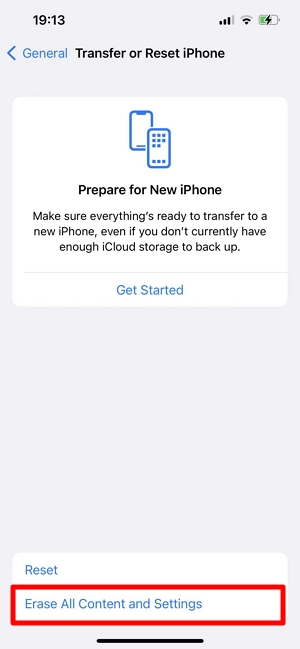 FAQs
If you have any problems regarding iPhone Screen Time, please check out our FAQs below.
1. Is There a Default Screen Time Passcode?
If you want to know whether there is a default passcode for Screen Time? Then, sadly the answer is no. Screen Time on your iPhone does not come with a default password.
If you're using the feature for the first time, Screen Time will ask you to set up a passcode.
However, if you're updating your iOS version, the passcode used in the old iOS version will remain the same.
The same goes for when the feature Restrictions on the older version changed to Screen Time in the newer version.
The password used for Restrictions will be now used to gain access in Screen Time settings.
If you changed your iPhone with a newer version of the iPhone and cloned your previous files/restored the new device from the previous files, then the default Screen Time passcode would be the old one.
2. How many times can I enter screen time passcode?
Answer: If many failed attempts are made to unlock the screen time lock, it will let you wait for a longer time to enter the passcode again.
But, in the instance of entering multiple incorrect passcodes on Screen Time, then it will not erase the data.
Instead, you would be logged out for a period depending on the number of times you have entered the wrong password.
For getting 6 failed attempts on the Screen Time passcode - Try again in 1 minute.
For getting 7 failed attempts on the Screen Time passcode - Try again in 5 minutes.
For getting 8 failed attempts on the Screen Time passcode - Try again in 15 minutes.
For getting 9 failed attempts on the Screen Time passcode - Try again in 60 minutes.
For getting 10 failed attempts on the Screen Time passcode - Try again in 60 minutes.
Wrap Up
As a parent, Screen Time is a useful feature that helps you to limit the Screen Time for your kids and restrict them or any unauthorized person from changing the settings in your device.
But, in the scenario you forgot the passcode, don't panic. Just download the Unlockit and follow the steps as mentioned earlier, and in no time, you will reset the Screen Time passcode and your device for good.