Content restrictions on your iPhone can be a good way to keep other people using your iPhone from accessing certain apps and features.
It is, therefore, one of the best solutions for parents to keep their children from accessing certain types of content that may be inappropriate or not relevant to their use of the device.
In this article, we will show you how you can bypass these content restrictions on your iPhone easily.
Let's get started.
What is Content Restrictions on iPhone?
Content Restrictions is a feature of screen time settings on iOS devices meant to prevent access to certain apps and features on the device.
Once placed, the restrictions keep other people from being able to access these selected apps and data when using the device.
As we have seen, this is a good way to ensure that your children don't access important or inappropriate information when using the device.
This is a very secure iOS service and once it is enabled doesn't easily allow access to the restricted content.
When the user tries to access the restricted content, they will be promptly notified that they don't have access to the content.
You can also use keys and codes to deny or allow access to any data on your device.
Bypass Content Restrictions on iPhone Without Password
Every time you try to remove the restrictions on your iPhone, you will be prompted to enter the passcode.
If you don't have this passcode, you will not be able to use some of your favorite App, or will be locked out of the screen restriction lock after a certain period of usage.
One of the best ways to bypass content restrictions on your iPhone is to use the screen time passcode removal tool such as Unlockit iPhone.
It is an iPhone screen unlocker that can remove all types of passwords from your iPhone, including Screen Time passcode, screen passcode, MDM lock and more.
Its main advantage is that it is so easy to use, allowing you to remove all restrictions in a matter of minutes.
What's more, your data on your device won't be erased or affected after the bypass process.
Here's how to use this program:
Before getting started, download and install Unlockit on your computer.
Then simply follow the video's instructions or the steps outlined below.
Step 1: After successful installation, click on the "Remove Screen Time Passcode" option on the main screen.
Step 2: Connect the iPhone to the computer and wait for the program to detect the connected device.
You may find that you need to unlock the iPhone and tap "Trust" for the program to detect the connected device.
Step 3: Click on "Start" in the next screen to begin removing the restrictions from the device.
Then, all you have to do is keep the device connected to the computer until the process is complete and the program notifies you that the restrictions have been lifted.
That's it. Your Screen Time passcode has been successfully removed without erasing the device.
Turn off Content Restrictions on iPhone with Password
While Content Restrictions can be a great way to protect your children from accessing inappropriate content, there will come a time when you need to remove these restrictions.
If you have the password that you used to create the restrictions, you can vert easily remove them from the device's settings, just follow these simple steps:
Step 1: Open the Settings on your device and then tap on "Screen Time." If your device is running iOS 11 or earlier versions, you can find this option under "General."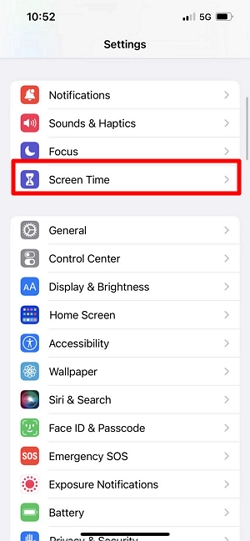 Step 2: Tap on "Content & Privacy Restrictions".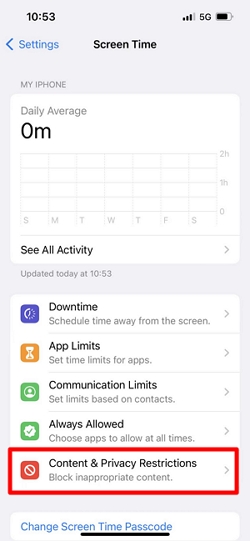 Step 3: Then toggle the switch next to "Content & Privacy Restrictions" to off.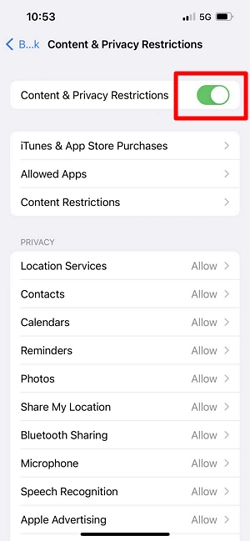 Step 4: You will be required to enter the screen time passcode to to turn off all the restrictions on the device.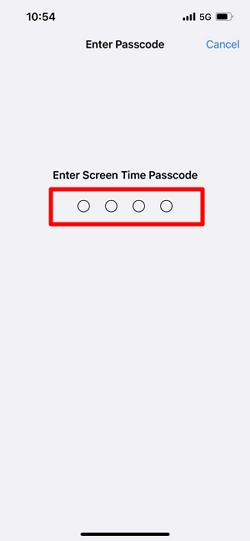 Step 5. After that, the content restrictions on your device will be disabled.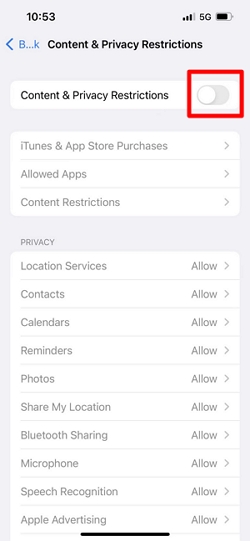 Turn Off Certain Content Restrictions on iPhone with Password
Do you want more granular control over what content and apps your children can access and what they can't? Follow these steps.
Step 1. Go to Settings > Screen Time > Content & Privacy Restrictions on your iPhone. You can control the settings in this section by tapping any menu from here.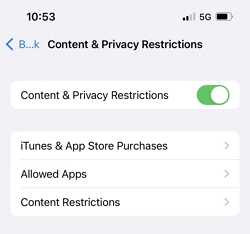 Step 2. Before you can change these settings, you will need to enter the Screen Time passcode for this device.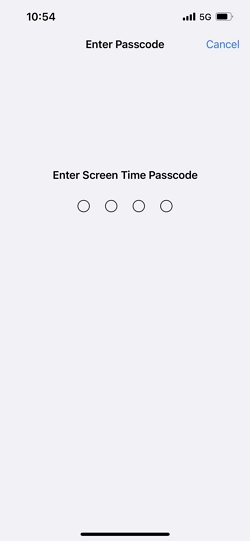 Step 3. To control whether your child can install apps, uninstall apps, and make purchases from the Apple App Store, go to iTunes & App Store Purchases, then select Allow or Don't Allow from settings.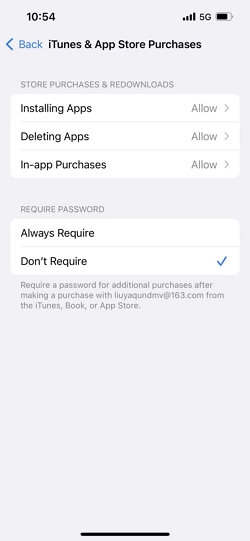 Step 4. Tap Allowed Apps and toggle the slider for any app you want to restrict or allow.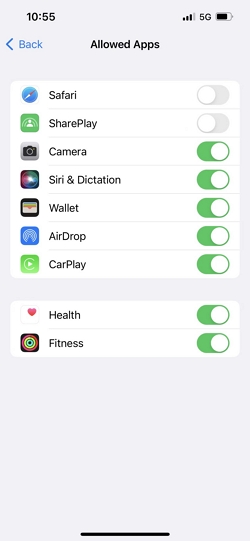 Step 5. Tap Content Restrictions to limit the adulthood of the content your child can access.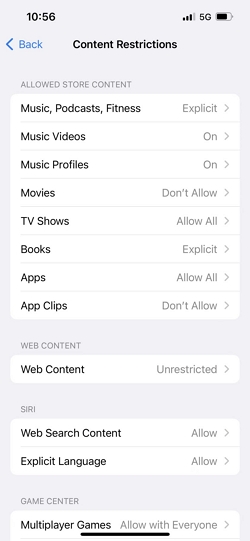 Wrap Up
While placing content restrictions on your iPhone may be a good idea, particularly if your children have access to the device,
But the children could be restricted from using their devices if parent forget the passcode.
The good news is, there are several ways to get back into your device if you forget the passcode. Unlockit iPhone, in particular, will be helpful if resetting it is not an option for you.