In this article, we will help you find out will it turn off Life360 when you enable Airplane Mode.
Let's start by first question you might be curious about.
Does Airplane Mode Turn Off GPS?
NO. Airplane mode does not disable the phone's inbuilt GPS function.
According to businessinsider, the mobile device uses GPS satellites to detect its location by receiving signals from numerous satellites and then triangulating its own location in three-dimensional space.
Your device does not send any signals to enable location services to function; it just receives the signals.
Will Airplane Mode Turn Off Life360?
YES. When your iOS device is in Airplane mode, the cellular data and WiFi are turned off.
It will prevent your device from sharing the location on the internet and thus have an affect on the function of Life360, which relys on cellular service or WiFi to download the location-sharing services.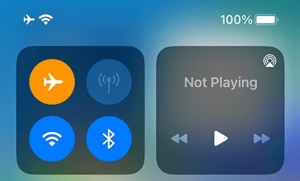 Does Life360 Notify When You Turn On Airplane Mode?
If you have enabled the airplane mode on your device, your inner circle members will not be able to see your latest location.
But it will show a "no network or phone off" status beneath your name to let your circle know that your device may not be connected to the network.
The biggest problem with using Airplane mode as a way to limit the function of Life360 is that you will limit other functions of the apps on your device as well.
How to Turn Off Life360 Location on iPhone without Notifying
If you don't want to enable Airplane mode to stop Life360 from tracking you, the next best option for you is to change the location on your device.
By spoofing your location, you can trick Life360 into sharing this fake location with members of your circle while hiding your actual location.
To adequately fake the location on your iOS device, you will require a tool that specializes in location spoofing without jailbreaking your iPhone.
The best tool for this task is MockGo and since it is a desktop tool, you only need to connect the iPhone to the computer to change the location to anywhere in the world.
Features of MockGo:
Change GPS location in one click.
Simulate GPS walking.
Compatible with all iOS devices and iOS versions.
It is easy to use.
Here's how to use it:
Step 1: Download and Install MockGo and install it on your PC/Mac.
Step 2: Now, connect the iPhone to the computer.
Step 3: On the map, select the "Teleport Mode" (the first icon in the top-right corner).
Step 4: Select any new location, then click on "Move Here" and you will see the new location appear in Life360 immediately.
This is the new location that the app will share with the members of your circle.
FAQs
1. What Does Airplane Mode Do?
In every device, whether iOS or Android, turning on Airplane mode will disable the same hardware functions on the device, including the following:
Cellular: Once Airplane Mode is enabled, your device will no longer be able to communicate with cell towers.
This means that you will not be able to do anything on the device that requires cellular data, including voice calls, text messages, and mobile data.
Wi-Fi: Your device will also stop scanning for Wi-Fi networks that may be around you and if your device is already connected to a Wi-Fi network, turning on Airplane mode will disconnect the device from this network.
Bluetooth: Enabling Airplane mode on your device will also disable Bluetooth functions, meaning that you will not be able to connect any of your Bluetooth devices to the device.
If any devices are already connected to the device, they will be disconnected.
GPS: Airplane mode will also disable GPS functions on your device, but this is only true for some devices.
If turning on Airplane mode on your device disables GPS on your device, you may find it hard to use apps and services that require GPS function like Life360.
2. Does Powering Off iPhone Turn Off Life360?
Yes. When you turn off your device, Life360 couldn't work properly as well.
Once your iPhone is off, Life360 is also turned off, meaning that your circle will not be able to see your current location.
But the members of your circle will still be able to see your last known location.
Life360 will store location history for up to 30 days for premium members and 2 days for free members.
This is why circle members are able to see your last known location even after the device is turned off.
Wrap Up
There are a lot of things that you could do to prevent Life360 from sharing your current location. Enabling Airplane mode on your device is just one of them.
But the problem with airplane mode is, it will also affect other functions such as cellular activity, which you may need.
Your best bet if you don't want members of your circle to know where you are is to change the GPS location on your iOS device using a tool like MockGo.
You can do so temporarily anytime you want and then simply restart your iPhone to go back to sharing your location.