Life360 is an app that allows smartphone users to track each other's locations.
Users can see the real-time location of other persons they add to the "Circle."
But some people believe that the Life360 app is an invasion of their privacy.
If you're in the same boat, you might decide to pause Life360 without the people in your Circle knowing about it.
Continue reading below on how to pause Life360 without anyone finding out.
Why You Want to Pause Life360 without Anyone Knowing?
When someone is part of your 'Circle,' you can immediately see their exact location as part of their status.
Other details that are available on the Life360 app are the location history and the last known location.
The app can also detect if your phone is turned off or if you have no network.
While these are indeed helpful, they are also the reasons why some people hate being tracked by Life360.
People are bothered that it interferes with their privacy all the time.
If you're one of those who don't like being constantly tracked while using Life360, you may want to find a working way to pause Life360's tracking without anyone knowing.
Best Way: Set a Fake Location on Life360 without Anyone Knowing
GPS spoofing is the only way when you want to pause your location from anyone knowing to protect yourself from unwanted tracking.
If you are looking for a reliable location changer software for Life360 on your iOS device, we recommend MockGo iOS GPS changer.
In a single click, you can change the location of your iOS device or even simulate GPS movement along a pre-determined route at a specified speed with MockGo.
Features of MockGo: (iOS 17 Supported)
Change the GPS to anywhere in one click.
Fake walking through paths or set location pins on the map.
Use the joystick feature to control the movement.
Compatible with most iPhone devices and iOS versions including the latest iPhone 15 and iOS 17.
It can also be used for other location-based apps or games such as Life360, Pokemon Go, Snapchat, Facebook, and more.
Follow these instructions below and spoof to any location by using MockGo:
Step 1. Download MockGo
Download the MockGo software and install it on your computer. Launch the MockGo software on your PC or Mac.
Step 2. Connect Your iPhone to the Computer
Use your iPhone charging cable and connect the device to the computer.
Step 3. Choose Teleport Mode
Choose the teleport mode when you are landed on a map.
Step 4. Change the Location for Life360
Enter the destination you would like to go to. You can choose the location from the MockGo IntelliSense suggestions.
Finally, click on the Move Here button, and the GPS of your device will be teleported to your selected virtual location instantly.
Pause Life360 With Everyone Knowing
Turn Wi-Fi and Cellular Data Off
Switching off the internet connection or turn on airplane mode can disable Life360, and the app will show the last location.
However, by doing so will also let everyone in your circle know as well.
In this situation, the 'No network or phone off'status will appear next to your name and everyone in your circle can see it.
Another major downside of this solution is that all of the other apps are going to lose the internet connection as well.
This can result in missing notifications, messages (Facebook messenger, WhatsApp, or any messenger app that requires the internet), and other services.
Having no internet connection can alarm your group members if something is wrong. So be careful when doing and turn off the cellular data for Life360 instead.
Pause Location Sharing from Life360's Settings
If you pause Life360's tracking by turning off the location sharing within Life360, this will also be quite obvious to the people in your circle.
The "Location Sharing Paused" message will appear next to your name as soon as you turn off the location, and anyone in the circle may see it.
Here's how to do it:
Open Life360.
Tap the Settings option by tapping on its icon located in the lower right corner of the screen.
Tap Location sharing.
Select the location circle that you would like to stop sharing.
Then toggle off the slider to turn off the location sharing.
Your location will show the message "Location Sharing Paused".
Turn Off Life360's Location Permission
If the location access permission of Life360 is not given by choosing "Allow" from settings, the app will not work as it would normally do.
People in your circle will see 'Location permissions off' status next to your names if you don't allow the permission.
Here's how to do it:
Go to Settings.
Find Life360.
Click Location.
Set the location access to Never.
Turn Off Precise Location for Life360
You can also turn off the precise location to pause Life360 from tracking your real-time location.
But by doing this you will get a Precise Location Off message next to your name which anyone in your circle will see it.
Here's how to do it:
Open the Settings app on your iOS device by tapping on it.
Tap on the Privacy menu to expand it. Under this menu, locate the Location Service option.
Scroll down the screen and look for the Precise Location option, which is either on or off. If the toggle is green, then it means the Precise Location is on. Please tap on the toggle to turn it off.
Turn Off Background App Refresh
Background app refresh features allow the app to run in the background for updating information or getting notifications/messages.
Life360 uses the background app refresh feature to update the location by using the smartphone's GPS and motion tracking hardware.
You can disable the background app refresh feature by going to Settings on your iPhone or Android.
However, people in your circle can see that you are now in the "Background location off" status.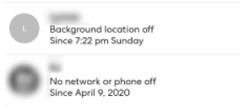 Here's how to do it:
Go to Settings.
Scroll down to find Life360.
Hit the slider next to Background App Refresh to toggle it off.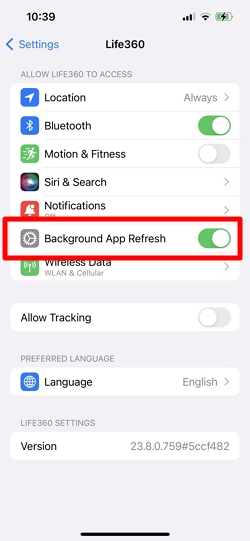 Frequently Asked Questions
Can I easily trick Life360?
Yes, tricking Life360 is easy. If you are a regular user of technology, then you can easily trick Life360 by using location faking apps such as MockGo for iPhone devices.
Can it alert others when I turn off my location completely?
Yes, turning off your location can also alert people in your Circle.
If my phone is off, will Life360 work?
No, the Life360 app will not work if the phone is off. It will only show the last location the phone has been.
And will notify others that the phone is switched off. Life360 also shows the battery life, so faking a dead battery will not work.
Conclusion
Life360 is an app designed to update you about the locations of your close relatives and friends.
It is a great tool to keep track of children going to school or to a party.
The app can also help you find the last location of your child if the phone is turned off.
But for teens, this app could be a nightmare, and they want to trick their parents.
The best way to pasue Life360 without anyone knowing is to use MockGo to change your GPS location.
It will then show the selected location to the people in the Circle.