Imagine you're playing Pokemon Go and want to access a region miles away from your locality. What do you do?
Most players will need to spoof their virtual location to make the game think they're presented within the specific area.
When it comes to spoofing location on an iOS device, Dr. Fone – Virtual Location is hands-down the number one tool.
That said, it's always a good idea to learn about Dr. Fone alternatives.
This article will take you through some of the best Dr. Fone – Virtual Location alternatives available in the market today.
You can use them to spoof your GPS location while using Tinder, Bumble, Pokemon Go, and many other apps.
What is Dr. Fone – Virtual Location
Right now, Dr. Fone – Virtual Location is one of the leading spoofing tool available for iOS users that want to change their geolocation-based data on apps like Pokemon Go.
The main functions of Dr. Fone Virtual Location are:
This is essentially an iOS spoofing tool and requires you to connect the handset to a PC to function.
It doesn't require you to jailbreak your device, meaning there's no risk of the phone getting damaged.
Dr. Fone gives you a map-based interface where you can manually pin the location you want to go to.
Despite all these features, it's useful to be aware of Dr. Fone alternatives in case you personaly don't like this tool or it won't work sometimes. This way, you won't need to wait to enjoy the perks of teleportation.
Best Alternatives to Dr. Fone – Virtual Location: MockGo
If Dr. Fone – Virtual Location is not the best location spoofer in your mind, the following alternative tools also offer decent features for teleporting the GPS to different places.
Foneazy MockGo is a software that teleports GPS flexibly and simulates movement along a determined route using customizable speeds.
Here are the tricks it uses to make it look realistic:
Cost-effective. Compared to drfone virtual location's price (1-month $9.95, 3-month $19.95, 1-year $59.95 ), MockGo's price is more cost-effective: 1-month $9.95, 3-month $19.95, 1-year $39.95, lifetime $59.95.
Small package with full features. MockGo is small in size, compared to drfone and has all the functions to help you change the location.
Teleport mode. Teleport the GPS location of your device to any location or coordinates you input.
Multi-spot mode. Choose this mode when you want to travel between multiple destinations. Pick the multi-stop icon to develop a custom route.
Two-spot mode. Select one-stop mode and place the pin wherever you like. You'll see the GPS marker move from one point to another.
Pause at any time. Use this when you want to stop at random points to gather Pokemons. Pause and continue as needed.
Customize the speed. Want to prevent that you're driving, cycling, or walking? Decrease or increase your speed by sliding the speed bar accordingly.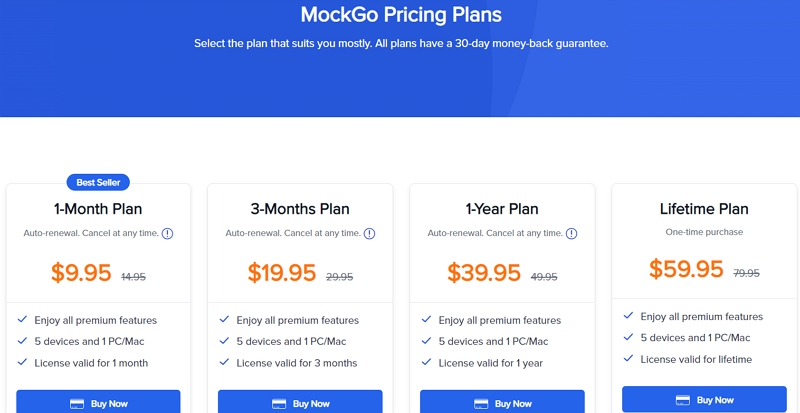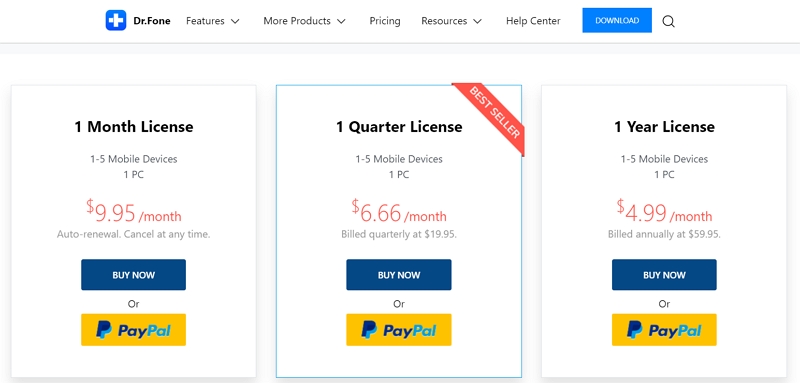 Great, but if you're playing a game and want to import a pre-planned route or import it manually? In this case, you can take advantage of MockGo's:
GPX route. Import an GPX route and follow the pre-planned route on it to fake a movement.
Joystick. Be in control of your directions and reach the location you want quickly. Controls can be operated through mouse, keyboard, and trackpad (W, A, S, D).
Good compatibility. Make sure your iOS device is on iOS 9 or above (The latest iOS 17 included). As for the computer, it should be Windows XP and above or MacOS 10.11 and later.
Check history or favorite locations. Insert locations as favorites or re-choose them from history to quickly head to previously used locations or routes.
Multi-device management. Change the GPS of up to 5 devices simultaneously.
To use MockGo iPhone GPS Location Spoofer, follow these steps:
1. Download and launch MockGo on your PC or Mac.
2. Connect your iOS device via USB to the PC (the software instantly display the existing location of your iOS device).
3. Type the location/address in the search bar and select Go.
4. After the pin moves to your desired location, click 'Move Here' to modify your location.
5. The GPS of your device will be teleported to the location you choose.
This is how you can use MockGo to teleport the GPS of your device to your preferred location in just a click.
Other Alternatives
1. iTools – Virtual Location
Another feature-rich Dr. Fone – Virtual Location alternative, this software makes changing your virtual location a breeze.
The beauty of ThinkSky's iTools – Virtual Location is that it doesn't require a jailbreak in order for you to activate it.
Instead, it functions as a desktop app, so you'll need to connect your device to a PC to use it.
Here are iTools top features:
This is a reliable tool that allows you to teleport your device to any place globally. You just need to launch the map, drop a pin at any location using your mouse and see the teleport stimulation in action.
In the free version, you can only spoof your iOS device a maximum of three times.
You can keep the new location even after disconnecting your iPhone from the computer. It's possible to manually end the stimulation after getting what you wanted in the virtual location.
You can change your location before opening the app. This reduces your chances of getting banned for location spoofing.
2. iOS Roaming Guide
This is an alternative to Dr. Fone – Virtual Location that you can download directly to your phone. This app lets you change your location easily by dropping a pin on the map putting a location in the search bar.
You will have to jailbreak your device to use this tool. iOS Roaming Guide is a free app that you can get from Cydia, and its features are very easy to use for first-time users.
You can also save the locations you frequently teleport to, so you don't have to repeat a process many times.
3. iPoGo
Another software is iPogo which will help you spoof your location from one place to the other part particularly for Pokémon GO.
The game will spin, stop and catch Pokemon automatically without you even unlocking your phone. Niantic is more prone to notice this and can issue bans for spoofing like this.
However, if you are mindful of the walking speed and take precautions, you can significantly reduce the risk of receiving a ban.
Just like the original Pokemon GO, the simulator will only catch Pokemon and not use berries.
Another unique feature is being able to add limits for every item in the game.
Set a maximum number of every item and the extra items are thrown away with the push of a button.
The Go Plus emulation feature is very helpful, for those looking for some extra help in playing Pokemon GO.
Set all items to 0 apart from Pokeballs and then hit the empty button when inventory is full. You will gather a large number of Pokeballs and nothing else.
Conclusion
There you have it – four alternatives to Dr. Fone – Virtual Location that work for iOS. One thing to keep in mind is to remember, Niantic and other app developers are smart.
If they detect you using a GPS spoofer, they can ban your account permanently. The way to avoid this is to keep your location spoofing as realistic as possible.