You may have heard about faking GPS settings or spoofing the GPS on a phone or tablet, but how often have you heard about fake GPS on a PC?
Changing your location on a PC can be great if you're looking to play some GPS-enabled games and don't want to carry your computer around (just kidding, it's impossible anyway). In this guide, you can expect to learn:
How to use fake GPS on a PC for Android games
How to use a PC to fake your location for iPhone games
With so much to do, let's get to it.
What is Fake GPS on PC
Fake GPS on PC is an app made by ByteRev. It's one of the best apps on BlueStacks for simulating GPS locations on your Android device, which helps you play an Android game on your PC or Mac whilst enjoying maximum features.
BlueStacks is an app player with a large community of gamers that allows you to download different games and apps. It is actually an emulator that adds different spoofing tools to modify your gaming experience and let you spoof your location.
It's simply a third-party platform connecting your account to other apps that enhance the game experience.
If you are someone who needs to fake your GPS location, then search no further than the Fake GPS app! With a simple click, you can designate your phone's location to any place globally, letting your phone send out GPS signals that are different from the original location.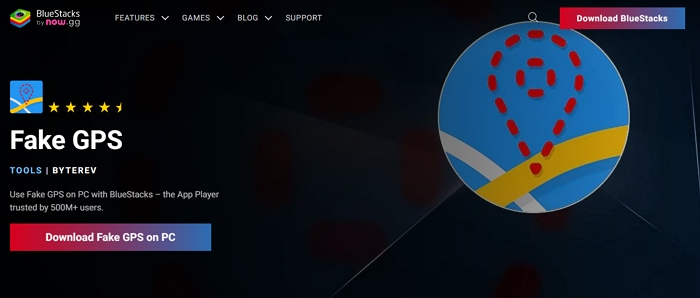 Reasons Why You Want to Fake GPS
There can be a variety of reasons that a person wants to fake their GPS location, ranging from harmless to potentially life-saving. Here's a breakdown of the most common reasons why anyone chooses to fake their GPS settings:
They are trying to play a GPS-enabled game that requires movement and real-time location input. With a fake GPS, they can move about whilst being in the same place physically.
They are looking to use GPS-supported apps like Tinder, Grindr, or Bumble to get in touch with the dating and socialization scene before moving to a new location. This helps them scope out competition and make friends before even getting there.
They wanted to use region-specific features on apps and services like Netflix or maybe take part in a regional event in a game.
They wanted to log in from a new location to show they were visiting some place or were on a vacation.
Whatever the reason may be, its perfectly fine to want to fake your GPS location as long as no one is getting hurt. So, with safety in mind, let's move forward.
How to Use Fake GPS on PC
Now it's time to get to the main point: how to use the Fake GPS location app on a PC. Well, it's really not hard and you just need to keep an eye out for some of the steps. Here's what you need to do:
Preparation
To ensure the app works smoothly, you'll need to activate "Allow Mock Locations" in your Development Settings. It's also recommended that you switch your location mode to "GPS Only" or disable Location Services entirely to prevent any cached mock locations from being left behind when you stop using the app.
Once you've got it sorted out, your PC is ready to use with any Android app of your choosing, whether you want to play GPS-based games or access location-specific features of different apps and websites.
Step 1. Installing BlueStacks
Simply download and install the BlueStacks program on your computer. Use the Google sign-in to log in to Play Store (it can be done later, but the earlier, the better).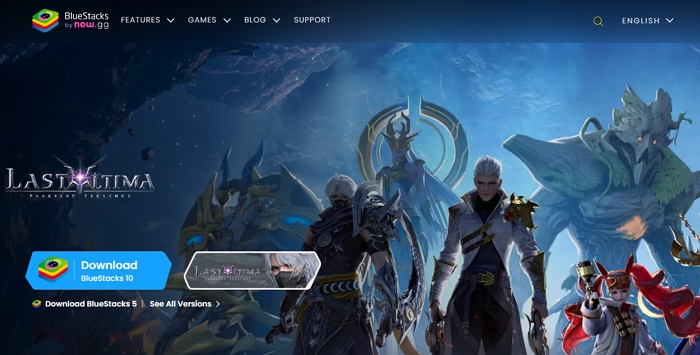 Step 2. Install Fake GPS App
Then open the search bar from the top right corner and look up the Fake GPS app. Click to install the Fake GPS you get from the search results. In case you skipped the sign-in in Step 1, now is the time to do it.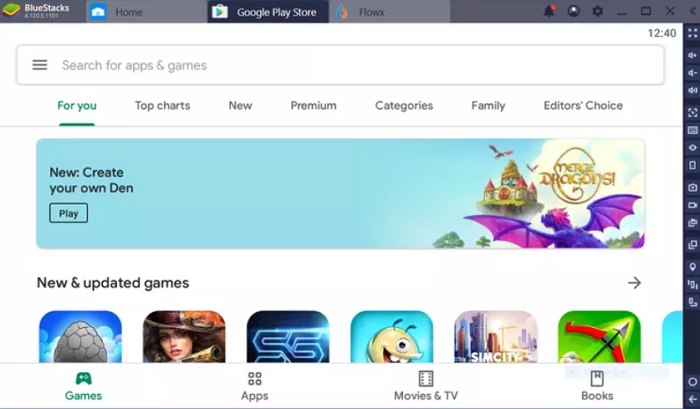 Step 3. Launch Fake GPS App
Open the Fake GPS app after downloading it via BlueStacks. Now click on the three lines and click Go To. Now, enter the coordinates of the fake location you want to spoof your location to.
If you don't have the coordinates to your desired location, navigate the map to zoom in to the location that you find right. Once you've pinpointed the location, you can easily click on Play to start spoofing it.
Now that the new location has been set, you can easily open your location-based app and start playing.
That's all there is. You can now use the tool to spoof your location to your heart's desire.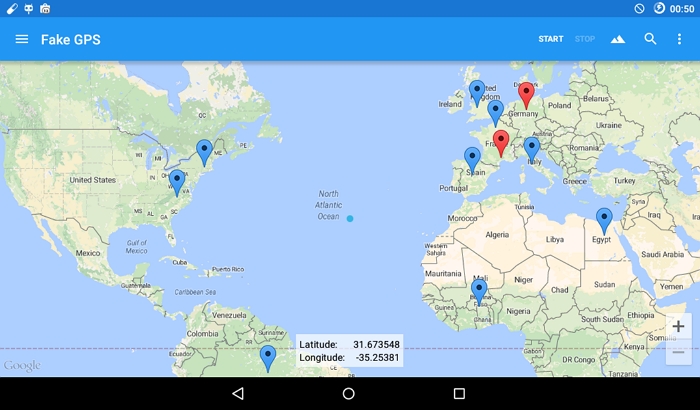 Review of Fake GPS on PC
Although this method might seem easy and direct, it's important to consider whether it's really worth it or not. So, let's take a deeper look at how it works.
Pros
The app has a very friendly interface that makes it easy for beginners to use it.
You can run a variety of Android apps on it. (The developers claim there are over 1.5 million apps to choose from.)
It lets you run Android apps on both Mac and Windows computers
Cons
If you have to play heavy Android games, then you might need a computer with better specifications.
Since Blue Stacks is very resource-intensive, it might use up a lot of power and slow your computer down.
It can get frustrating to have to use a middle app to get jobs done since it adds unnecessary steps.
How to Fake GPS on PC for iPhone Games
PCs and Androids aren't the only devices that need a fake location every now and then. If you're looking for how to fake your GPS location for iPhone games by using a PC, you've come to the right place.
For starters, the Fake GPS app isn't for iOS devices, so you can't use it on an iPhone or iPad. However, that doesn't mean you lose hope. There are many location spoofing tools that get the job done and with better accuracy.
One such desktop tool is the MockGo iOS GPS spoofer, which lets iPhone users spoof their iPhone's location anywhere in the world using computer. Not only is the app a professional one, but it is completely safe to use. That means games like Pokémon GO or Minecraft Earth are all the easier to play now.
Top Features
Some of MockGo's top features are:
Set map routes to simulate movement and pick your own movement speed
Fake location to anywhere you want
You can spoof location on up to five devices
It does not require any jailbreaking
Compatible with all iOS devices and versions
If you're impressed by the features of this tool, here's a quick and easy guide on how to use it:
Step 1. Download the MockGo and run it on your computer. Connect your phone via lightning cable.
Step 2. You will be shown a map with your current location. Click on the Teleport Mode option to begin faking your GPS location.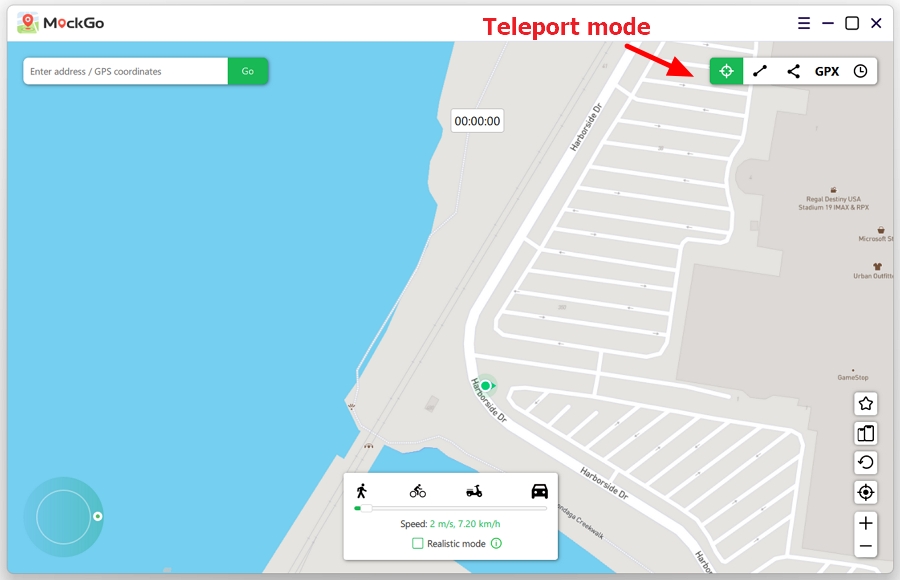 Step 3. Enter the coordinates or where you want to go or choose on the map. Click on Go to search for the location.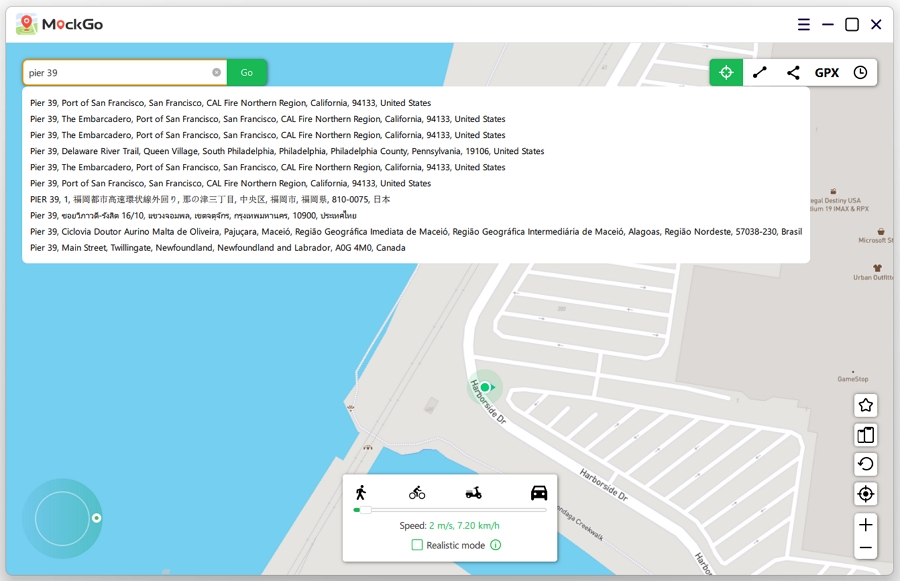 Step 4. Then click on Move Here button to teleport to this desired location. Once you have teleported, the location on your iPhone will be updated simultaneously.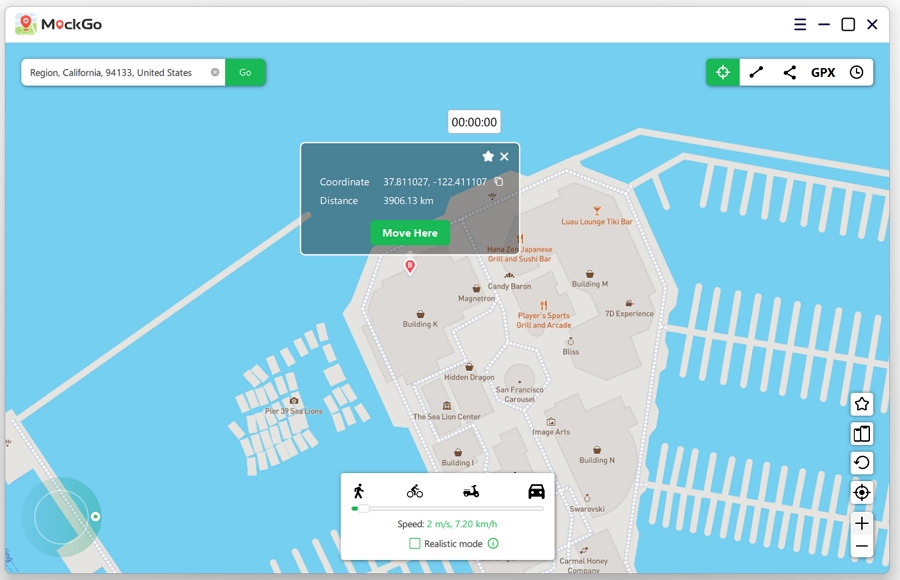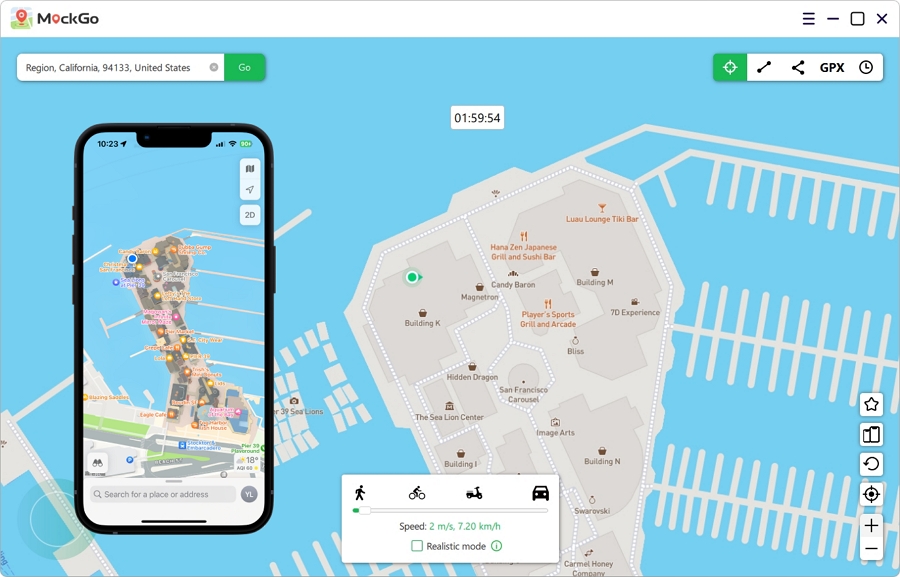 That's all there was to it. Not only is the tool easy to use, but it is very effective as well. The best part? You can choose from different movement types and customization options to make your GPS faking as realistic as possible.
To Conclude
That's all there was on our guide for how to fake GPS on a PC. One thing is for sure: no matter what your reasons for faking your location may be, you need a tool that offers you the best utility with the least amount of risk involved. For Androids and PCs, Fake GPS by ByteRev might be the best pick, but it won't work for iPhone users.
If you're an iPhone user looking to fake your location, it's best to use a professional app like MockGo. Not only does the app have an easy-to-use interface, but it's completely safe as well.
You won't have to worry about any third-party websites accessing your information. The best part? It works with almost all GPS-enabled apps and gives you room to customize your movement patterns for better location faking.