It's good to stay connected with the people that matter to you, but sometimes, we just want to keep our privacy. So if you're looking for ways how to leave a Life360 Circle, continue reading.
This article will cover a variety of methods for leaving a Life360 circle or group with or without other person knowing.
Whether you're trying to maintain your privacy or just looking for a break from the app, we've got you covered.
Let's dive in.
Leave a Life360 Group Other Person Created
If you want to exit a Life360 group, you have the freedom to do so at any time. Here are the steps you can follow:
Launch the Life360 app on your iOS or Android device and ensure that you're logged in.
Tap the Circle Switcher bar located at the top of your screen, and select the Circle you want to leave.
Click on the gear icon found in the upper left corner.
Look for Circle Management on the list and select it.
Scroll down and tap Leave Circle at the bottom of the screen.
Confirm your decision by clicking on the popup.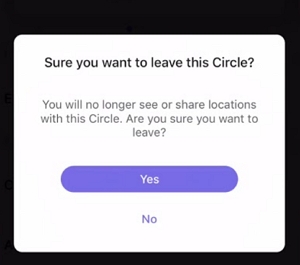 Once you've completed these steps, you'll be removed from the Circle, and it won't appear in your Circles list anymore.
If you have a change of heart and want to rejoin, you'll need to be reinvited by the Circle Admin.
Leave a Life360 Group You Created
In case you are the creator of a Life360 Circle, you must take note of the additional step you have to perform before leaving the Circle.
Follow these steps to assign the Admin status to another member and leave the Circle:
Open the Life360 app and select the Circle you wish to leave from the Circle Switcher bar.
Tap the Settings icon.
Find Circle Management and click on Change Admin Status.
Select the member to whom you want to grant the Admin position.
And again, find Circle Management.
Scroll down and tap Leave Circle at the bottom of the screen.
Confirm your decision by clicking on the popup.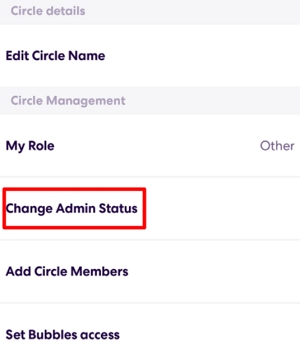 Leave a Life360 Group without Other Person Knowing
Once you leave your Life360 group, your location will no longer be visible to other members on the map, revealing your absence from the Circle.
However, if you wish to stop sharing your location without the other members noticing. Here are the alternative options to consider:
Disabling WiFi and mobile data
Activating Airplane mode
Disabling background app refresh
Turning on Battery Saving mode
Switching off your device
Using location spoofing apps
Utilizing a burner phone
The aforementioned techniques will allow you to prevent the location from refreshing while keeping your absence undetected.
1. Fake Your Location in a Life360 Circle Without Leaving the Circle
To fake your location on Life360 and prevent Circle members from tracking you, you can use MockGo iOS GPS changer, a dedicated location spoofer that changes your iPhone's GPS into any location you choose.
Here are the steps to follow:
Start by Downloading, Installing, and Running MockGo, then click on Start.
Connect your iPhone/iPad to your computer and unlock it, then trust the computer.
In the top left corner of your screen, select Teleport Mode.
Set a location on the map, and then click Move Here to change the GPS of your device to this chosen location.
2. Prevent Tracking via Life360 Using the Second Phone
To maintain your privacy while still showing a location, you can use a burner phone. Here's how you do it:
Get a burner phone and install Life360. Sign in to the app using your Life360 account and leave the burner phone at the location you want to show.
Log out of Life360 on your primary device or uninstall the app. This will prevent others from seeing your actual location.

3. Turn On Airplane Mode
To halt the GPS and internet access that Life360 uses, turning on Airplane mode is a good option.
Once activated, Life360 will display a white flag next to your previous location. Here are the two methods you can choose from:
Method 1: Access the Control Center and select the airplane icon to enable Airplane mode.
Method 2: Open Settings and select Airplane mode to turn it on.
4. Switch Off WiFi/Cellular Data
Life360 depends on internet connectivity to track your current location in real-time. You can turn off internet access for the whole device or Life360 app only.
Steps to turn off WiFi/cellular data for the entire device:
Access the Control Center and tap the WiFi/cellular data icon.
Alternatively, navigate to Settings > WiFi, and then toggle the switch next to Wi-Fi to the off position.
For cellular data, open Settings > Cellular, and then toggle the button next to Cellular Data.
Steps to turn off cellular data for Life360:
Access Settings > Cellular > Life360, and then toggle the switch next to Life360 to the off position.
5. Switch Off Your Phone
Preventing yourself from being tracked via Life360 can be achieved by turning off your device, which will disable the GPS function.
Consequently, when your device is powered down, Life360 will display your last known location. Here's how to turn off your Android or iPhone device:
Press and hold the power button located on the right-hand side of your phone until the power menu appears on the screen.
Tap the Power off option to turn off your phone.
FAQs
What Happens When You Leave a Life 360 Gropu?
There are various notifications that your Life360 Circle members can receive based on specific actions that you take which involve leaving or stopping location sharing with the Circle:
When you turn off Location Services or Life360, Circle members will see a message such as Location Paused, Location/GPS turned off, No network on phone, or GPS off displayed next to your name.
If you exit the Circle, your icon disappears from other members' map.
If you delete the Life360 app, Circle members continue to see your last location, and may see a message such as Location Tracking Paused or an exclamation mark.
If you uninstall Life360, your last known location is displayed temporarily as location tracking is disabled.
Does Life360 notify when you leave a Circle?
Yes, Life360 does notify the members of a Circle when someone leaves. When a member leaves a Circle, their icon disappears from the Circle members' map.
This means that other members will not be able to see their location or receive updates about their movements.
What Can Parents see on Life360?
Life360 provides parents with a comprehensive view of their child's location and activities. Parents can monitor their child's real-time location, check-ins, visited places, driving routes, and speeds.
The app also allows parents to set up geofenced areas and receive alerts when their child enters or leaves a particular area.
Additionally, parents can view their child's battery level and receive low battery alerts to stay in contact with them.
With Life360, parents can keep track of their child's movements and ensure their safety.
Conclusion
In conclusion, there are various ways to control or disable Life360's tracking features.
However, while it would be freeing to regain your privacy, it's important to note that these methods may have limitations and consequences, such as losing access to emergency services or violating the Circle's trust.