Badoo is one of the emerging apps for social media and dating. With thousands of users across the globe, there's no doubt that you'll meet new people or even potential matches from different places.
However, despite its growing popularity, many still wonder how to change the app's location so that users can find people from places other than their current location.
If you are one of those seeking a way, you're not in vain because, in this article, we will share several ways to set your desired location on Badoo.
Interested? Read on to learn more.
What is Badoo
Badoo started off as one of Facebook's third-party application, and it is a combination of social networking and dating.
Just in 2006, Badoo was able to pave its path and garnered success in the dating app industry. In fact, up to this day, it's one of the most downloaded dating apps across the globe.
Unlike Tinder, Badoo does not work solely for dating purposes where you swipe left and right. Rather, it uses more elements of socialization where you can post pictures, socialize, and do video calls.
Here are the steps to get started with Badoo:
Install the app from your device's app store or sign up at Badoo's official site.
Once installed, provide the necessary information, such as your name, birthdate, location, and gender. If you signed up at the official site, just provide the requested information.
Confirm your email address by clicking the link in the verification email you just received.
Next, Badoo may ask you to link your account with an existing social media account for confirmation. You may skip this step if you do not wish to link your social media.
Now you can set up and customize your profile based on your preference.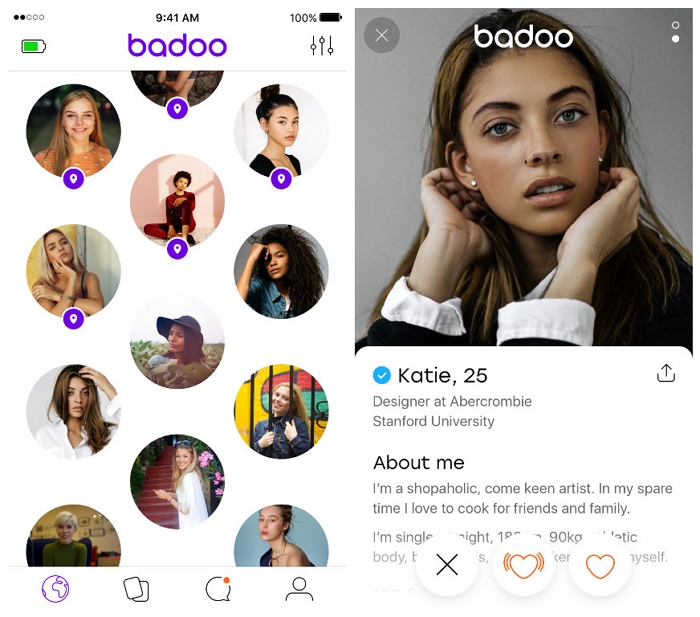 Badoo Doesn't Allow to Change the Profile Location Manually
Note: Before, you could manually change your location on Badoo. Unfortunately, the latest updates on the app no longer allow users to change their location since Badoo automatically sets your location based on your device's GPS. Thus, this method will not work unless you turn off your device's GPS location.
But don't panic, there are still ways that can help you change the location of badoo; just keep reading the next section.
If you want to check your location in Badoo, follow the steps below to confirm your location.
Open your Badoo app or sign in to your account from the official site.
Next, click the Profile option.
On the next screen, tap the Pencil Icon, which is located in the upper right corner of the screen.
Now tap your Name and select the Current Location section. Here you can type your desired location or choose from the drop-down menu.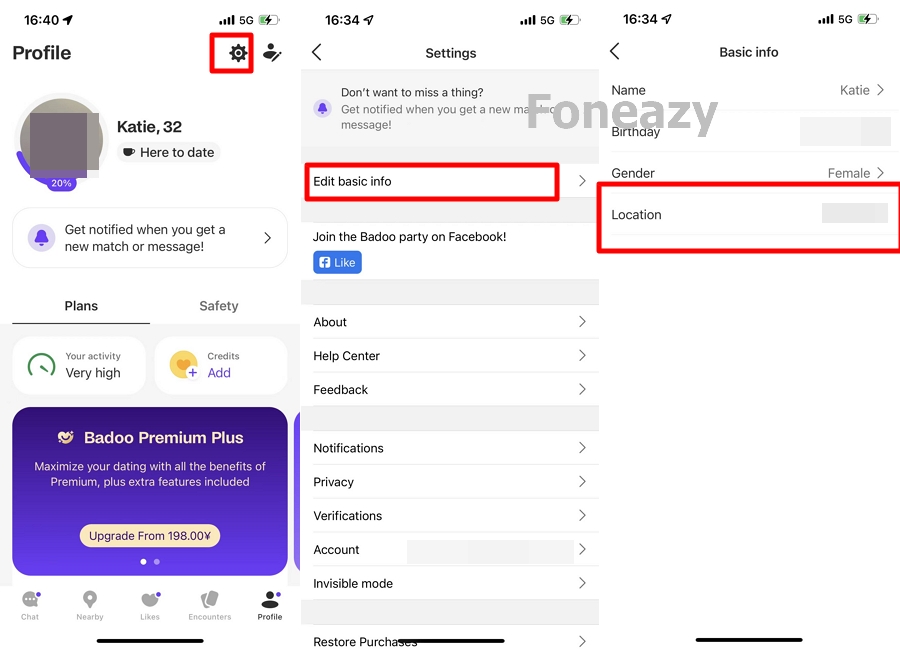 To turn off your GPS:
On your device, go to Settings > Location.
Then, disable Location Access.
Change the GPS Location on Badoo Using MockGo
Badoo is a location-based app. This means that the people you see and match with are from your region or neighboring regions.
If you want to change your location on Badoo without turning off your GPS for your iPhone device, we recommend using Foneazy's MockGo location changer app.
Here are the app's features:
Change GPS location without jailbreaking your iPhone
Change location on Badoo, Pokemon Go, and other location-based apps
Change location on multiple devices simultaneously
Simulate GPS movements

All iPhone models and iOS versions are supported, including the latest iPhone 15 and iOS 17.
Follow the step-by-step process below to change location on Badoo using MockGo.
Step 1. Download and install Foneazy MockGo on your PC.
Step 2. Once installed, launch the app and connect your device to your PC using a USB cable.
Step 3. A map will automatically appear on MockGo. Next is to click the Teleport icon located in the upper right corner of the screen and type down your desired location.
Step 4. Once your desired location is set, a small prompt will appear. Click Move Here to change the GPS location of your device instantly.
Now you can open Badoo and connect with people within the location you have set up on MockGo.
Change Location on Badoo Using VPN
Aside from MockGo, you can also change your location on Badoo using a VPN service app.
VPN stands for Virtual Private Network, and it protects your personal information and IP address by encrypting or hiding your data when browsing, especially if you use a public Wi-Fi connection.
This is also a good option if you want secure browsing on the internet. By using a VPN service, you can change your IP address and use it as a location in Badoo.
Follow the steps below to change your location on Badoo using a VPN service app.
Step 1. Choose a desired VPN service provider and do an initial registration. Here are several VPN service providers you might want to consider:
ExpressVPN
CyberGhost VPN
Fortinet Client VPN
Step 2. Once you have registered, the VPN service provider will ask you to download their VPN app. Other VPN service providers may allow you to download their apps before registering. You just have to follow their instructions upon visiting their website.
Step 3. After installing the VPN app, launch it and log in using your personal information.
Step 4. On the next screen, set up the location that you want to appear on your Badoo app.
Step 5. Once done, tap the Connect option to initialize the location.
Now you can use the Badoo app using the location you have set up in the VPN app.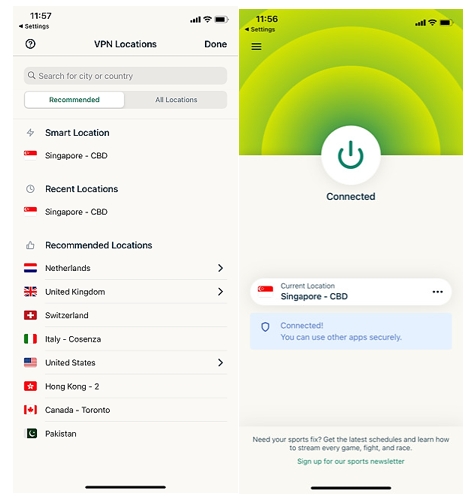 Wrap Up
Badoo is a good dating and social networking app where you can meet new people and find potential matches.
Also, if you want to get connected to people from a different region or country, you can simply change the location settings on Badoo.
However, this only works if your GPS is turned off. If you want to change your location without turning off your GPS, using Foneazy's MockGo or using a VPN service provider are both good options.
I hope this article helped you change your location on Badoo using any of the following methods above. Should you have any questions or comments, just type them down in the comments section below.