Finding love in this age of technology has gotten quite simple. All you need to do is get on a dating app like Lovoo, and your soulmate can be just a swipe away. However, what if you wanted to get a headstart? What if you were planning on moving to a new place and being alone there is something you're just not okay with?
In this case, the real question is how to change my location on Lovoo and set it up so that you can get in touch with people from the area you plan on moving to. And that is exactly what you will learn in this article:
The reasons that might need you to change your location on Lovoo.
How you can change your location on Lovoo.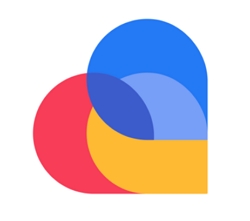 Why Change Your Lovoo Location?
Trying out a new location on your dating app can be a cool move! It's like you're giving a sneak peek of yourself to the place you're heading to, and they're doing the same for you. This can really boost your chances of matching and setting up dates, making your Lovoo journey even more exciting.
And guess what? If you're a bit short on time during your vacation, this trick is a total win. Instead of staring at your phone, you can explore and have a blast. Plus, the people you meet might have awesome suggestions for places tourists don't know about.
You'll be ahead of the game, and the whole experience will feel like a fun adventure. Here are a few other reasons that might cause you to change your location on your dating app:
Virtual Adventures: Changing your location is like taking a digital vacation! You can explore new areas and chat with interesting folks from different corners of the world, all from the comfort of your own space.
Pre-Trip Connections: Got travel plans? Changing your location can help you make connections in advance. You'll have awesome local recommendations and maybe even meet someone to show you around when you arrive.
Long-Distance Magic: Ever clicked with someone who lives far away? Changing your location can keep the spark alive, helping you connect with kindred spirits beyond your immediate vicinity.
Fresh Vibes: If your current dating pool feels stagnant, shifting your location can open up a new world of possibilities. New chats, new faces, and who knows, maybe new love!
Surprises Galore: Imagine the thrill of chatting with someone unexpected. By changing your location, you're inviting exciting surprises and cool conversations into your dating journey.
Change Lovoo Location on iPhone using MockGo
As iPhone users, we have to admit even a slight change in your device's software can lower its value by a significant amount, and that is why the best way to change Lovoo location on your iPhone is to do so without using any jailbreak methods and relying on third-party programs. And what better program than one of the most globally acclaimed ones, MockGo!
This iOS GPS changer tool allows you to spoof wherever you require and works with most games and social apps, ensuring a one-stop solution to all your spoofing needs. It also comes with a GPS movement simulation feature that lets you move around if you ever decide to fake live location.
But the thing that makes this tool better than most present over the internet is how easy it is to use. All you need to do is:
Step 1. First things first, let's get MockGo up and running on your computer. You only need to download it and follow the simple installation instructions. Once that's done, go ahead and open the program.
Step 2. Then click on the "Start" button to get things rolling.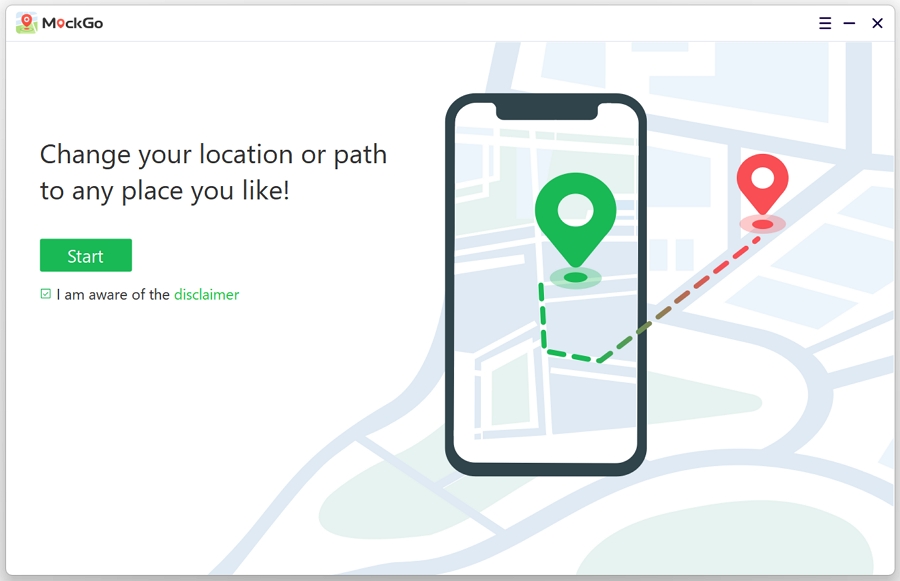 Step 3. Now, it's time to link up your device. Connect your iPhone to the computer if you're using WiFi or have a USB cable handy. Choose your device from the list – it's like picking a character in a game!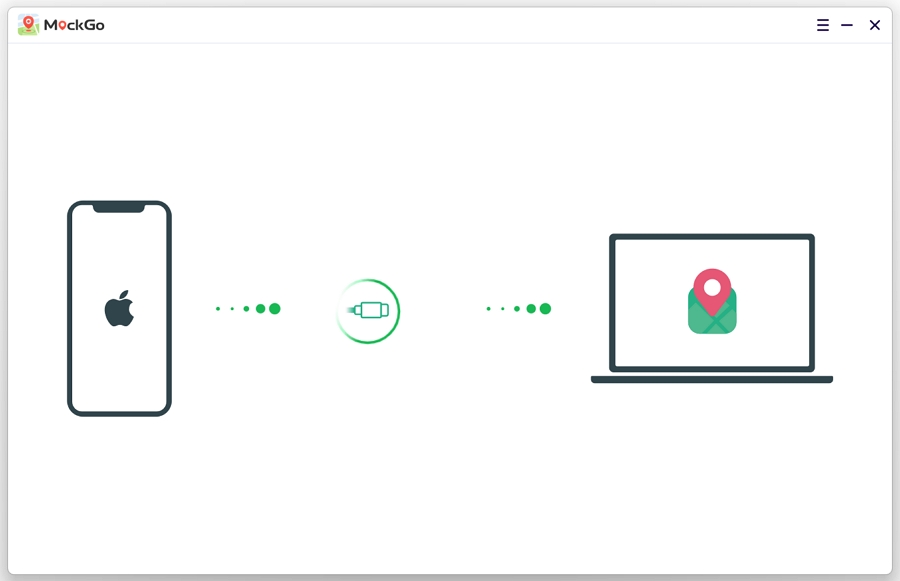 Step 4. Imagine going anywhere you want, even if it's just on your device. Click on the "Teleport Mode" option, and a world of locations opens up. Pick the place you want to be, and you're almost there!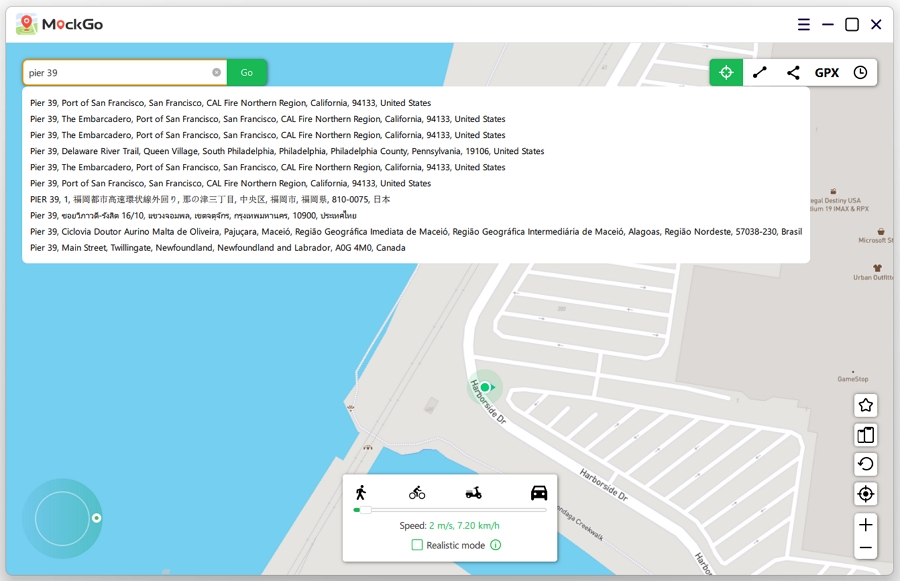 Step 5. Hit that "Move Here " button, and your device's location instantly changes like magic.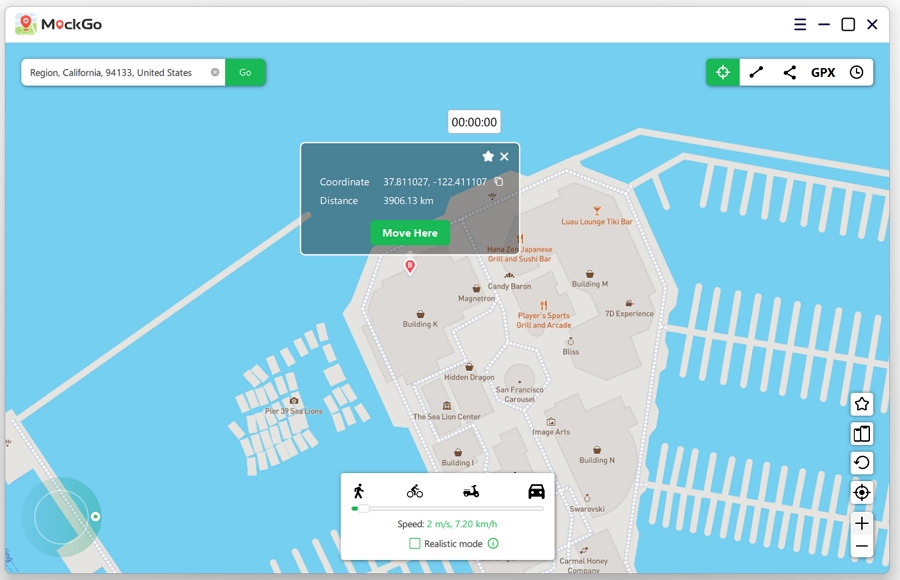 Feeling adventurous? You can follow a route on the map or even use the joystick to explore – it's like you're in control of your own adventure.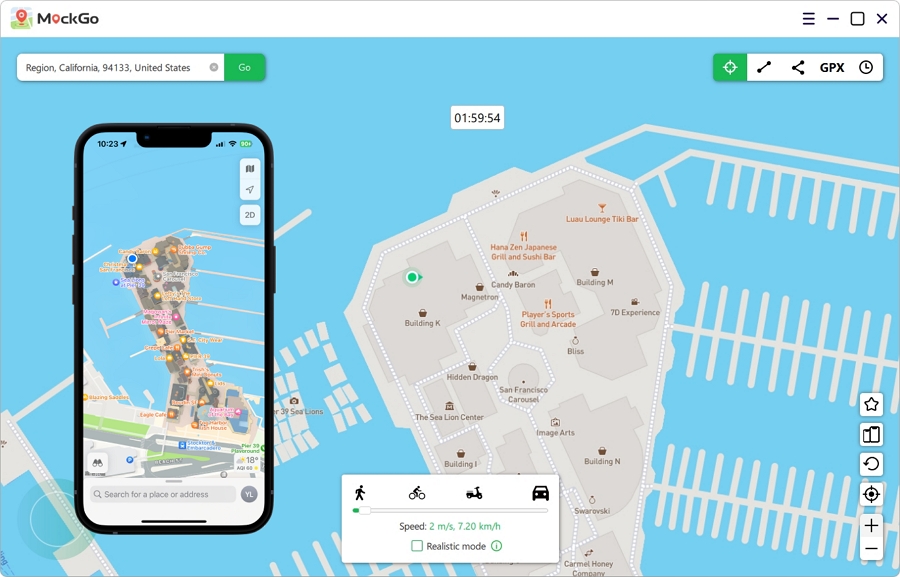 Jailbreak Your iPhone to Change Lovoo Location
Another way to do this is by something called jailbreaking your device. Think of it like unlocking special powers in a video game! When you jailbreak, you're basically removing certain restrictions that were put on your device when it was made.
This lets you do cool stuff, like adding apps that can help you change your Lovoo location, like one called "The Anywhere!." It's like giving your device a little makeover to make Lovoo more fun!
But there's a catch. Jailbreaking might give you some awesome benefits, but there are also some not-so-great things to consider. For instance, your iPhone's warranty – like a promise from the maker that they'll fix it if something goes wrong – goes out the window when you jailbreak. So, if your device acts up, you might face some challenges.
Additionally, after jailbreaking, you might come across apps that aren't safe. Do you know those sketchy websites that your computer warns you about? Some apps could have stuff like that, which could mess up your iPhone.
What's more, this jailbreak tweak is only compatible with systems below iOS 15 and the last update date is on March 9, 2021, which means it hasn't been updated in a long time.
Before you decide to jailbreak just to change your Lovoo location, take a moment to think: Is it really worth it? Like any big decision, weighing the pros and cons is good. After all, you wouldn't want to trade your peace of mind for a new location on Lovoo, right?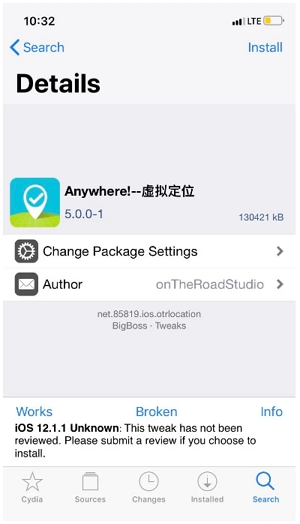 Change Lovoo Location on Android using GPS Spoofing App
Now, don't worry, as we won't forget about our lovely Android users. If you are among these people, your best bet is to count on Fake GPS location, one of the best spoofing app on Android. Here's what you need to do:
First things first, let's grab the "Fake GPS location" app. It's like your ticket to changing up your location.
Once you've got the app, open it up. Don't worry if it asks permission to use your device's location – that's normal! If you're using a more recent version of Android, pick "While using the app" (if it's called something else, that's okay too). If there's a message about ads, just give it a thumbs up by tapping "ACCEPT."
The app might show you around a bit but don't worry – just tap "OK" to breeze through it. When you see a message about "mock locations" at the bottom, tap "Enable" – it's like giving a green light for the fun to start.
Now, let's dive into the secret stuff. Find "Developer Settings" – it's like a hidden treasure chest. Once you're there, look for "Select mock location app." Choose "Fake GPS location"; it's your trusty sidekick.
Back to the app – this is where the magic happens! Use the app to search for or even drop a pin on the spot you want to pretend you're at. If you're planning a journey, you can drop multiple pins by tapping and holding on the map.
Now, all that is left is to look for the play button in the corner of the map – it's like starting a game. Tap it, and voilà! Your location gets a makeover. You're officially a master of changing up where you are.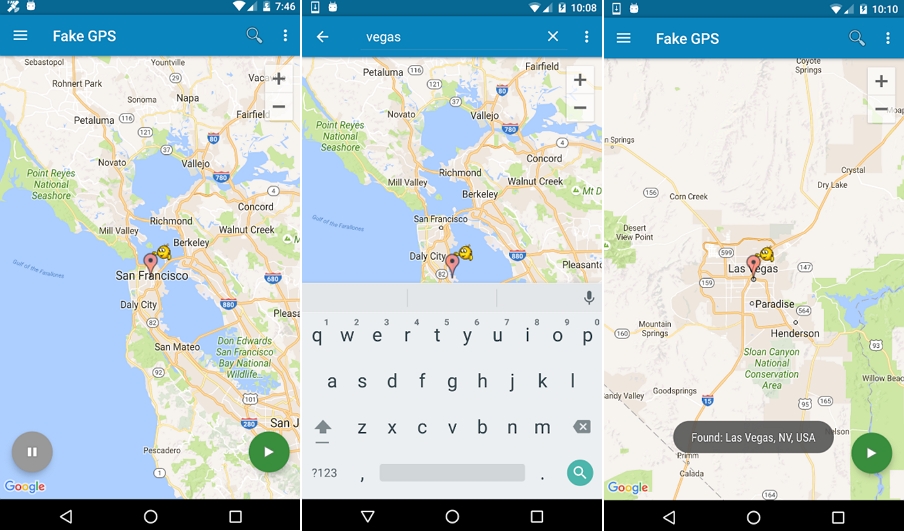 To Conclude
And that is all you need to look for when you ask yourself how to change my location on Lovoo. However, there are a few ways you can take to figure your way around location spoofing on both Android and iOS.
But if you are an iOS, I strongly suggest you go for MockGo location changer, the one-stop shop for all your spoofing needs. Just get your hands on the app and put your virtual world tour in full gear!