You may want to spoof iPhone GPS to gain the advantage in a location-based AR game like Pokémon Go or access an app or content that may not be available in your current location.
Whatever the reason, you will need an app or program to help you easily change the GPS location on your device. One of the most popular is iMyFone AnyTo.
But if you don't just want to go with the first solution you see, or AnyTo fails to work sometimes, the following are 6 best iMyFone AnyTo alternatives to consider.
Best AnyTo Alternative: MockGo
One of the best AnyTo alternative to teleport the GPS of device to any location or simulate GPS movement is MockGo.
This is a reliable iOS GPS changer designed by a professional team that understands the needs of people who want to fake the iPhone's GPS location easily.
This iOS location spoofing service offers a feature-rich, all-inclusive utility. Some of its key features and where you can use the app are listed below:
MockGo Features:
Teleport the GPS: Change the GPS of your device in just 1 click.
Fake GPS walking: Fake GPS movement between 2 or multiple spots as you want.
Multiple Device Spoofing: Simultaneously manage the GPS locations of 5 different iOS devices.
Cooldown Timer: Playing location-based games such as Pokemon GO with a cooldown timer.
Joystick Movement: Replicate actual physical movements by using the virtual joystick.
App Compatiblity : Compatible with game apps such as Pokemon GO, social media platforms like Facebook, Instagram, and dating apps like Tinder, Bumble and more.
Device Compatiblity - Compatible with all iOS devices and all versions of iOS including the latest iPhone 15 and iOS 17.
Compare MockGo to AnyTo
MockGo's pricing plans: 1-month $9.95, 3-month $19.95, 1-year $39.95, lifetime $59.95.
AnyTo's pricing plans: 1-month $14.99, 3-month $29.99, 1-year $59.99, lifetime $89.99.
With the cheaper price of MockGo, you can enjoy nearly all the features that AnyTo have.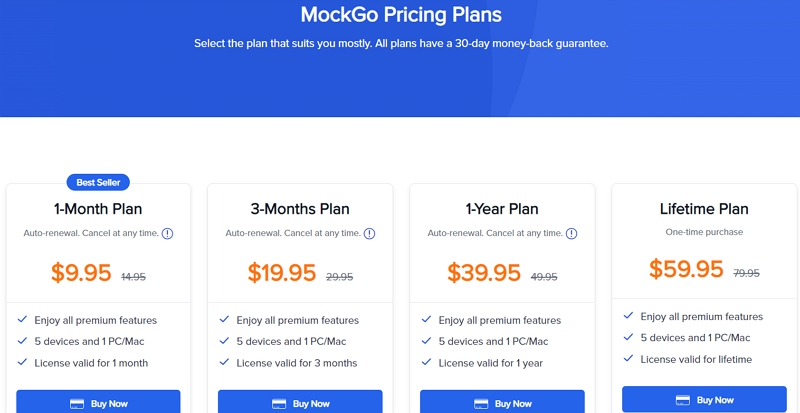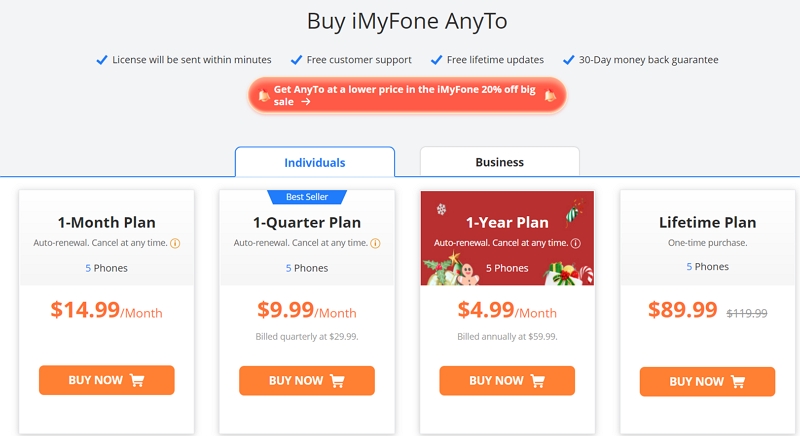 Additionally, MockGo provides you more control when faking movement such as adjusting the speed while moving or applying the realistic mode to set the speed to vary automatically between -30% and +30% of the range in 5 seconds.
AnyTo
MockGo
Rate
⭐⭐⭐⭐
⭐⭐⭐⭐⭐
Pros:
A wide range of features
A wide range of features
Support importing GPX file
Change speed while moving
Flexible license availability

Cons:

Can't change speed while moving
Limited license availability
Limited trial features
Expensive price

Limited trial features
Price
1-Month Plan: $14.99
3-Months Plan: $29.99
1 Year Plan: $59.99
Lifetime Plan: $89.99
1-Month Plan: $9.95
3-Months Plan: $19.95
1 Year Plan: $39.95
Lifetime Plan: $59.95
Teleport mode
√
√
Simulate GPS movement
√
√
Joystick
√
√
Customize speed while moving
×
√
Import GPX
√
√
Multi-device control
5 devices
5 devices
Historical records
√
√
Favorite list
√
√
Platform
Win 10/8.1/8/7/Vista/XP
Mac OS X 10.9 or later
Win 10/8.1/8/7/Vista/XP
Mac OS 10.9 or later
Device
Support iOS and Android devices
Support iOS devices only
License availability
The license for Windows can't be used on macOS and vice versa
The license can be used either on Windows or Mac computer
How to Use MockGo
Teleport GPS Location
To use MockGo to change the GPS location , download, install the program and then follow these simple steps:
Step 1: Open MockGo on your computer after installation and then connect the iPhone to the computer. Click "Start" to begin.
Step 2: You will see a map on the screen. Select the "Teleport Mode" from the three options at the top-right side of the screen
Step 3: Type in the location in the search box, then click "Move Here" to teleport the device to this new location.
The GPS location on your device will change to the new simulated location.
Simulate Movement
To simulate GPS movement between two spots, follow these simple steps:
Step 1: Once the device is connected to the computer, select the "One-Stop mode" mode.
Step 2: Select the spot on the map where you would like to move and a popup will appear indicating the distance between the two spots.
Step 3: Select the speed that you want to use and then click "Move Here" in the pop-up that appears.
Step 4: Another popup will appear asking you to enter the number of times you would like to move between the two spots. Enter a numerical value and click "Start" to begin the simulated GPS movement.
Dr. Fone- Virtual Location is another alternative to AnyTo that can be a good way to spoof the location on your iOS device.
One of its main benefits is a very clean and easy to user interface that can allow users to change GPS location to anywhere in the world in a single click.
Features:
It can be used to change the GPS location to anywhere in the world in one click
It is a desktop solution and all you have to do is connect the iPhone to the computer: you don't need to jailbreak the iPhone.
Selecting the location is simple: you just need to enter the new location
It can also simulate movement along a specified route at a specific speed
Pros
There are fewer chances of being banned.
Simple interface design
Cons
Only works on PC/Mac. There are no mobile apps.
Android device is not supported
The price is a little expensive compared to other similar apps.
ThinkSky iTools is another tool that is highly useful for the management of iOS devices including changing the GPS location of the device.
It doesn't require you to jailbreak the device to simulate GPS location but it lacks an iOS app, meaning that you will need to install it on your computer to use it.
Changing the location with iTools is very easy: you just need to use the pin to select the location you want.
The free version of iTools will allow you to simulate the location three times before you have to purchase the premium tool.
Features
You can easily spoof the GPS location of an iPhone or iPad running iOS 12 or lower.
It allows you to backup almost all of your iPhone/iPad data and easily restore it whenever you need it.
Provides iOS to PC Screen Mirroring, which allows you to mirror your iPhone/iPad screen onto your desktop computer, whether Windows or Mac.
Pros
It is a all-in-one iPhone manager tool, you can also use it to back up and restore iPhone and iPad devices quickly and easily.
Fake your iPhone/GPS iPad's location easily.
Cons
According to reports, the program is incompatible with antivirus software.
Some features, such as WiFi sync, require iTunes to be installed on your PC.
Android devices are not supported.
The pricing is quite high.
Tenorshare iAnyGo is a location-changing app for iOS devices that enables you to fake your iPhone's GPS position.
When changing the location on iOS devices, specific software needs to be used with a computer as a conduit.
iAnyGo is compatible with the most recent iOS 17 and the iPhone 15 series.
With the help of this tool, location-based apps can be used almost anywhere in the world.
Features
The following features best describe what the program can do for you:
Change the GPS location to anywhere in the world in a single click.
Simulate GPS movement along a specified route at selected speeds.
Customize the speed by choosing from 3.6km/h to 100 km/h or enabling the realistic mode.
Import the GPX file and simulate the route on it easily.
Fake the GPS movement flexibly by using the joystick feature.
Every software program has various advantages and disadvantages. A wonderful tool for location spoofing like Tenorshare iAnyGo iOS also has certain drawbacks.
The main advantages and disadvantages of this instrument are listed below.
Pros
Changing locations is a simple and quick process.
You can get to a lot of different places by using this tool.
No other app is required to spoof GPS position on iOS devices.
Each mode is free to use three times during the trial period.
Cons
Only iOS devices are compatible with location spoofing. It does not allow you to spoof your location on Android phones.
Switching between different settings when mimicking movement with this tool is difficult.
You can only walk at a set speed, which location-based apps can eventually pick up in the long run.
5. FoneGeek iOS Location Changer
The most noteworthy benefit of FoneGeek iOS Location Changer is its intuitive user interface, which lets users change location or mimic movement in a few simple clicks.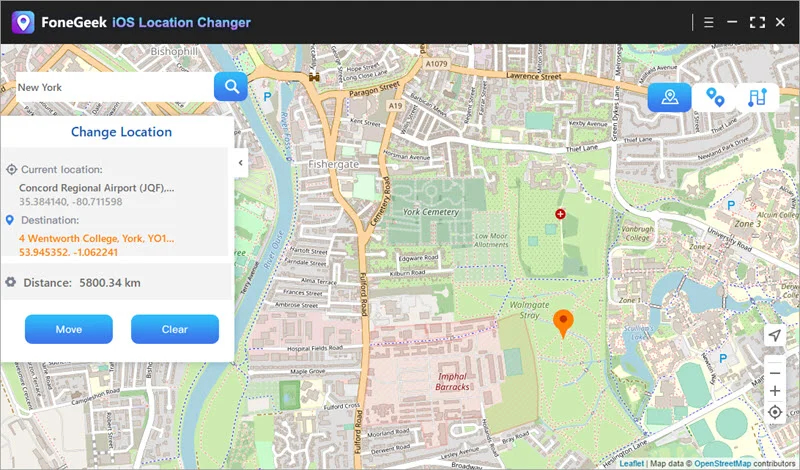 Features:
It has some special features, such as:
Changes the iOS location to anywhere in the world.
Works flawlessly with the majority of location-based apps, including Tinder and Pokémon.
Enables simultaneous location spoofing through multiple devices.
Imports a GPX file to the desired folder.
Steps:
With only a few simple steps with the FoneGeek iOS Location Changer, you can change your smartphone's location.
Download and launch FoneGeek iOS Location Changer.
Next, connect to your device and select Get Started.
Click Enter and connect your iPhone to the computer via USB.
Input the location you wish to change to and click Search.
Coordinates of the new location will pop up, select Move to complete the process of changing your location.
6. EaseUS MobiAnyGo
Changing the location of your iOS device may be necessary for a number of reasons, including accessing geo-restricted apps, viewing different websites and videos on location-based apps, and even preventing tracking. This is where EaseUS MobiAnyGo can help you out.
It offers consumers a simple and affordable way to fake their location. By utilizing this software, you can easily prevent yourself from being tracked, and people will be able to see your location according to how you've selected to alter it.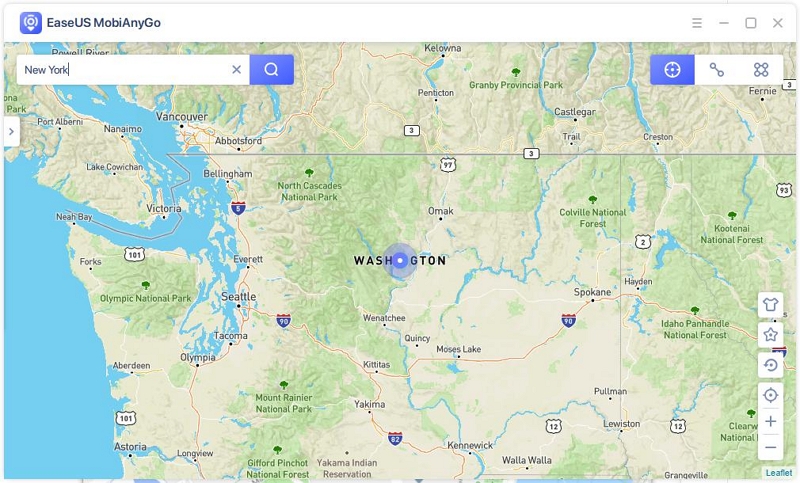 Features
Here are a few of MobiAnyGo's key features:
Dating Apps Compatible - You may simply look for matches and discover a suitable date for yourself by sitting in a specific area, even if you are in a different nation.
No GPS Restrictions - You can create a personalized route in two-spot or multi-spot mode to move repeatedly in certain paths. You can sit in one spot and play all of your AR games without having to move because EaseUS MobiAnyGo doesn't have any GPS restrictions.
Customize Your Moving Speed - You can choose Walk Mode, Bicycle Mode, or Drive Mode to make the movements appear natural.
Steps
Here's how to use EaseUS MobiAnyGo:
First, download and launch the software on your computer.
Nexxt, search for the target location.
After that, click Move to change your location to that spot.
Then check your location via any location-based app.
Wrap up
If you used to use AnyTo and are looking for an alternative tool, the 6 AnyTo alternatives listed above may be useful.
They are simple to use and allow you to change the location of your device's GPS to quickly access any geo-restricted content or play location-based AR games like Pokémon Go without walking.