With so many apps choosing to use GPS location to provide content, most users are choosing to fake their GPS location to get access to apps and content that may not be available in their region.
The problem for most people is that it can be very difficult to change the GPS, particularly for iOS devices unless you have the right tools.
This need has created a lot of products aimed at helping users easily change GPS location on their devices. One such tool is iMyFone AnyTo, a tool that claims to be able to change the GPS location to anywhere in the world in a single click.
Let's take a closer look at it.
Key Features of iMyFone AnyTo
Spoof location to play AR Games: You can use the two-spot and multi-spot modes t crate virtual maps that can be come in handy when playing AR games like Pokémon Go.
Share Spoofed Location: You can easily share your fake GPS location with friends via social media apps like WhatsApp, Facebook and Snapchat.
Hide your Actual Location: By changing the GPS location on your iOS device, you can easily hide your actual location for privacy reasons.
Change Location on Dating Apps: By changing the location on dating apps like Bumble and Tinder, you can get matched outside your region.
Customized speed: Move along the predetermined GPS route in both two-spot mode and multi-spot mode at a customized speed. Choose from simulated walking, cycling or driving speed.
Pause Movement Anytime: You can pause the simulated GPS movement any time. Regular pauses help to make the movement appear more natural.
Set Coordinates: Using coordinates to select the destination can help you choose a more precise location.
Historical Records: AnyTo will save all the locations you use to make it easier to find and use them again in the future.
How to Use AnyTo
There are very many ways that you can use iMyFone AnyTo. Here's a good example.
If you want to play Pokémon Go but there aren't enough Pokémon to catch or Raids to join in your area, you can use AnyTo to change the GPS location of your device to a more advantageous location.
Now let's take a detailed look at how to use each of the features of iMyFone AnyTo:
Teleport GPS Location
iMyFone AnyTo provides two methods for changing GPS location: selecting a location on a map and searching for a location by name or coordinates.
Step 1. To get started, install and run iMyFone AnyTo on your PC. Get Started by clicking the button.
Step 2. Connect your iPhone or iPad to your computer using a USB cable. Upon connecting the device to the computer, the current location will be displayed in teleport mode.
Step 3. Users can select a destination by either zooming in and out on the map or using the search bar in the top left corner.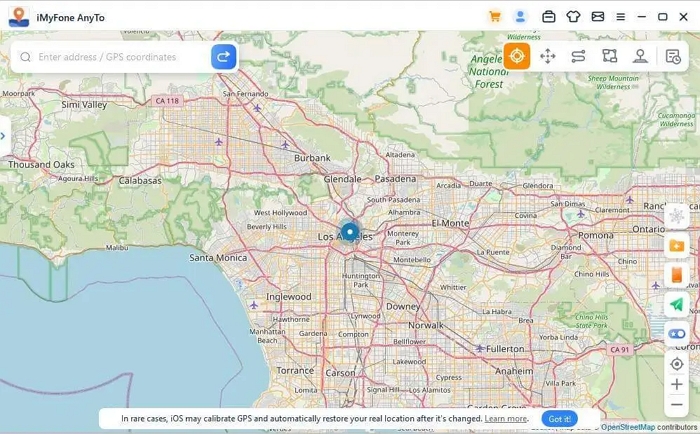 Step 4. The selected location's name, coordinates, and distance will be displayed, and upon hitting the "Move" button, the location will change instantly.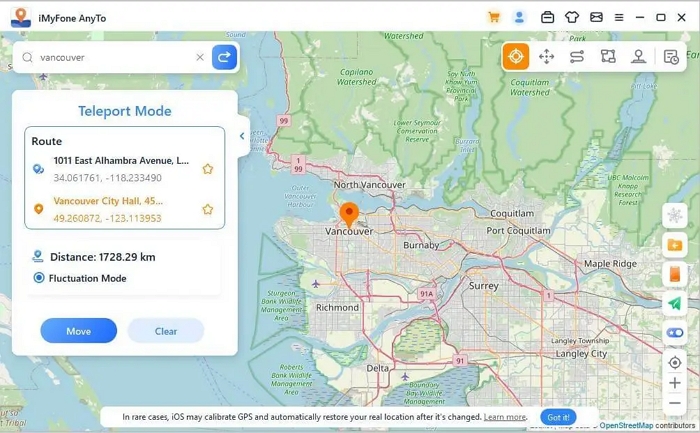 It is important to note that rapid teleportation over large distances in Pokémon GO can result in a ban, so gradual steps are recommended.
Simulate GPS Movement Between Two/Multiple Spots
iMyFone AnyTo allows for realistic simulation of GPS movement along a custom route, making it useful for cheating Life360 location.
To use this feature:
Step 1. select the Two-spot or Multi-spot mode and select two or more locations by either selecting a location on the map or searching for a location by name or coordinates.
Step 2. The selected locations will be displayed in the sidebar, where they can be easily altered by dragging or deleting location pins.
Step 3. Click the "Move" button and the virtual GPS movement will begin along the route that you chose.
Fake Pokemon Go with GPS Joystick
In Pokémon GO, after teleporting to a desired location, you can switch to Joystick Mode for flexible movement.
This mode is specifically designed for Pokémon GO and allows for movement in a chosen direction by clicking the direction buttons on the interface or using keyboard controls. You can also control movement speed.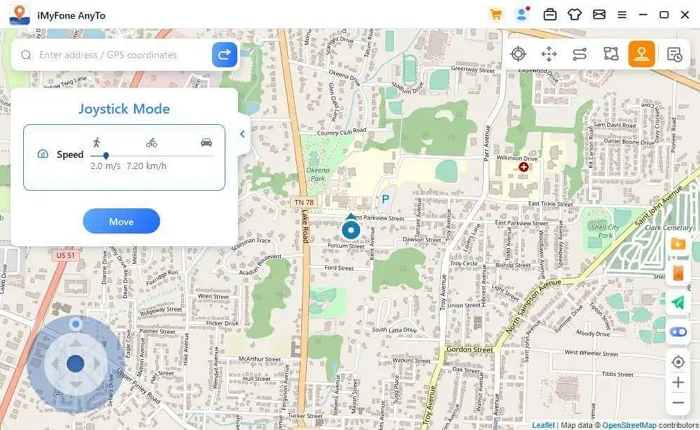 How to Use History Records and My Favorites
With the added feature, you can easily keep track of frequently visited spots or routes. Simply click on the star icon to save them, and access them quickly through the historical records.
The updated version also includes the Added PokéStop & Gym section, allowing you to see all the PokéStops and Gyms in a specific area with ease.
AnyTo Pricing
iMyFone offers 4 different AnyTo plans to choose from. Each plan is applicable to 5 devices and a single PC. Here's the pricing tiers in more detail;
1-Month plan - $14.95
Quarterly plan- $29.95
Yearly Plan - $59.95
Lifetime Plan - $89.95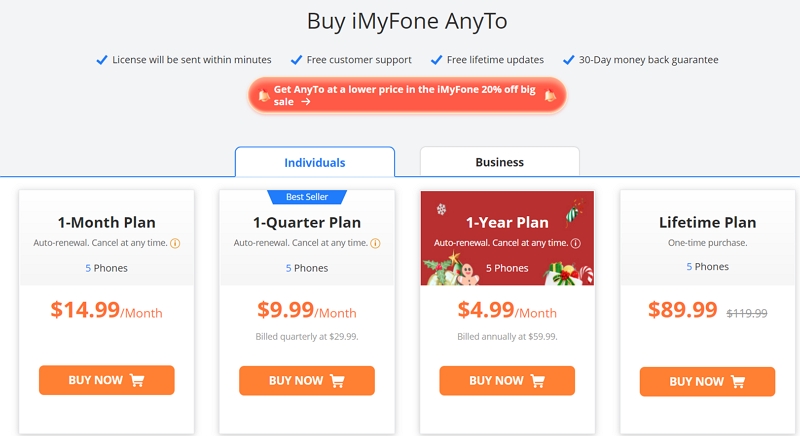 A Quick Look at AnyTo Review
iMyFone AnyTo is a program that can help you change the GPS location on iOS devices to anywhere in the world.
It also allows users to simulate GPS movement along a predetermined route on a map and move at a customized speed. As such it is an ideal companion for location-based apps such as AR games and social media platforms.
AnyTo can easily spoof the GPS location on your iOS device easily and quickly. Then you can use the two-spot mode and the multi-spot mode to simulate GPS movement along a specified path.
The two-spot mode allows you to move from point A to Point B, and can only move along roads. To move along a path not confined to roads, you should use the multi-spot mode.
Choosing the location, you would like to teleport to is made easier by the map. You can zoom in and out of the map or enter the coordinates to search for the destination.
The search results for the destination will appear in the sidebar and you can select the exact location you want to use.
iMyFone AnyTo Cons
AnyTo is a great way to change the location on your iOS device, but it is not without a few flaws.
Expensive Price
AnyTo's price has recently been adjusted. The current pricing is more expensive than the previous one. For example, the lifetime price of AnyTo is $89.95, when alternatives such as MockGo cost only $59.95.
If you are considering cheaper alternatives, please read the next section.
Desktop Program
It is a desktop program, meaning that you can only use it to install it onto your computer and change the device's location by connecting it to the computer.
Availability in Some Regions
Another potential drawback of iMyFone AnyTo is that it may not be available in some regions. This means that some individuals may not have access to its powerful features and benefits.
Banned if Used Too Frequently
Another potential issue with iMyFone AnyTo is that if used too frequently, it could result in a ban.
When you use it to play Pokémon Go, there is a chance that you will see a number of messages from the game saying that you are moving too fast.
This means that users must be cautious when using the tool and avoid overusing it, in order to avoid any negative consequences.
If you would like an alternative location spoofing tool, consider choosing MockGo.
This is a revolutionary new way to spoof the GPS location on iOS devices without having to jailbreak the device.
It can do all the basics of location spoofing such as teleport the device's GPS to anywhere in the world as well as use one-stop and multi-stop mode to simulate GPS movement along a specified path at a customized speed.
But it also has a number of advanced features including a joystick feature that can make the GPS movement easier, the ability to import GPX files to get a more precise destination and a full-screen map view that can come in handy when refining the location even further.
Moreover, it is cheaper than AnyTo and is compatible with the latest iPhone 15 and iOS 17 now.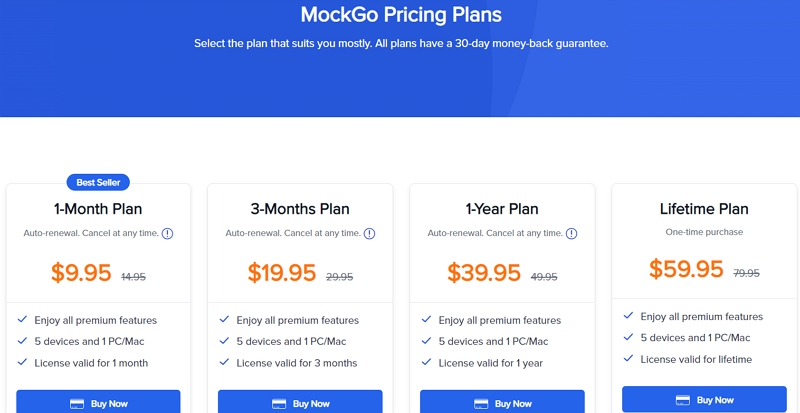 Conclusion
GPS location spoofing tools are now widely available and although many of them work in much the same way.
But as we have seen in this AnyTo review, the tiniest of differences can mean an accurate location change or detection by location-based apps.
MockGo incorporates a lot of its key features to ensure that any location you choose is accurate and GPS movement simulation is easy and effective.