When it comes to playing Pokemon GO, it's really not much fun unless you have a location spoofer that lets you teleport and even find better Pokemon. You might be wondering, how is that even possible?
Well, with the right tool, not only is it possible, but it's super easy as well. One such tool is LuckLuckGo, but is it really all it claims to be? Let's find out.
What is LuckLuckGo
LuckLuckGo is one of the most popular location spoofing tools used for Pokemon GO and similar GPS-based apps and games. It lets you change your location with the click of a button and does so effortlessly. The best part? It's safe to use, so you don't have to worry about Niantic banning your account.
Like all location spoofing tools, it overrides the GPS signals from your phone and sends out its own to show you're in a place that you're actually not. It is compatible with difficult systems like iOS and readily works with apps like Snapchat, Tinder, and more. And another bonus is that you don't even have to jailbreak your device.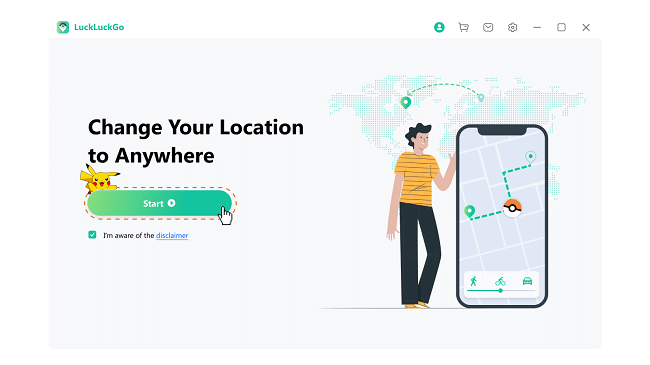 Features of LuckLuckGo
With an app that builds so much hype, you just know the features are going to be great too. Here's what LuckLuckGo has to offer:
You can change locations with just one click.
It lets you save places you've visited.
The two-spot mode lets you create movement paths.
You can fake your checked-in locations on maps and timelines.
It automatically syncs with your PokemonGo game.
The joystick lets you control your movements in GPS-enabled games.
See? With so many features, not only will you become an expert at Pokemon GO, but you can also change your location on Tinder, get region-specific filters, or spoof your location on Netflix. Really, the sky is the limit.
How to Use LuckLuckGo
You might worry that a tool that seems to offer so much might be really hard to install, we'll its not. To use LuckLuckGo, here's what you have to do:
Download LuckLuckGo from its official website and install it on your computer.
Connect your iPhone using a lightning cable and click Start on the interface on your computer screen.
A map will pop up, and you can select the location you want to set and then click the Move option.
That's all there is to it. With three simple steps, you can enjoy Pokemon Go like never before.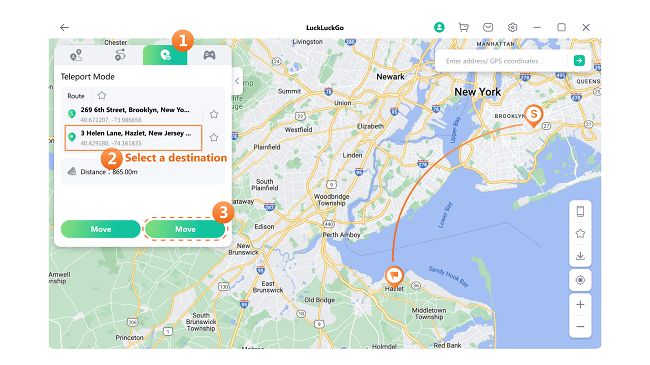 LuckLuckGo Not Working? How to Fix It
Like all apps, LuckLuckGo sometimes has issues when working. Here's what they are and how you can fix them:
Device not connecting to LuckLuckGo
It's very common for the tool to state that your device couldn't connect to it. Here's what you can do to fix it:
Unplug your iOS device from the computer and relaunch the LuckLuckGo tool.
Check your USB port or cable and see if it's working. Try replacing the cable and reconnecting your phone.
Connect your device to iTunes and see if it shows up there. If it doesn't, try and run it again.
If all of these methods fail, put your device in Recovery and set it to DFU mode, and then try connecting it to the tool.
LuckLuckGo is not compatible with your device
If your device is not compatible with LuckLuckGo, you will see a prompt on your screen saying so. Try updating your device to the latest iOS version, or check if you have the latest version of the tool downloaded on your computer. You can also try and reach out to the LuckLuckGo team and see if they can help.
Map doesn't load in LuckLuckGo
Usually, the map on LuckLuckGo is very fast to load. If you see a blank screen and the map isn't loading, then your internet connection might be at fault. Check your connection to see if the speed is right, and consider connecting to some other source for better internet. If that fails, update the tool to its latest version, and it'll work.
LuckLuckGo stuck issue
There may be cases where the app gets stuck and doesn't work even after you open and close it multiple times. As frustrating as it might be, the only thing you can do is uninstall it and then install it again to see if it helps.
LuckLuckGo crash issue
If the LuckLuckGo program keeps crashing on your computer, then there's a few things you can do to address the issue. Try sending the log files to the LuckLuckGo team. Here's how:
Simply click 'Go' at the top menu of your system and then click on 'Options' from the keyboard. You'll see a dropdown menu with a library option. Choose 'Library' > 'Logs' > 'Diagnostic Reports'. Then locate the file named 'LuckLuckGo'.
If you're a Windows user, you need to go to the installation path of LuckLuckGo. Search for the log folder, and compress the files you find. Just send them to the support team and wait for a response.
LuckLuckGo Review
Its no LuckLuckGo has some exceptional features and can be tool of utility. Even though it does its best to protect you from getting caught, there's no guarantee that this will be the case every single time.
There are better apps on the market that offer more features, less issues and a guarantee against getting detected by Niantic in Pokemon GO or any other GPS-based app for the matter.
Pros
Its very easy to use and has a few simple steps for its set-up.
It supports the latest iOS 17 and iPhone 15/14 Plus/14 Pro Max.
You can walk between stops of your choice at your preferred speed.
It does not require you to jailbreak your device.
You won't get detected due to your movements or spoofing.
Cons
It doesn't have a lifetime pricing plan
The tool isn't supported on Android devices
The pricing to install it on Mac is more than that of Windows
Best Alternative to LuckLuckGo
If you're looking for an alternative to LuckLuckGo, then MockGo is the perfect tool for you. This location spoofing app comes with various features and is completely safe, which won't be detected by your phone or any GPS-enabled app. It's pricing plans are more cost effective, making it the top choice for all Pokemon GO players.
Here are its top features:
Change the GPS of your device to any place in just one click.
Has multiple GPS movement modes like two-spot, multiple-spot, and joystick.
Fake your movement and speeds naturally with full customization.
Lets you spoof on any GPS-based app or program.
You can access geo-restricted content without detection.
No other app will know your real location whilst you have a fake one put up.
Lets you download and use GPX files for better custom movement.
This tool is perfect for Pokemon Go. If you're ready to use it, here's what you need to do:
Step 1. Download the tool onto your computer and launch it. Click on the Start button.
Step 2. Click on Teleport Mode, which is the first icon from your top-right. Now input the address of your fake location or use the map to choose where you want to be.
Step 3. Click the Move Here button once it has locked in on the selected location.
Now you'll see your location is changed to the one you picked, and any GPS-based apps on your iOS device will pick up on this new location when functioning.
To Conclude
Finding the right location spoofing tool can be hard, but with MockGo, it doesn't have to be. It offers the best features at the most affordable price. Not only is it very easy to use, but it is reliable as well. Just make sure your device is compatible, and you're good to go.