Strict location tracking can be bothersome in some scenarios, and the only solution to that is to spoof your location. While changing your location on Android is a piece of cake, it's not the same on an iPhone.
Apple follows stringent security policies to ensure that no form of location spoofing can be done directly. Luckily, there are still some workarounds to help you fake the location on your iPhone without computer.
This article will take you through the reasons why you would fake location and the various tools and methods to help you fake your iPhone's location without or with computer. Without further ado, let's get started.
Why You Want to Fake Location on iPhone
There are various reasons to fake your location. The following are some of the most important reasons:
Dating Apps
Spoofing your location on your iPhone will come in handy if you want to explore a new city on dating apps like Tinder and Bumble.
These apps use your GPS location to show profile results within a certain radius, limiting your options.
But by tricking the app into thinking that you are in a different city, you will be able to view the profiles in that region.
Location-based Games
Location-based games like Pokemon GO utilize your smartphone's GPS to determine your location and track your real-time movement as you play the game.
While moving around and catching Pokemon is fun, traveling to distant places can be a hassle.
Social Media
You can use a spoofing app on your iPhone to check in at different places on social media. Do you want to check in on Facebook at a famous landmark?
You can do it instantly by spoofing your GPS location on your iPhone.
Pranks or Surprises
Are you thinking about pulling a prank on a family member or friend? You can use a mock location to fool them into thinking you're somewhere else. This can also come in handy for surprise events and parties.
These are just some of the reasons why people fake their locations. If you relate to any of them, we have the perfect solution for you. So let's dive right in.
Fake Your Location on iPhone without Computer
1. By Jailbreaking your device
Jailbreak is basically a modification for iOS devices to remove restrictions imposed by the manufacturer and is a working way to enjoy the features and apps that Apple does not allow you to use by default, including location spoofing software.
Pros
There is no need to use a computer.
Cons
Doesn't compatible with iOS 12 and later.
It's more trouble than it's worth.
It is difficult and complicated to use.
Jailbreak is a risky process, as the process might brick your phone. Be extra careful while doing it and do not jailbreak your device without complete knowledge,
Jailbreaking your iPhone voids the Apple warranty. Hence, we suggest you jailbreak your iPhone after your warranty claim period is over.
There are multiple jailbreaking repositories online. Just download a reliable repository that's compatible with your current iOS version and follow the step-by-step guide to complete the process.
Once you are done jailbreaking your iPhone, download Cydia and install a GPS location faker. Our suggestions would be LocationHandle or akLocationX. LocationHandle is a paid app that works with iOS 9 and 10.
Additionally, it requires you to install an on-screen joystick to run properly. On the other hand, akLocationX is a free app and is compatible with iOS devices with the A7 chip. As a result, you will face no issues when you fake your GPS location on your iPhone.
2. Via Hardware
A tech company has developed a new piece of hardware called GFaker, which allows you to change your iPhone's GPS location directly from the device.
Before we get into the steps, let's take a look at the system requirements and price of GFaker.
System requirements: Compatible with iOS 9 to iOS 15.
Price: GFaker Pro is $329. GFaker Phantom is $329. GFaker VM VMLocaitonProduct is $339. GFaker Phantom mini is $329.
Pros:
You don't need a computer to spoof the location.
It doesn't require you to jailbreak your device.
Cons:
Much expensive than other solutions, with various pricing plans starting at $329.
Not easy to use.
Read the following steps to learn how to use it:
First, plug it into your iPhone. Your device will recognize it as an external GPS device that complies with the Apple External Accessory Framework standard.
Next, you have to install and run the GFaker app to initiate the process.
Then, choose any location of your choice.
Afterward, the GFaker GPS signal will recalibrate the GPS location of all apps on your iPhone.
Once you fake your location on iPhone using GFaker, you can comfortably browse your favorite geosocial app or video game.
Fake Your Location on iPhone with Computer Effectively
Best Way: Spoof iPhone's Location with MockGo iOS GPS Changer
Due to Apple's regular software updates, it is complicated to spoof location on iPhone without computer. But if you want to fake your location of the iPhone more efficiently, you can rely on some desktop iOS location changer apps.
MockGo is the most effective destkop iOS GPS changer that makes it easy to change the GPS location for iOS device in just 1 click.
Pros:
Simple and straightforward.
It does not require any technical knowledge to use.
Change the GPS location to any addresses in one click.
Fake GPS movement naturally.
Compatible with most location-based Apps such as Pokemon Go, Tinder, Life360, and more.
Compatible with all iPhone models and iOS versions, including the latest iPone 15 running iOS 17.
The most cost-effective price with $9.95 per month, compared to other tools.
Cons:
It doesn't support Android devices.
Below is a guide on how to fake location using MockGo:
Teleport GPS to Any Location Using MockGo
To teleport to a new location on iPhone using MockGo, follow the step-by-step guide below:
Step 1. Download and install MockGo on your computer.
Step 2. Launch the app and connect your iPhone to the computer through a USB cable.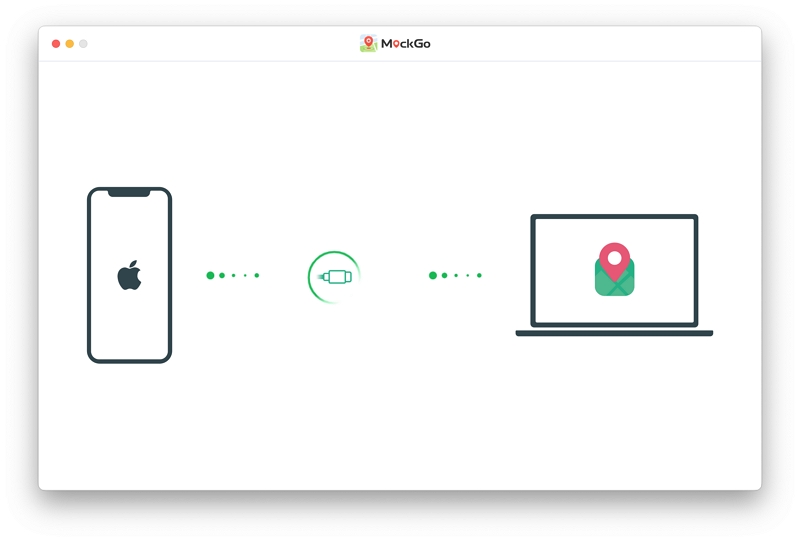 Step 3. Click on the Teleport icon from the top right-hand sidebar to enable the Teleport mode on the map.
Step 4. Next, click on the search bar and type in or paste the address or coordinates you want to teleport to. Then click the Go icon.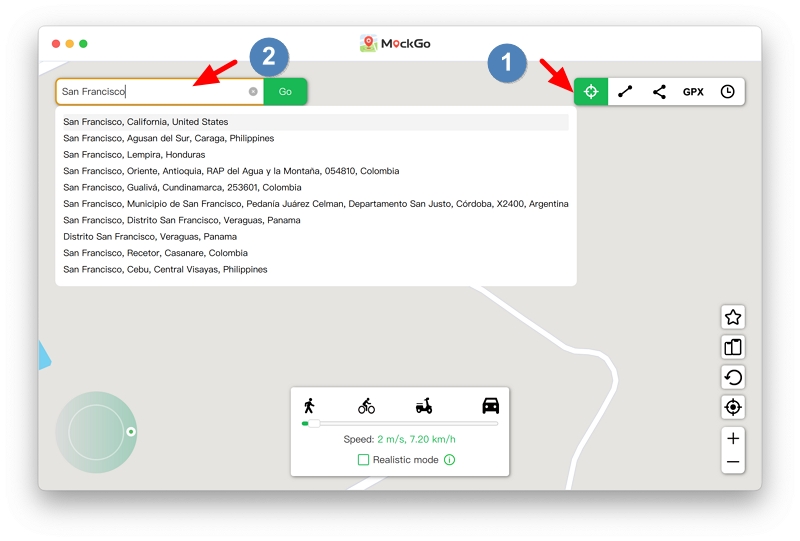 Step 5. The software will display your desired location and ask if you want to move there. Click Move Here inside the pop-up box.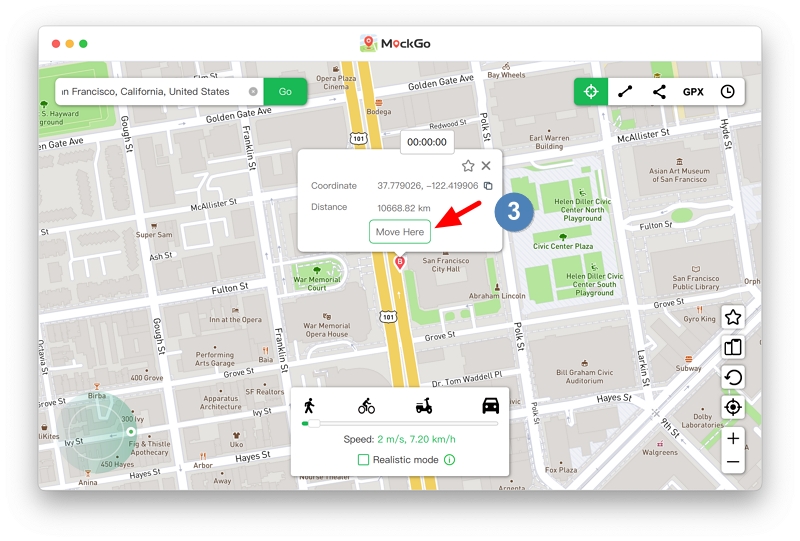 Once you teleport to the address you typed in, the current location of all the apps on your device will update to the new location.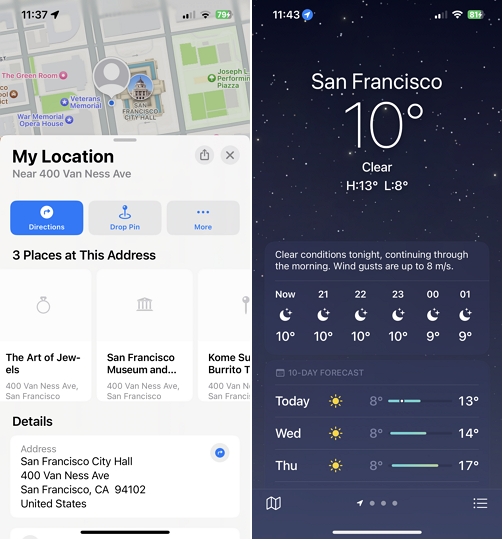 Simulate GPS Movement
Aside from teleport mode, you can virtually walk to any region by simulating your movement while staying home the entire time using MockGo.
This feature is very useful while spoofing your location and moving virtually to progress in games like Pokemon GO.
To simulate your movement pattern in MockGo, follow the steps below:
Step 1. Choose the One-Stop mode from the top right-hand sidebar.
Step 2. Now you can select a spot within the map or type in the address of a location. A pop-up box will appear with details such as the distance to that location, click "Move Here" to proceed.
Step 3. Now put in the number of times you want to go back and forth between the two places. Once you fix all the metrics, click Start.
It will now start moving according to the route you set. You can also drag the slider to adjust the speed at which you want to move.
You can select any of these two modes to spoof location on iPhone seamlessly on MockGo.
Via iTools's Virtual Location
Faking your location on an iPhone device requires more knowledge and skills since it isn't just about installing an application on device.
Another popular iOS location changer that you can use is iTools's virtual location. To use this tool, you will also need to install it on the computer.
Pros
Effective to spoof the location.
Other features available to help you manage your device.
Cons
Expensive to use, with the price starting with $30.95.
The interface is not easy to use for beginners.
There are no enough guides on website to help you learn how to use the program.
To change you location efficiently using iTools, follow through the following steps:
After installation is complete, connect your iPhone to it using an original USB cable from Apple.
When a connection is established, launch iTools and select the Virtual Location option.
Input the location you wish to access at the top of the map on your device and then press enter.
You will notice your GPS location moving to the new fake location on the map. At this point, you should click on the 'Move Here' option'. You can still click on the map to adjust your GPS location if you want.
After achieving what you want, exit iTools and then disconnect your iOS device from the computer. If you're prompted to stop location simulation, select no.
Via iBackupBot
iBackupBot is another fair option that you can use to fake your GPS on iPhone without jailbreak.
Pros
A free way to spoof the location.
Cons
Quite difficult to use.
Very limited features to let you change the GPS as you want.
To use the tool, follow the steps below:
Connect your iOS device to a Mac
On the Mac, open iTunes
Click on the iPhone's icon
Click on the 'Manually Backup and Restore' option
Click the 'BackUp Now' option. Here, you should ensure that the Encrypt iPhone isn't checked
Wait until the backup is finished
Open the iBackupBot
iBackupBot will locate your backup and open it
Step 9. After that, head to any of the two locations on your iOS device's backup. Edit the Apple Maps plist file by going to any of the two locations below to open the com.Apple.Maps.Plist file.
'System Files > HomeDomain > Library > Preferences'
'User App Files > Com.Apple.Maps > Library > Preferences'
Step 10. After opening the file locate the <dict> tag and input the code below:
Step 11. Save the edited file and then close iBackupBot. Don't unplug your iPhone from the computer just yet. Proceed to disable Find My iPhone on your device.
Step 12. Open iTunes or Finder and select Restore Backup. Select the backup that you edited.
Step 13. After completing the restore process, open the Apple Maps Application and move around to the location that you want to change.
Step 14. At the bottom of the screen, you access information on the location. You will also see an option to simulate your location.
Step 15. To be sure that your location is changed, open location-based applications such as maps and Pokemon Go.
FAQs
1. How can I restore my true GPS location after spoofing?
Simply restart your iPhone to regain your true location and associated information.
2. How to turn off your location on iPhone?
If you are worried about someone tracking your iPhone even after you've faked your GPS location, you need not worry.
You can manually disable the location on your iPhone as well. To do that, follow the steps below:
Head over to Settings > Privacy > Location Services.
Tap on the toggle beside Location Services to turn it off.
Once you disable the location services to stop being tracked, you can conveniently spoof your location whenever you want.
3. How do you find location of an iPhone?
If you want to find the location of an iPhone, you need to use the pre-installed on your iPhone called Find My.
Fill out all the necessary information, then select All Devices in the main interface. Now, select the device you want to locate.
Apple will start scanning for the device's current location. You will be able to see the phone on the map if it is still active.
If it is offline, the app will show you the last site where the device was seen for 24 hours.
To Conclude
Luckily, due to the advancement in technology, there are loopholes you can utilize to fake your location on iPhone even without computer. However, I've provided five methods for spoofing the location with or without using the computer. Each option has advantages and disadvantages as listed above.
I strongly recommend that you use the MockGo software, which provides a simple way and more choices for changing the location of your iPhone than the other ways. We hope the tips we laid out for you in this article helped you virtually travel all around the world from the comfort of your home.