Communication has never been easier. Various communication apps have made texting, calling, and even disseminating information a lot more accessible. WhatsApp is one of the biggest messaging applications that is widely used worldwide.
It is well-loved by many because apart from simple texts and calls, users can also make notes, schedule messages, and share documents using the app.
However, there is a common issue that arises from time to time when a person decides to upgrade his device by buying a newer model. It's burdensome to transfer all of the data saved in WhatsApp to the new device.
To address this issue, an app called Backuptrans was created that allows you to transfer your WhatsApp data. But even this app encounters errors too often and does not allow multi-directional transfer between devices.
So, for this article, we came up with a list of the best Backuptrans alternatives.
Interested? Then read on!
Dr.Fone WhatsApp Transfer
Dr.Fone WhatsApp Transfer is one convenient alternative that helps you transfer all of your WhatsApp data to another device with just one click. What's better is that you can even download the data from Google Drive.
Dr.Fone WhatsApp Transfer can be downloaded for free, but you won't be able to transfer files if you go for this version, you will only be able to create backups.
To access all its features, you will have to cough up $21.95 per month for Windows and $29.95 for Mac.
Here are the notable features of Dr.Fone WhatsApp Transfer that may help persuade you:
Multi-directional Transfer. With this feature, you can transfer files between various devices, even from an iOS device to Android, and vice versa.
Social Media Application Support. The app is not limited to Whatsapp. It can also transfer data from LINE, Viber, and Kik.
Transfer LINE and WhatsApp data from Google Drive to iPhone. You can download and restore your data such as chat history.
Now that we've discussed the features, let's move on to the steps on how to use the app:
Step 1. First, download the app. Once installed, launch the app.
Step 2. After that, click on WhatsApp Transfer from the screen.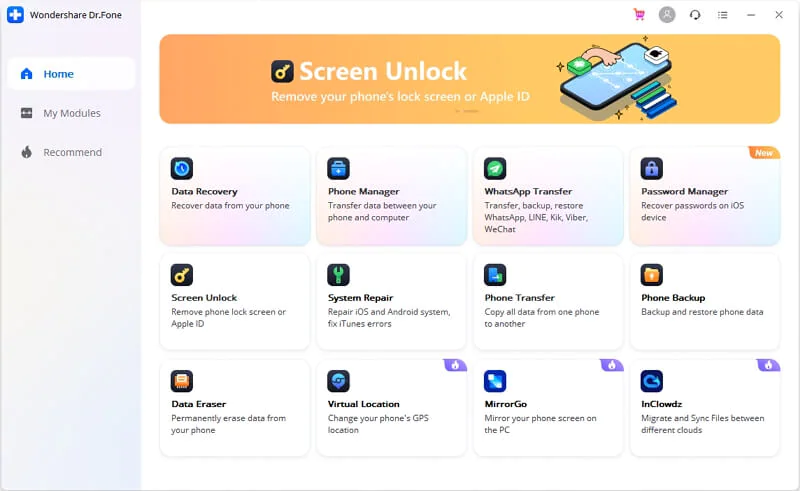 Step 3. Next, choose "WhatsApp" from the left-hand menu, and then choose "Transfer WhatsApp Messages."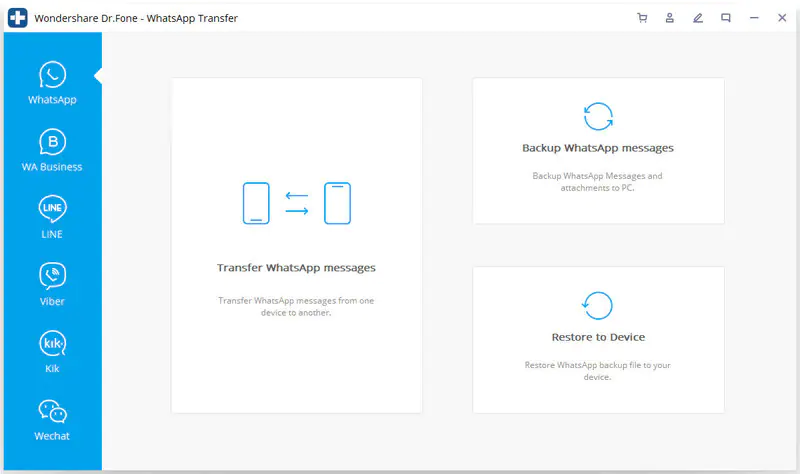 Step 4. Next, connect both the old and new devices to your PC using a USB cable. Once the connected devices have been detected by the application, check to see if they are in the right order.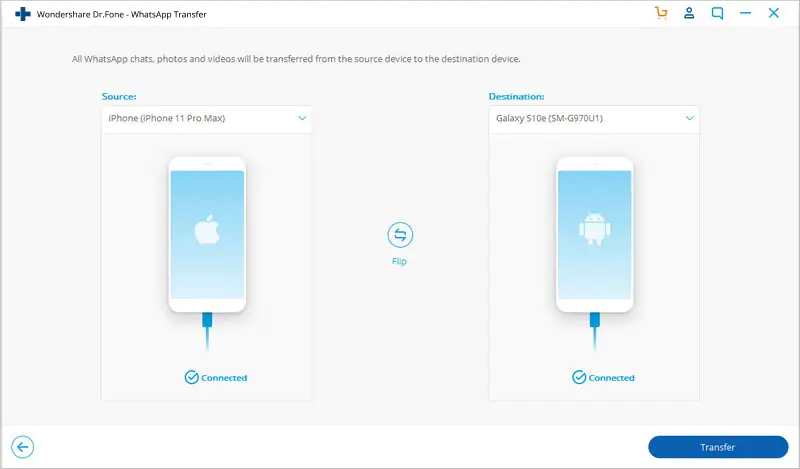 Step 5. Then simply click "Transfer" to start moving all of the WhatsApp data from your old device to your new device.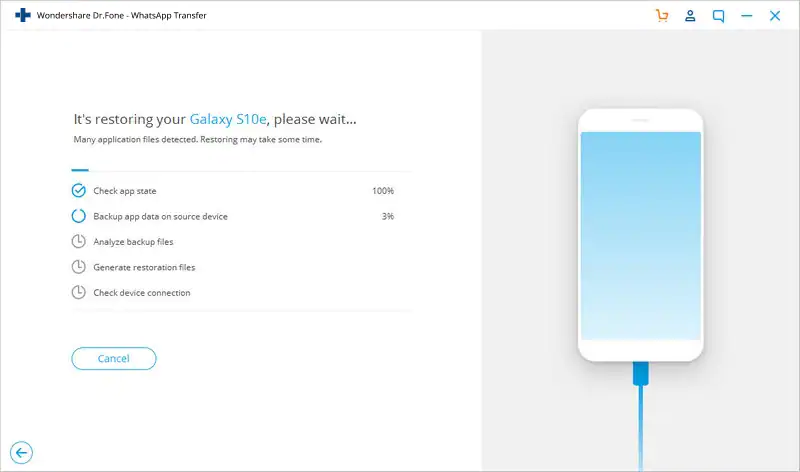 It will take a couple of minutes, so be patient while waiting for the transfer to be completed. Do not disconnect any of the devices involved while the process is ongoing.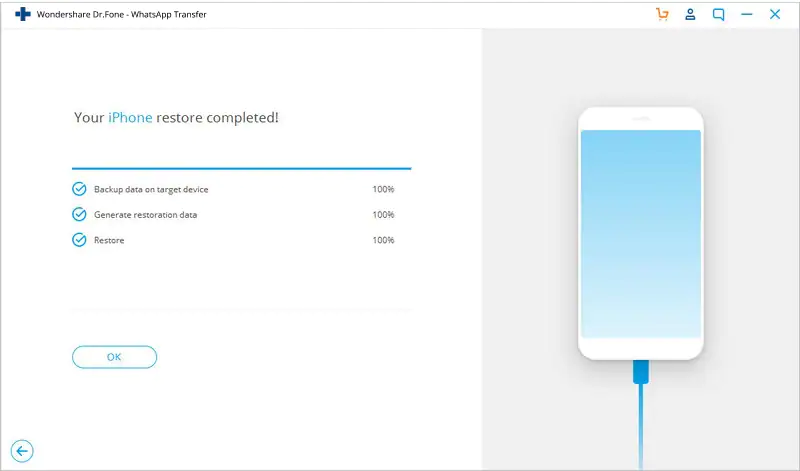 MobileTrans – WhatsApp Transfer
Another good alternative to Backuptrans is MobileTrans - WhatsApp Transfer. Not only can it transfer files from different devices, but it also helps you backup files in case of an emergency. Here are other notable features:
Cross-platform sharing is allowed. You can transfer files from Android to Android, Android to iPhone, and iPhone to Android.
It has a very simple interface.
Can transfer more than 18 types of data, including contacts, photos, videos, music, notes and more.
Promises privacy protection.
You don't need a PC to get it done as you can download the app directly through the App Store and Google Play.
To transfer your data using MobileTrans, these are the steps:
First, head to the App Store or Google Play Store and search for MobileTrans. Or download the app here on both devices.
Next, launch the app on both devices and select whether or not that device is the old device or the new one respectively.
After that, connect both devices through QR code, Wi-Fi, or iCloud.
Finally, choose the data you want to transfer and press Send.
Wait for the process to complete and you will get a "success" notice.
As you can see, the steps are pretty straightforward and quick, so you can do it on your own without having to waste unnecessary time and energy. Though it is a paid software, the app's many benefits make it worth its price tag.
Mobitrix WhatsApp Transfer
Mobitrix is another powerful tool that allows WhatsApp data transfer. It provides the following benefits:
It can restore chat history from iPhone to iPhone, Android to Android, iPhone to Android, and Android to iPhone devices.
It is compatible with the latest iOS 15 and Android 12 systems.
Ensures data privacy when transferring all types of WhatsApp data.
Supports WhatsApp and WhatsApp Business.
Using Mobitrix is super easy. Here's how:
First, go to the Mobitrix website.
Download and install the Mobitrix WhatsApp Transfer tool for Windows or Mac.
Launch the app.
Next, connect both devices to your PC using a working USB cable.
Once connected, your devices should be displayed on the interface. Select the source and destination of the files respectively.
Finally, click on the Transfer button to start the transfer process.
Just like that, all your files will be transferred to the desired location. However, just like the other apps mentioned in this article, it comes with a price, particularly if you want access to the file transfer feature. You can get a one-year license for $20.95 for Windows, and $22.95 for Mac.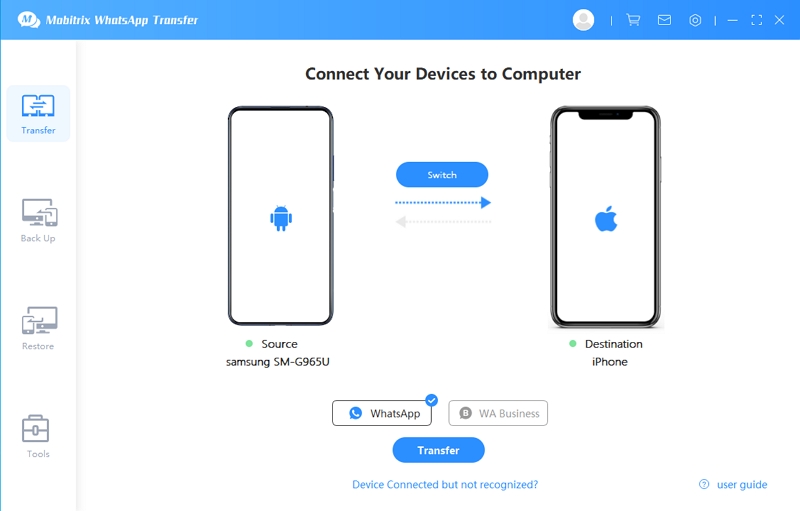 Wrapping Up
Backuptrans is a pretty helpful tool in transferring WhatsApp data from one device to another. However, it has its drawbacks including frequent errors and the inability to transfer data across different platforms.
Thankfully, there are other alternatives that you can opt to use instead such as Dr.Fone, MobileTrans, and Mobitrix.
All of these apps are paid but Dr.Fone WhatsApp Transfer and Mobitrix WhatsApp Transfer are cheaper options that provide a free trial mode as well. In the end, what you choose boils down to your preference and budget.
If you have any comments and questions about transferring data on WhatsApp, comment down below!