If you use WhatsApp Business, you likely don't want to leave your chats, contacts, photos, videos, and attachments behind when you switch from iPhone to Android.
But like most people, you may be wondering what the best way to transfer your WhatsApp business chats to the new device is.
This article will share with you the most effective solution to help you do just that easily and quickly.
Is there an official way to transfer WhatsApp business from iPhone to Android?
Unfortunately, there is no official way to transfer WhatsApp business from iPhone to Android directly.
This is because the end-to-end encryption used to make sure your WhatsApp conversations remain private, differs in iPhone and Android devices.
This is also the reason why you would not be able to read and access WhatsApp for iPhone chats on WhatsApp for Android.
But there are ways around this problem and this article will show you the most effective ones.
Transfer WhatsApp business from iPhone to Android in 1 click
The best way to transfer your WhatsApp Business chats from iPhone to Android is to use this WhatsApp Migrator.
This phone transfer tool makes it easy to move all the WhatsApp chats and attachments from one device to another quickly and easily.
The following are its main features that make that possible:
It will easily transfer the WhatsApp business chats along with the media files and documents from one device to another
When the transfer is complete, all other types of data associated with the account including contacts, customer leads, group details, and shared links will remain intact
You can transfer WhatsApp data from one device to another even across platforms such as from Android to iPhone or iPhone to Android
It also has backup and restore features that allow you to create a complete backup of WhatsApp chats and media files on your computer and restore them to the same or any other device when needed.
To use WhatsApp Migrator, download and install the program on to your computer and then follow these simple steps:
Step 1: Launch the program and then select "WhatsApp Transfer" in the main window.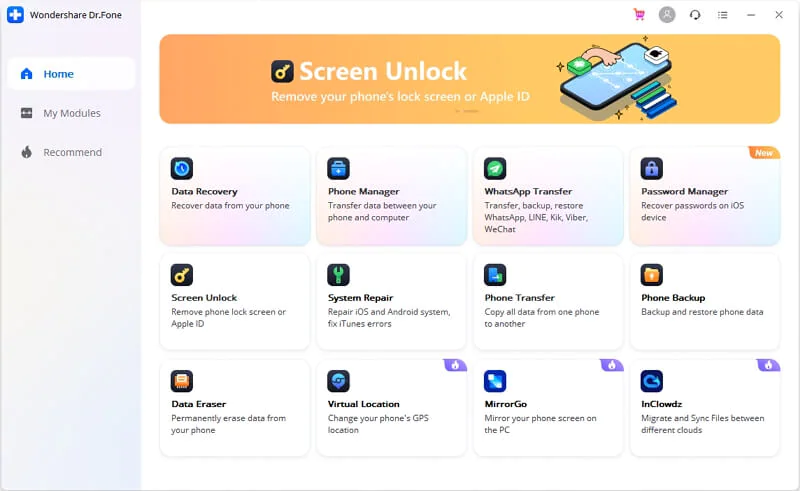 Step 2: Select "WA Business" on the left panel and then click on "Transfer WhatsApp Business Messages".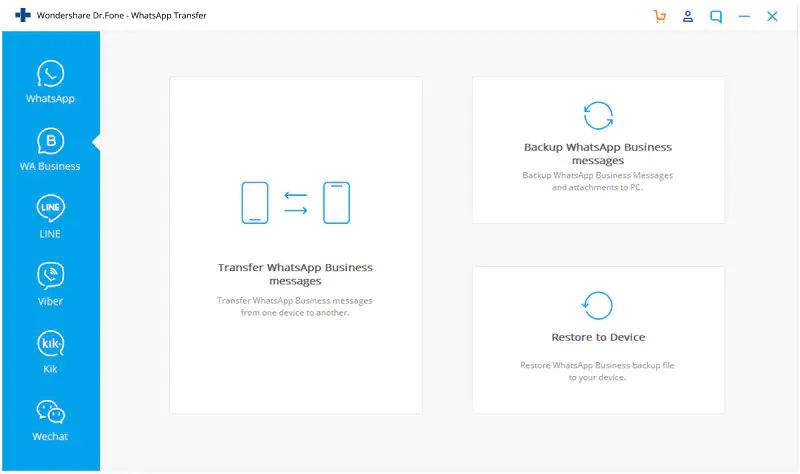 Step 3: Connect both the iPhone and the Android device to the computer using USB cables. When the program detects the devices, check to make sure that the iPhone is the "Source" device and the Android is the "Destination" device. You can click "Flip" if you need to reverse this order.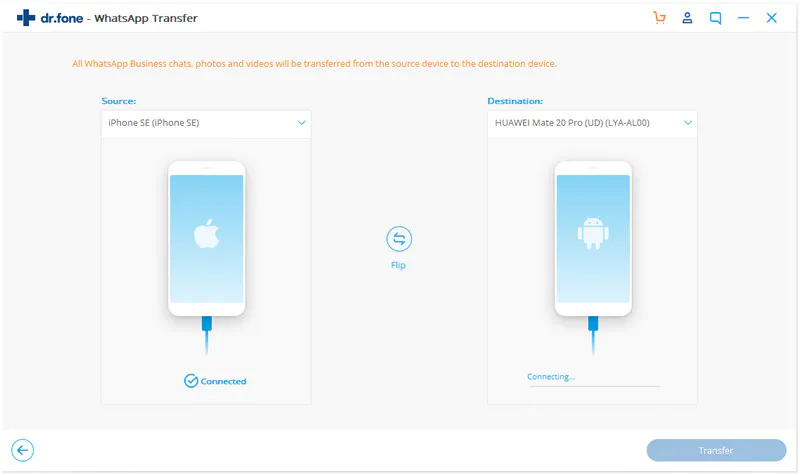 Step 4: Then, simply click "Transfer" and the transfer process will begin immediately. Make sure that both devices remain connected until the program notifies you that the transfer is complete.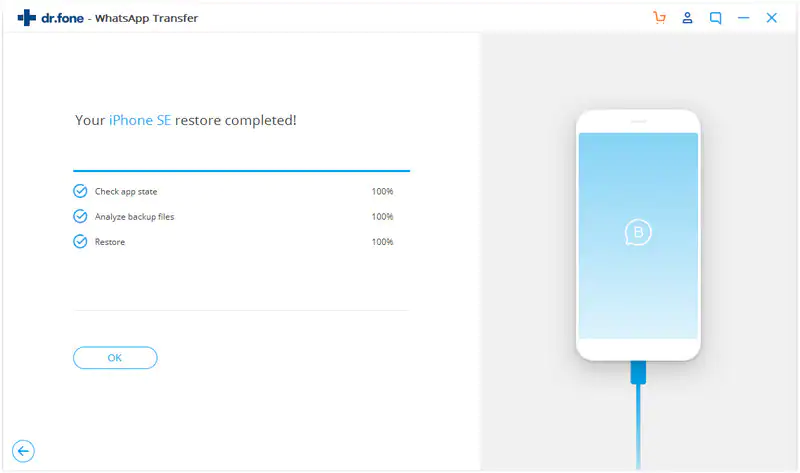 Read iPhone WhatsApp business chat logs on Android
You can also transfer the WhatsApp Business chats to your Android device via email. The process is relatively simple, just follow these simple steps:
Step 1: Open the Settings on the WhatsApp Business of your iPhone. Then, select the "Chat Settings" and then select "Email Chat" from the menu.
Step 2: Select the chat history that you would like to transfer.
Step 3: In the popup that appears, choose if you would like to attach media or not.
Step 4: Enter the email address to send the email to and tap "Send."
Step 5: Now on your Android device, sign in to your email ID and download the chats to your device.
As simple as it is, this solution has a number of following disadvantages, which you should know.
You will not be able to open the WhatsApp chats sent to the Android device. You will only be able to preview them through email.
Since you can only export one chat at a time, this process can be time-consuming when you have a lot of chats to transfer.
You will have to download the chats right away since the link will expire in 30 days.
To conclude
We've talked about how to transfer WhatsApp business from iPhone to Android using the WhatsApp Migrator software in this article.
It's simple to use and offers a direct device-to-device WhatsApp transfer, regardless of your phone's operating system. Just download it to have a try!