The problem with FRP feature is that you will need to enter your Google account password to access the device after a factory reset and since it may have been a while since you set up the device, most people find that they don't remember their account passwords.
In this case, you need an FRP bypass tool that can help you continue to set up the device even if you don't remember the password.
One such tool is HushSMS, an app that can bypass FRP lock directly on the device and without needing to connect the device to your computer.
In this article, we will show you all the details about HushSMS FRP APK.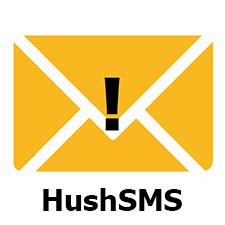 What is HushSMS FRP APK?
HushSMS APK is an Android app that is designed to remove Google FRP lock from most Samsung devices.
It is installed on the device directly, meaning that you will be able to bypass the FRP lock without having to connect the device to the computer.
It is also one of the easiest tools to use as it works by simply sending a notification to the locked device with instructions on how to unlock it. It supports all Samsung devices running Android 0S 5 to 12.
Download HushSMS FRP APK
HushSMS APK is available to download on FRP-locked Samsung devices. The following is detailed information about this application and a download link to get the latest version:
Compatibility: Android 5.0 to Android 12
File Size: 28 MB
How to Use HushSMS FRP Bypass APK
Now that you have a copy of this FRP bypass application, here are the steps that you can use to bypass the FRP lock on any Samsung device using HushSMS:
Step 1: Turn on the FRP-locked device and connect it to a Wi-Fi network. Insert an active SIM card into the device.
Step 2: Now use the link above to install HushSMS FRP APK on another Android device. Once the app is installed, open it.
Step 3: Tap on "Wap Push SL" and enter the phone number of the recipient (the phone number of the FRP-locked device."
Step 4: Ensure "https://URL prefix" is selected, type in www.youtube.com in the "Message" section, and then tap "Send Wap Push SL."
Step 5 You will see a message popup on the FRP-locked device. Tap "OK" and then close the popup.
Step 6: The YouTube application should open. Tap on the 3 dots at the top-right corner of the screen and then go to Settings > About > YouTube Terms of Service.
Step 7: When the browser opens, go to https://apex-launcher.en.uptodown.com/android and download the "Apex Launcher APK." Install it on the device.
Step 8: Open the Apex Launcher app after installation and then go to Device Settings > Security > Other Security Options and disable "Find my Device."
Step 9: Go back to the main Settings menu and tap "Apps" and then disable "Google Play Services."
Step 10: Go to "Google Account > Settings > Account > Add Account > Google."
Step 11: Go back to the settings and enable both "Find My Device" and "Google Play Services."
Step 12: Restart the phone and you should now be able to complete the setup steps without getting stuck on the FRP lock screen.
Alternative to HushSMS FRP APK
While HushSMS is a great solution to remove FRP lock, it is a complicated solution that also requires access to a second device that most people may not have.
You may therefore need a more reliable and easier-to-use solution. If you are looking for the best alternative to HushSMS, the following are just some factors to consider:
The tool you use should support the brand and model of the device you are trying to unlock as well as the version of OS that is running on the device.
It is also important for the tool that you choose to have a user-friendly interface to simplify the process as much as possible. You don't need to have tech experience to unlock your device and the unlocking process doesn't need to take hours.
In addition to being simple to use, you can also make sure that the solution you choose offers guides and tutorials that will help you if you get stuck.
And finally, you need to consider the cost of the program. You might be tempted to use a free solution, but the time and effort spent unlocking the device may not be worth it.
One of the best tools that you can use instead of HushSMS is Unlockit Android. This tool supports most phone models and Android OS versions and it is very easy to use.
The following are the main benefits of choosing Unlockit Android over other tools:
It will remove the FRP lock on your device in one click even without the Google account and password.
It supports all versions of Android OS from Android 6 to 12.
The user interface in Unlockit is very friendly, allowing you to bypass FRP lock in a few simple steps and without having any prior IT knowledge.
You will be able to access all features on the device and use a new Google account once it is unlocked.
Check this guide to know how to bypass FRP lock using Unlockit Android easily.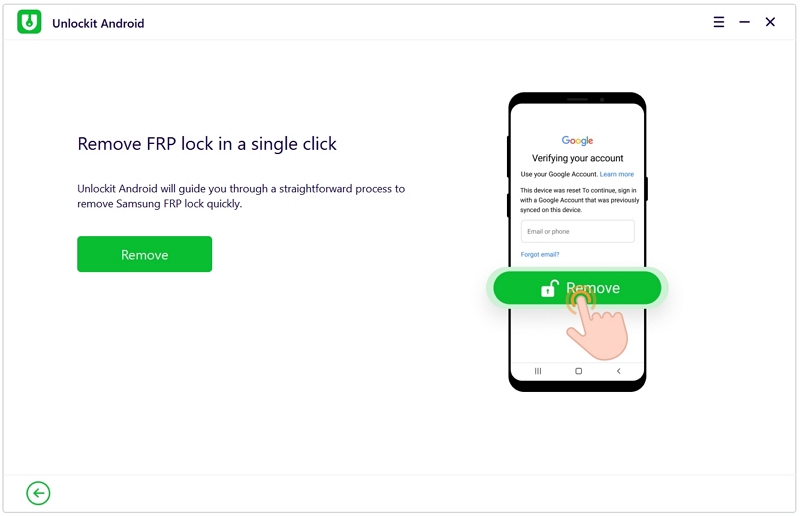 Conclusion
There are a lot of tools in the market like HushSMS that are designed to help you remove FRP lock from Samsung devices without having to connect the device to a computer.
But they are often complicated to use and it is not uncommon for the process to fail. To avoid such failures, it may be a better idea to choose a desktop solution like Unlockit Android instead, a program that is so easy to use, it is impossible to fail.