Hey there, fellow readers!
So, you want to know if there's a default passcode for iPhones?
Well, you've come to the right place, as we'll explore if such an iPhone default passcode actually exists and how to unlock the device if you happen to get locked out of it!
Let's get started.
Is There a Default Passcode for iPhone?
No!
There is no such thing as a default password to unlock an iPhone.
The only passcode is the one you set yourself to prevent other people from casually accessing your device.
However, if you are unable to get past the screen lock on your own iPhone, then there's a chance you've forgotten the password or someone set a new passcode without your knowledge.
Or did you just set up a password for Apple Pay? According to feedback from some Apple users, when an Apple Pay password is set, the previous screen passcode may be automatically overwritten. So you can also try to enter the Apple Pay password to unlock your device.
If you still can't unlock your phone, Just keep reading this article to discover the best solutions to remove the passcode in just a few minutes.
Remove iPhone Passcode Yourself using Unlockit iPhone
Restoring using iTunes to unlock your device can be a bit time-consuming and complicated, so we suggest trying the reliable iOS unlocking tool named Unlockit iPhone to remove the passcode efficiently in just 20 minutes.
It supports all iPhone models and iOS versions the latest iPhone 15 and iOS 17; you can download it on any Windows PC or Mac computer.
What else can it do?
Unlockit iPhone is capable of the following:
Removing the 4-digit passcode, 6-digit passcode, Touch ID, or Face ID
Put your device in Recovey mode automatically when removing passcode
Bypassing the MDM lock,
Removing the Screen Time Passcode
Remove Apple ID without password
Once the software is downloaded on your computer, follow the steps below to learn how to bypass the iPhone passcode quickly:
Step 1: Access the Unlockit iPhone Software
Use a lightning/USB cable to connect your iPhone to the PC/Mac. Next, run the software, and select Unlock Screen Passcode.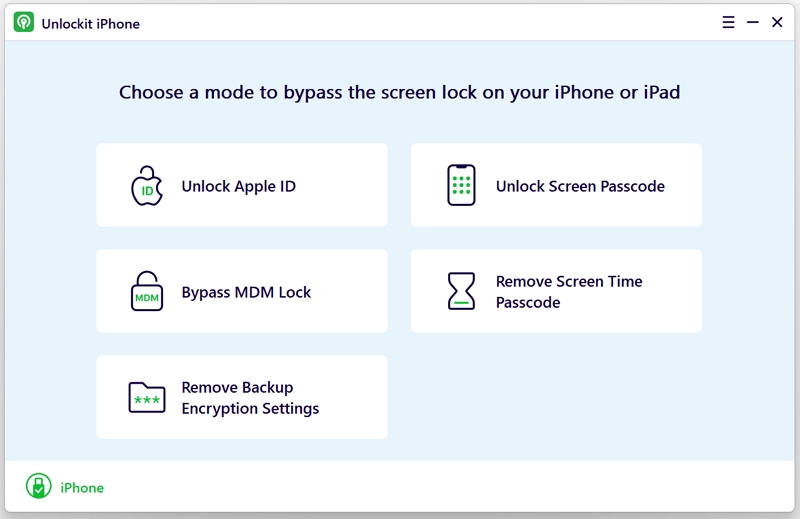 After that, click the Start button. Unlockit iPhone will put your device in Recovery mode automatically.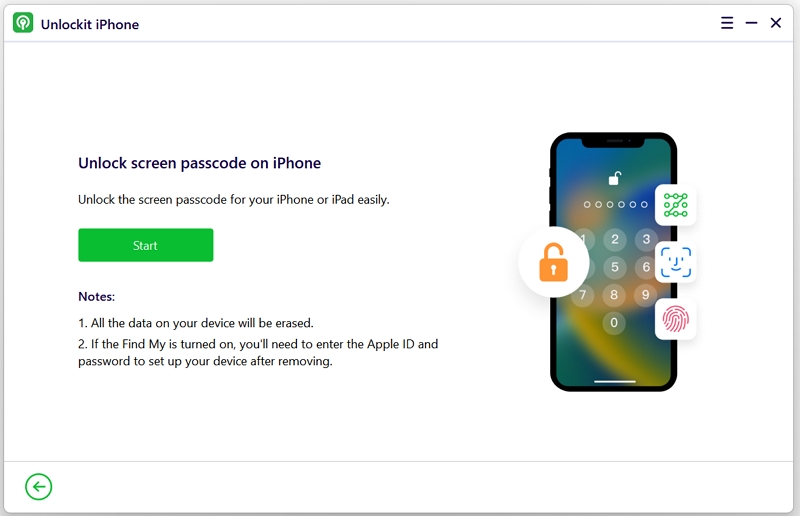 Step 2: Download Firmware
Unlockit iPhone will ask you to download the firmware for your device, click Download to proceed.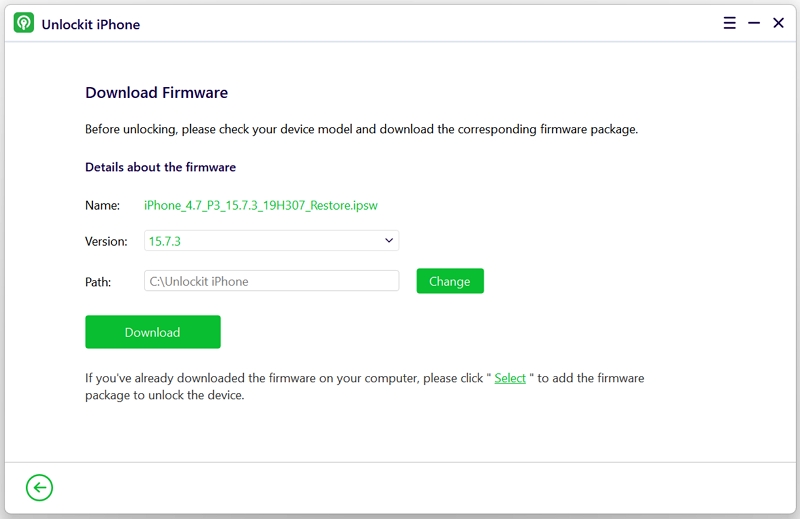 Step 3: Unlock the iPhone Passcode
As soon as the firmware download is complete, click on Remove to initiate the passcode bypassing process.
That's it! Now, disconnect the iPhone from the computer, power it on, and set it up.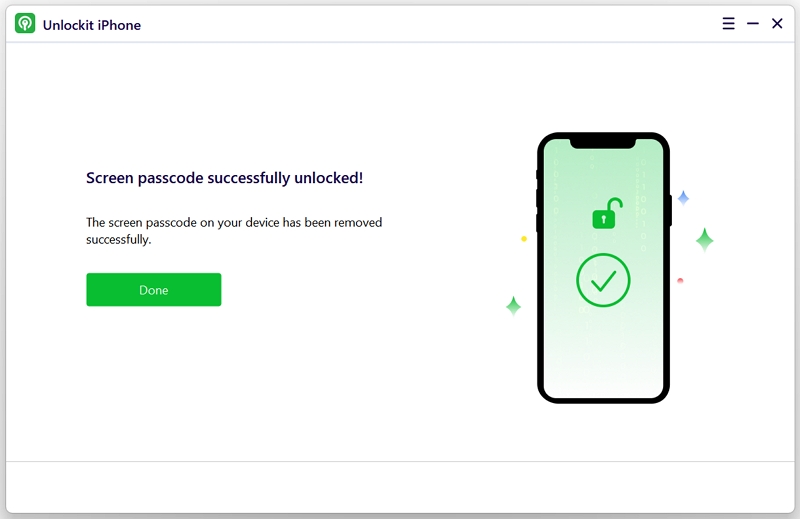 Remove iPhone Passcode using Recovery Mode
Another way to bypass the iPhone screen lock and restore the device is by using iTunes or Finder to restore your device in Recovery Mode.
Step 1. Ensure you have installed the latest iTunes updates on your Windows PC or Mac with macOS Mojave or older versions before running it. In case you are using macOS Catalina or newer versions, you are good to go; just launch Finder.
Step 2. Now, connect the iPhone to the PC or Mac and put it into Recovery Mode by following the below-mentioned instructions:
For iPhone 8, 8 Plus, X, or later:
Power off your iPhone.
Hold the Side button, connect to the computer, and wait for the Recovery Mode to appear on the screen.
For iPhone 7 and 7 Plus:
Turn off your iPhone.
Hold the Volume Down button, connect to the computer, and wait for the device to enter the Recovery Mode.
For iPhone SE (1st gen), 6s, and earlier models:
Power off your iOS device.
Hold the Home button, connect to the computer, and wait for the Recovery Mode screen.
Step 3. Once in Recovery Mode, select Restore in iTunes or Finder to reinstall the system.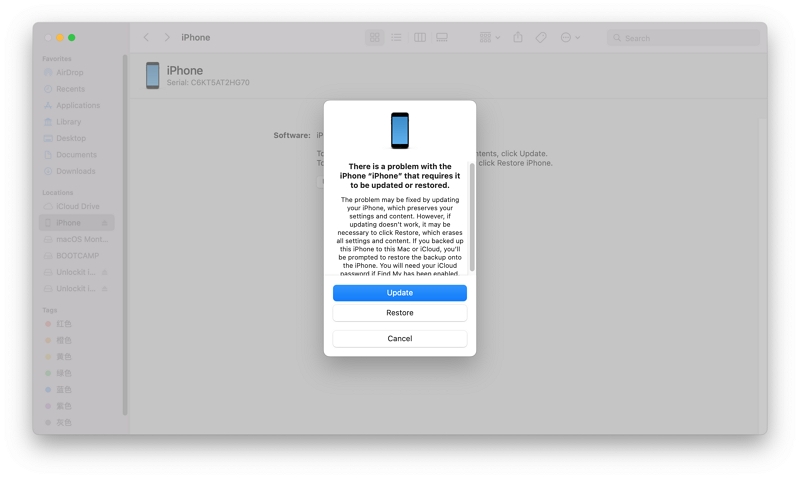 Step 4. Then click Restore and Update to confirm your operation. If it takes over 15 minutes, repeat the steps.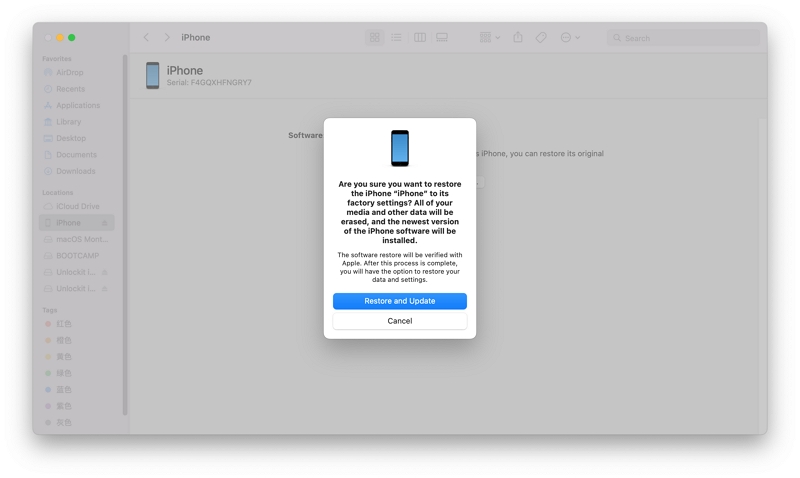 You're there!
iPhone Ask for 2FA Verification Code?
iPhone requires you to enter a six-digit Apple ID verification code instead of the screen lock passcode?
In case you may have enabled the two-factor authentication on your iPhone, then you would have to provide a six-digit Apple ID verification code to access some settings on the device.
This 6-digit verification code will be sent to all trusted devices or phone numbers.
So, how to get the verification code?
Well, open Settings, and tap your name (or Apple ID).
Next, check the list of the trusted devices from there.
On the trusted device, a notification will appear with a map of the location of the sign in request and the options to Allow or Don't Allow.
Tap Accept, a popup will appear with the six-digit verification code.
Enter the code on the other phone in order for it to sign in or set up.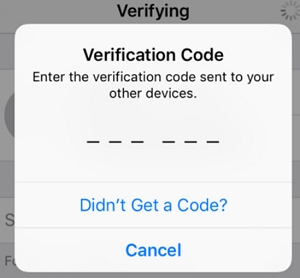 iPhone Ask for Activation Lock Credential?
Activation Lock is a nifty feature that keeps your device safe, even if it falls into the wrong hands. It also increases the chances of getting it back.
When you remotely wipe your device, Activation Lock will appear and makes it tough for anyone to reactivate it without inputting the Apple ID and Apple ID password.
The issue with the Activation Lock generally kicks in when you purchase a second-hand device and the previous owner activates the feature.
Furthermore, when buying an iPhone or any iOS device from some third-party individual, ensure it is erased and not connected to the their account. So, do not buy a used iPhone with Activation Lock on.
If your device is stuck on the Activation Lock screen, follow these steps in this guide to know how to remove it.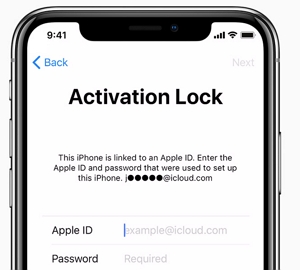 To Conclude
This concludes our tips and solutions on the "default passcode" on iPhone and how to unlocking the iPhone if you input the passcode but iPhone won't accept it.
To sum up, there is no such thing as a default passcode; you have been misled. Simply use solutions like Unlockit iPhone to access the iPhone in a jiffy again.