Finding iPhone unlocking tools on the internet isn't hard. But, with the security measures iOS has in place, only a handful of the tools you find will actually work.
One of the popular tools on the internet is BuhoUnlocker. Is it really all that it's hyped up to be? Find out in our extensive BuhoUnlocker review. We will:
Introduce BuhoUnlocker tool
Look at its features and pricing
See how it works
Compare it to any alternative
What is BuhoUnlocker
BuhoUnlocker is a powerful tool designed to help you regain control of your iPhone, iPad, or iPod when encountering lock-related issues.
Whether you've forgotten your screen passcode, screen time passcode, or Apple ID or need to remove Mobile Device Management (MDM) settings, BuhoUnlocker has you covered.

BuhoUnlocker Features
BuhoUnlocker comes with a user-friendly interface, making it incredibly simple to use. Once you open the program, you'll immediately see its functions, including:
Unlock Screen Passcode
Remove Screen Time Passcode
Remove Apple ID
Remove MDM
No more worries about forgetting your passcode and being locked out of your iOS device. BuhoUnlocker is here to make your life easier.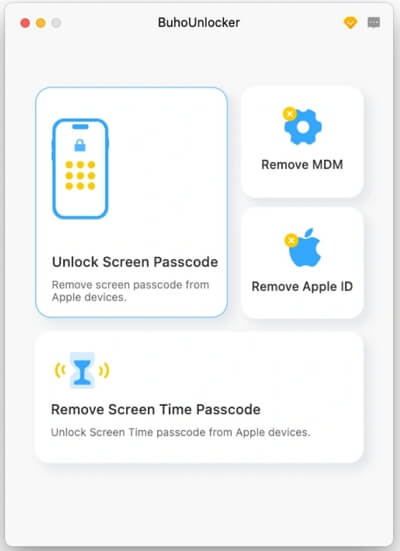 Unlock Screen Passcode
If you've entered the wrong passcode too many times and your iPhone is disabled, the "Unlock Screen Passcode" feature can rescue you from this situation.
Remove Screen Time Passcode
Forgetting your Screen Time passcode can be frustrating. BuhoUnlocker's "Remove Screen Time Passcode" feature can quickly eliminate forgotten passcodes, allowing you to use your iPhone and iPad without hindrance.
Remove Apple ID
If you've purchased a second-hand iPhone with someone else's Apple ID signed in, it's essential to remove it to safeguard your data. BuhoUnlocker's "Remove Apple ID" feature lets you do this within minutes.
Remove MDM
Mobile Device Management (MDM) is a system that sends configuration files and commands to devices. If your iOS device is under MDM control but you want to use it for personal use, BuhoUnlocker's "Remove MDM" feature simplifies the process.
BuhoUnlocker Tech Specs
BuhoUnlocker works on both Windows and Mac systems. Here are the technical specifications:
Windows OS: Windows 11, 10, 8, 7 (64-bit)
macOS: Sonoma, Ventura, Monterey, Big Sur, Catalina, Mojave, High Sierra, Sierra, OS X 10.11
iOS: Compatible with iOS 8 through iOS 17
It's a safe and efficient tool that many people swear by. One of the things that makes it so popular is its very customizable settings, making it easy for users to choose what they want to do with the tool along with the permissions and security clearances needed to run it!
Here are a few other things that make it stand out:
An Apple-certified developer builds it.
You can get 24/7 tech support from the customer care service.
It is 100% secure with no device bricking.
It also has a very high success rate for iPhone unlocking and bypassing.
BuhoUnlocker Pricing Plan
There are two pricing plans available for BuhoUnlocker based on the features you're looking to avail and the number of devices you want to use it on. Here's a breakdown of them both:
Individual Plan:
Price: $29.99 (Originally $45.99) - Tax Included
Secure your access for just $29.99, marked down from the original price of $45.99. And yes, taxes are already included in this price. You can use up to 3 devices with the plan.
Family Plan:
Price: $39.99 (Originally $59.99) - Tax Included
The Family Plan is available for only $39.99, down from the regular price of $59.99, with taxes incorporated into the $39.99 total. This plan supports up to 6 iOS devices.
These pricing options allow you to enjoy our service on multiple iOS/iPadOS devices, with additional benefits such as lifetime free upgrades and 24/7 customer support.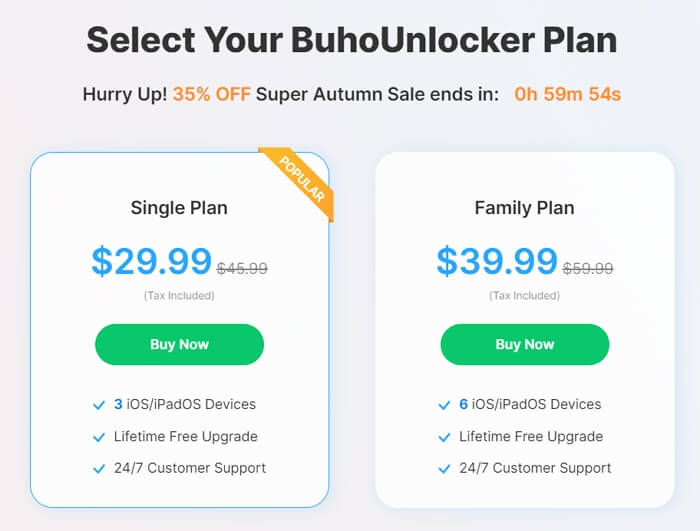 How to Unlock iPhone with BuhoUnlocker
Unlocking an iPhone with BuhoUnlocker is easy in just a few simple steps. Here's how you can do it as well:
Install the BuhoUnlock app on your computer and launch it. Now, connect your iPhone to the computer via a lightning cable. Click on 'Unlock Screen Passcode' and then click 'Start'.
You will see on-screen instructions to put your device in Recovery Mode. Simply follow these instructions and click on the 'Download' button to get the needed firmware.
Now, just wait for the downloading to finish, and once it does, click on the 'Start Unlock' button to go forward with the unlocking.
And there you have it! In three simple steps, your iPhone is unlocked without any hassle or issues. It's as easy as 1,2 and 3.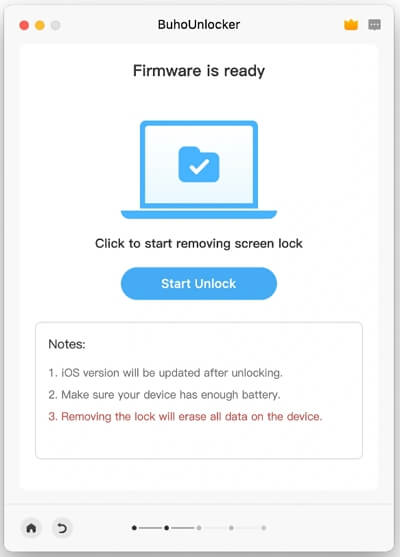 Pros and Cons of BuhoUnlocker
Let's look at some of the pros and cons of this tool to find out if it's worth the hype.
Pros
BuhoUnlocker features a user-friendly and simplified interface that makes it a breeze to navigate and use.
This tool is incredibly easy to use, making it accessible for individuals of all tech levels.
BuhoUnlocker offers compatibility with a wide range of major iOS models, ensuring it can unlock most Apple devices.
Cons
BuhoUnlocker's lack of popularity could result in fewer online resources, guides, or user communities, making it harder to find support or troubleshoot issues.
As a newcomer in the industry, BuhoUnlocker may not have established a reputation for reliability and security that older competitors have.
Lack of flexibility in purchase plans might restrict users in terms of affordability.
Best BuhoUnlocker Alternative: Unlockit for iPhone
Now, for the part, we have been patiently looking forward to the best alternative we can find to BuhoUnlocker. Now, this took a lot more research than I had expected, but finally, I was able to find the perfect replacement that you can use and get as much utility out of it, if not more!
Say hello to Unlockit for iPhone, the one tool for all your unlocking needs. Unlockit is a comprehensive tool that not only gets rid of most basic security features like the screen lock and Screen Time lock but also helps you get rid of MDM locks and more.
Additionally, the best thing that sets this tool apart from the rest is its compatibility with most of the recent versions of iOS and how easy it is to use.
With just a few simple clicks, you can get away with unlocking most of the problems you might be facing. Let's take a look at how you can use this tool to unlock your device:
First, download and install Unlockit for iPhone on your computer. Then, open the program. When you see the main screen, select "Unlock Screen Passcode."
Use a USB cable to connect your iPhone (or any other locked iOS device) to your computer.
Click "Start" and wait for the software to recognize your device. If it doesn't, you should put your device into recovery mode.
Once your device is detected, choose the right firmware version and click "Download." If the download doesn't work, click "Copy" to get the firmware from your browser.
If you've already downloaded the firmware to your computer, click "Select" to add it.
Then, click "Start to Unlock" to unlock your device.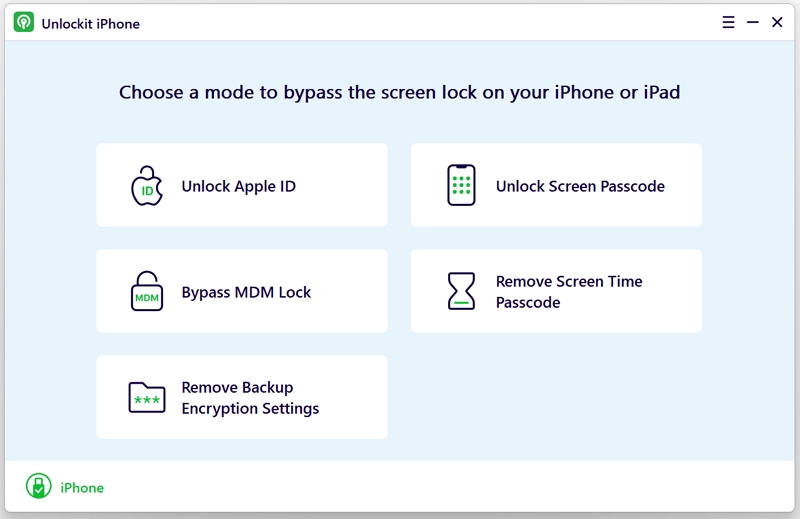 To Conclude
iPhone unlocking tools are a dime a dozen on the internet, and finding the good ones can be a very time-consuming process. With us reviewing almost every tool out there, you don't have to be worried about downloading the wrong thing.
If BuhoUnlocker is not your option, there are alternatives on the market that get so much more done for a much better price. One such tool is the Unlockit for iPhone.
It's fast, efficient, and easy on the budget. Plus, you don't have to worry about it stealing information from your phone. What more could you ask for?