Many companies and schools may set up MDM for devices to facilitate easy management and privacy protection for the devices and their owners. But once you've left the organization, you may find it very hard to use a device with MDM restrictions. Here, we will show you how you can remove Jumpcloud MDM from your iPhone or Macbook.
What is Jumpcloud MDM?
Jumpcloud Mobile Device Management (MDM) is a specialized software application that facilitates the centralized management of various endpoints within an enterprise. These endpoints may include laptops, smartphones, tablets, and other similar devices.
As more and more employees rely on mobile devices for work-related tasks, organizations of all sizes are increasingly adopting mobile device management solutions to enhance data security and boost productivity.
Similarly, many educational institutions are now incorporating advanced mobile devices into their teaching and learning strategies. However, managing these devices and ensuring they are being used solely for educational purposes can be a challenge.
To address this, many schools are implementing Jumpcloud MDM solutions to manage multiple students' devices simultaneously. This includes restricting app downloads, wiping devices, managing WiFi and Bluetooth connectivity, setting mobile account passwords, and more. By doing so, students are prevented from using their devices for non-educational purposes, such as playing games or engaging in other unrelated activities.
The same principle applies to companies utilizing Jumpcloud MDM. It enables them to prevent employees from sharing confidential company information and makes device management simple and efficient.
How to Remove Jumpcloud MDM from iPhone without Password
If you don't have the password used to manage the device, it can be difficult to remove Jumpcloud MDM from the device. But there are some very useful solutions. Unlockit iPhone, is a user-friendly and professional software that can quickly and effectively remove MDM from your iPhone without a password, giving you the freedom to get access to the device, download apps, and modify settings as you, please.
It's incredibly easy to use and doesn't require you to enter a username or password, making MDM profile removal without data loss possible.
Here's how it works;
Step 1: Download and install Unlockit iPhone on your computer.
Step 2: Open it and click on "Remove MDM Lock".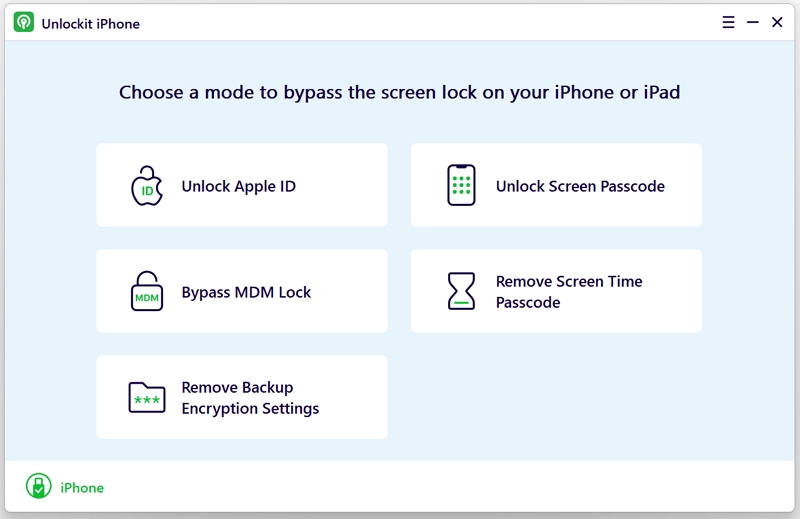 Step 3: Connect the iPhone to your computer using a USB cable.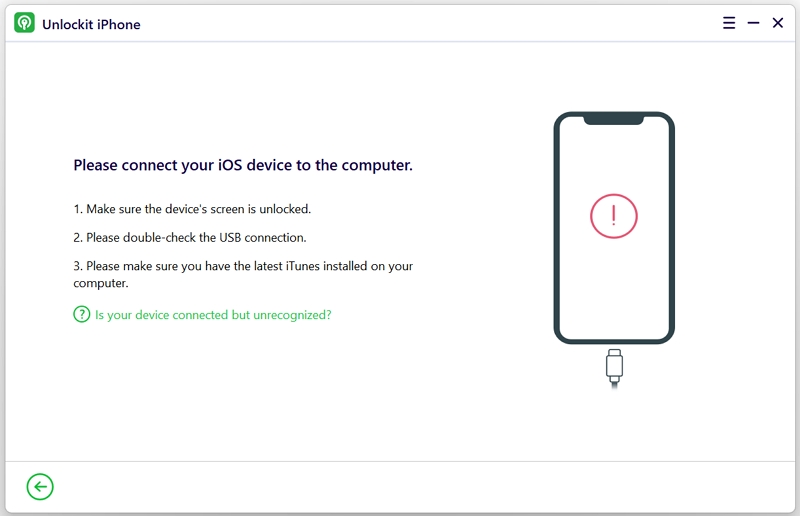 Step 4: Click "Start" and allow Unlockit iPhone a few minutes to remove the MDM.
How to Remove Jumpcloud MDM from MacBook
If you are attempting to remove MDM from an Apple MacBook Pro or Air, one of the best solutions is iRemove Software. Once it is installed, it will bypass MDM in just a few minutes. But first, use these steps to prepare the device before installing the program;
Step 1: Start your Mac in Recovery Mode. If you have an M1 silicon CPU, turn on your Mac and hold the power button until you see the startup options window. If you have an Intel CPU, press and hold the Command (⌘)-R keys after pressing the power button or restarting your Mac.
Step 2: In Recovery Mode, open Disk Utility and follow the official guide to erase and reformat the storage device: https://support.apple.com/en-gb/guide/disk-utility/dskutl14079/mac
Step 3: Once the erasing process is complete, start reinstalling macOS by following this guide: https://support.apple.com/en-us/HT204904
Step 4: During the installation process, your Mac will restart with the Apple logo and progress bar. To prevent your Mac from auto-connecting to the internet, turn off your router.
Step 5: After completing the macOS installation, set up your device without connecting to Wi-Fi. At the 'Select a Wi-Fi network' step, click the 'Other network settings' link and select the 'My Mac computer does not connect to the internet' option. Finish the setup.
Step 6: The final step is to disable SIP options on your macOS device. To do this, start your Mac in Recovery Mode (complete step 1), open Terminal from the "Utilities" menu, and enter the command: [-bash-3.2# csrutil disable]. Your laptop will restart.
Once the preparation is done, you will be ready to install the iRemove MDM removal tool on your computer. Once installed, open iRemove and click "Start." Wait for the program to check your device's compatibility and then it will start to disable MDM immediately.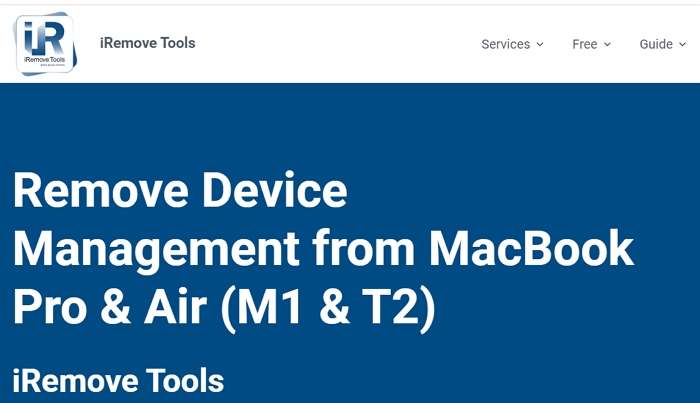 Remove Jumpcloud MDM Using Admin Portal
If you have access to the Jumpcloud Admin Portal, you can just log in and remove the MDM from any device. The process is simple; just use these steps;
Step 1: Navigate to the Admin Portal at https://console.jumpcloud.com and log in.
Step 2: Select "Device Management" and then choose "Devices" from the drop-down menu.
Step 3: Find the device you wish to stop managing and ensure it has an "Active, System Reporting" status.
Step 4: Click on the device and then select "Delete" to uninstall all Jumpcloud components associated with the device.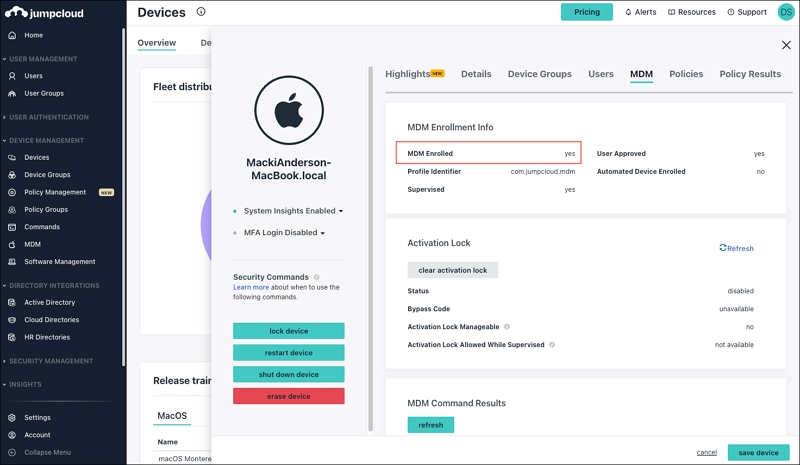 Conclusion
If you find that your device is restricted by Jumpcloud MDM, there are several ways to bypass the restrictions. The easiest is of course using the Jumpcloud Admin Portal. But this will only work if you can access it. The other two solutions above will help if you are not an Admin.