There are a lot of dating apps nowadays that help you find your significant other through just a simple swipe.
Tinder is an obvious example, along with alternatives such as Bumble and others. One of the underrated examples of a quality dating app is Hinge.
Hinge is a dating app built on a Nobel Prize-winning algorithm that promises good quality matches rather than blind hits.
However, there are times you might strike out and want to expand your search radius. This is possible by changing your location on Hinge.
Keep reading to find out how to change Hinge location.
Do I Need A VPN To Change Hinge Location?
You don't really need a VPN to change your location on Hinge. It can actually be done manually through various methods, which we will be talking about in this article.
It is actually easier to change your location manually on Hinge compared to other dating apps out there.
Do I Need To Pay To Change Location On Hinge?
Dating apps like Tinder, for example, are known to charge their users to change their location manually. Now you might be asking, does Hinge also charge users to change their location since they make that feature easier?
The answer is no. You can easily change your location for free at any time. The best part is, you can change it to any specific location even without having to be there.
How to Change Location on Hinge
It is a quick and easy process to change your location on the app. All you have to do is to fire up the app and follow these simple steps:
For iOS devices:
Navigate to the Settings tab, then click the pencil icon above your name.
Select Edit, and find the Location tab.
Enter any location you want to change.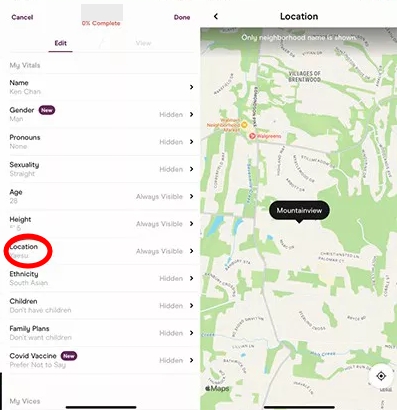 For Android devices:
First, tap on your profile icon found at the bottom right corner of your screen.
Next, navigate to the Settings page and tap on Preferences.
Finally, tap on My location and select any location on the map shown to you.
You can also widen the search radius by expanding the circle to match with people who are located a bit farther from your location.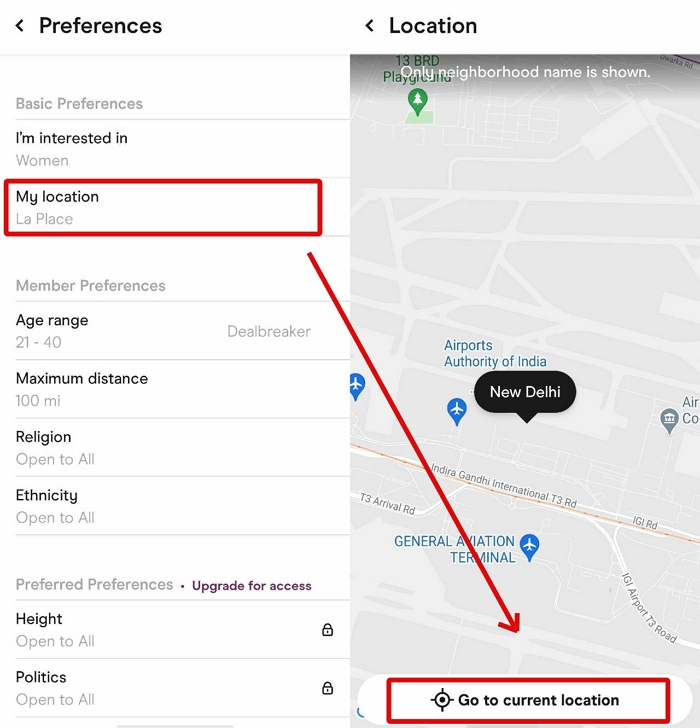 Does Hinge Automatically Update Your Location?
No, Hinge does not automatically update your location. As a result, even if you travel to another place, your location on Hinge will not change.
Hinge will not update your location until you manually update it using the steps above or set the location permissions through the settings of your phone.
Here are the steps on how to set the location permissions to allow Hinge to automatically update your location for iOS and Android:
For iOS devices:
First, go to Settings and navigate towards the Hinge app.
Open its options and tap on Location Services.
Now, toggle the While Using the App option.
Finally, turn on Precise Location to ensure the accuracy of your location.
For Android devices:
First, head to Settings and tap on Apps & Notifications.
Next, tap on See All Apps.
Navigate to the Hinge app and open its options.
Now, tap on Permissions and select Location.
Finally, toggle Allow only while using the app.
If you don't see the "See All Apps" option, tap on App info instead and search for the Hinge app. To activate the changes, first, close the app and restart your device. You can verify if the location has changed by opening the app and heading to "Neighborhood".
How Do I Change the Location on Other Dating Apps?
As mentioned earlier, Hinge is one of the few apps that allow free and easy changing of your location.
However, most apps such as Tinder and Bumble, do not offer this feature for free. Don't worry, there still is a way to do this. This is where MockGo comes in.
MockGo is a proven, convenient software that allows you to freely change the GPS location currently set on your iPhone in just one click.
The best part is that it doesn't require any jailbreaking to use it. It has a user-friendly interface that helps you change your location quickly and with ease.
Here are the steps:
Once installed, open the app and connect your device to your PC.
Now, select the Teleport mode on the map screen.
After that, enter the desired location on the search bar or simply pin it on the map.
Finally, click on Move Here to teleport the GPS to the desired location.
The only downside is that it has a price. You can get a license from $9.95 monthly to $39.95 a year. However, it is truly worth its price tag considering the quality features it provides and is a better rate compared to what some dating apps ask for.
Final Words
Hinge is such an underrated dating app since it not only ensures quality matches but also allows you to freely change your location at any time.
This is a feature that most dating apps do not provide for free and even charge you high prices. With this, it is best to use software such as MockGo to help you change your location.