Mobile Device Management is a tool that allows companies to monitor and configure all the mobile devices provided by them.
It allows them a secure and convenient way to share data, and ensure efficient device usage.
Because of this, company-provided devices are often limited in what you can use them for.
Different MDM profiles are provided by different systems. One of these is the MobileIron system.
In this article, we will talk about what it is, and what are a few things you can do to remove MobileIron from your iPhone.
What is MobileIron?
MobileIron MDM is a type of mobile device management system that provides MDM profiles with high functionality and better IT controls.
It is generally used by companies and schools to monitor workers and students, respectively.
Its functions include management of company-provided devices whilst making them secured and monitored by the higher-ups.
Though this does mean that lost devices can be tracked down more easily, and data-sharing is more convenient, some of you might get uncomfortable with your iPhone being watched at all times.
It is a matter of privacy that some of you might consider a nuisance. Visit this page to know what can MobileIron track.
Remove MobileIron MDM Profile without Password
Removing MobileIron MDM restrictions from your device can be very difficult unless you have access to the MobileIron dashboard.
You could also ask the admin to remove your device from the list of managed devices.
But it this is also not an option for you, your only course of action is to use Unlockit iPhone.
This is an iPhone MDM bypass tool that will help you bypass MobileIron MDM even if you don't have the password.
It has a user-friendly interface, making it easy to use. The best part is that you won't need to jailbreak your device to do it.
Unlockit also supports to remove the MDM lock signed by Jamf, AirWatch, MaaS360, and Lightspeed.
Here's how to use Unlockit to remove MobileIron MDM from your device:
Step 1. First, download Unlockit on your computer through the following buttons.
Once fully downloaded, install the app as prompted, then run the app once it is installed.
Step 2. After that, the main interface should appear on your screen. Select the Bypass MDM Lock mode.
Step 3. Now, connect your device to your PC. After connecting, do a factory reset on your device.
Note that this erases all the data stored on the iPhone, so it's best to back it all up beforehand.
Next, reboot your device and set up everything until the Remote Management lock screen appears.
Step 4. Finally, you can start the bypassing process by selecting Start on your PC.
You will only need to wait a few minutes for the process to finish.
Once it is done and Unlockit has removed the MDM profile, you can then use your device with no worries.
You do have the option of trying the app for free, but the free version has considerably limited features and bypassing an MDM isn't one of them.
Remove MobileIron MDM Profile with Password
Another way to remove MobileIron MDM from your device is to simply unenroll it from settings on your iPhone or iPad. This, however, depends on whether or not your device is being supervised with a password.
If so, then the process will require a password, which only your superiors will have access to. On the other hand, if the device is unsupervised then you will be able to do this method easily.
These are the steps to remove MobileIron from your device:
First, head to your iPhone's Settings and tap on General.
Next, navigate to Device Management. Here, you will be able to see if the device is supervised or not.
After checking, select the MDM Profile and then select Remove Management.
Now, if your device is supervised, a prompt will ask you to input a password. You have to input it at this point.
If it is unsupervised, the process will immediately start.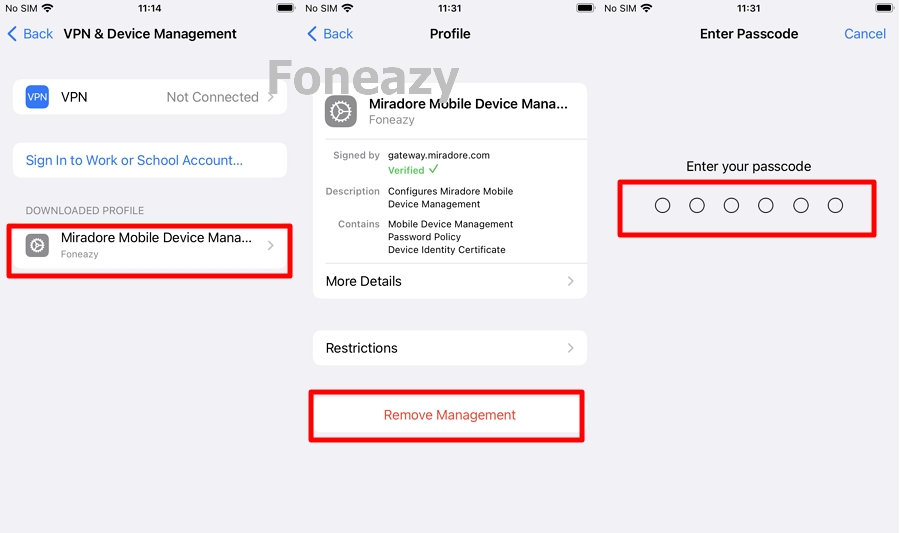 You can see that the process is pretty simple to do if your device is unsupervised.
However, company-provided devices are usually the opposite in order to stop you from removing the MDM easily.
If so, then you'll have no choice but to skip to the next step.
Via the Admin
Your another option is to try to contact the admin. This could be the IT department of your company, or your superiors themselves.
Then you can let the admin remove your device from the MobileIron MDM server by going to the admin control panel.
As you might imagine, this is easier said than done because the chances of them allowing you to remove the MDM is little to none.
There's a reason they put it there in the last place! You'll have to come up with a valid, work-related reason for you wanting to do this.
If you don't have a valid reason other than Instagram and Facebook, then circle back to our first option and use an external software like Unlockit.
It really is your best, and only shot.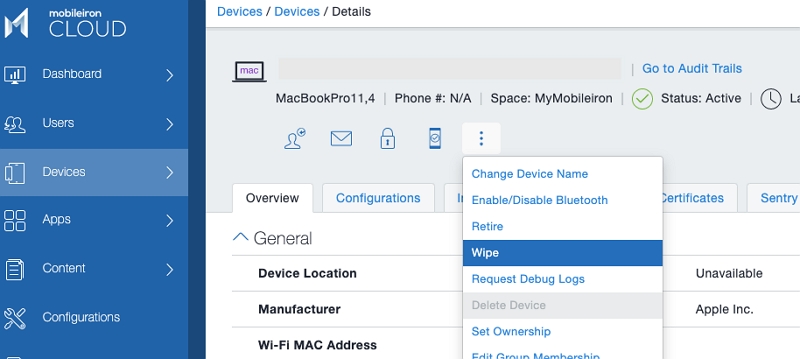 Conclusion
Companies are looking to use MobileIron MDM to improve the security and efficiency of their provided devices.
This, however, makes those devices useless for purposes outside of work.
If your device is unsupervised, you can easily remove its MDM in the Device Management section of your Settings.
However, if your device is supervised, your options are either to ask your admin to remove it, or use external software.
Using Unlockit makes the process easier and faster, making it a more practical option.
If you have any comments, questions, or suggestions, please feel free to comment down below.