Mobile Device Management, or MDM for short, is a tool that allows its members to have remote management over all mobile devices enrolled in their MDM programs.
This is usually utilized by companies, schools, and many others to better manage and control the devices being handed to and used by their members.
MDM comes in different profiles provided by their respective systems. One of these systems is the Lightspeed system. The Lightspeed MDM is commonly used for devices provided by a school to its students.
This article will focus on how to remove Lightspeed MDM through a few simple methods.
Without further delay, let's begin.
What is Lightspeed MDM?
Lightspeed MDM, as mentioned earlier, is a type of MDM provided by the Lightspeed system that is used for academic purposes.
Its cloud-based technology allows multiple devices to connect to a central Apple School Manager. This makes it easier for teachers to manage the devices of their students.
With Lightspeed MDM, you can enjoy unlimited books and access lots of information through the Apple School Manager.
However, the MDM also allows teachers to configure the settings on those devices.
Consequently, they can limit the accessible features to only those that can be used solely for schoolwork and studies.
What Can Lightspeed Classroom Management Track?
Lightspeed classroom MDM can monitor these data on mobile phones with lightspeed mdm installed:
Student name, email address, device information/identifiers
Device location tracking
An aggregate view of the websites the students are browsing
View any student's browsing history
See the top 3 sites students visit most often
See users' online search queries, websites visited or blocked from visiting recorded web activity
Get student status updates, namely: "working" or "done" or "need help."
Gives admins access to view all of the classroom's screens at once
See individual student screens in real time
Quickly see who's checked into your class and who's missing
And more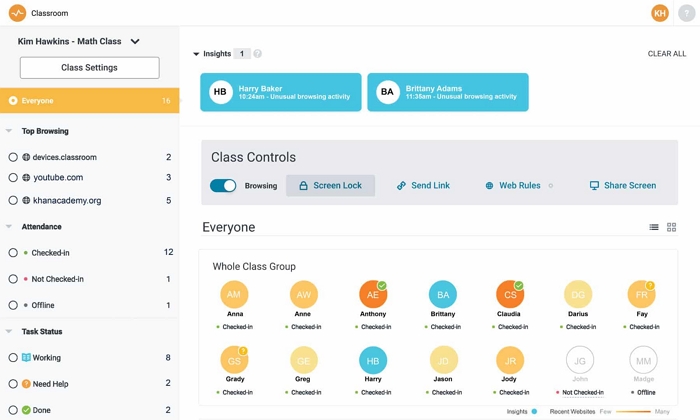 Remove Lightspeed MDM Profile with Password
Now that we're familiar with what Lightspeed MDM is, let's talk about how we can remove it from your device.
Note: It is a general method for doing this, but it will only work if you have the admin password.
If you happen to have the password, here are the steps to get it done:
First, head to Settings on your device.
Next, go to General.
Locate Device Management.
From there, select MDM Profile and then select Remove Management.
After that, a prompt will ask you to input the password. Type it in and proceed.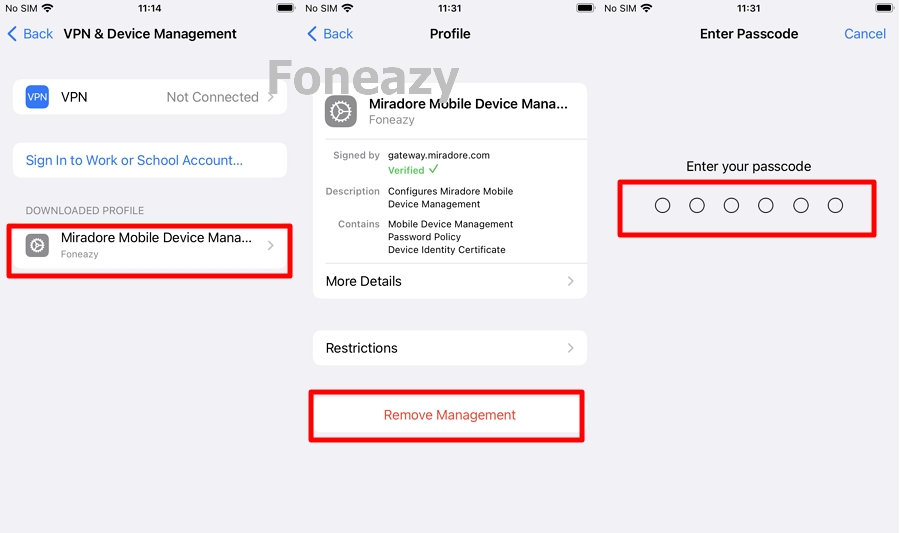 After doing the following steps, the Lightspeed MDM profile on your device should be removed. This can be done with other types of MDM profiles, as well.
If you don't have the password, then you'll have to try your hand with the following methods.
Remove Lightspeed MDM Profile without Password
If the previous method isn't possible for you, you can always try to remove the MDM profile on your iPhone by using MDM bypass software.
One of the best software around is the Unlockit iPhone screen unlocking tool.
Features
Bypass MDM on your device in a few minutes. You don't need any technical expertise to use it.
It is compatible with all versions of iOS and all iOS device models.
It is also an effective solution to unlock all types of screen locks and remove Apple ID without the password.
This tool is pretty easy to use because of its user-friendly interface, and it gets the job done fast.
To remove the Lightspeed MDM profile on your iPhone, just do the following:
Step 1. First, on your computer, download and install the program.
Step 2. After installing, run the app and select the Bypass MDM Lock mode shown in the middle of the screen.
Step 3. Now, connect your iPhone to your PC and make sure the Find My iPhone is turned off and you reach the Remote Management lock screen.
Step 4. Finally, start the bypassing process by clicking Start on your PC.
Step 5. Once you've finished following all these steps, all you have to do is wait and let the app do the rest of the work for you.
After the bypassing process is complete, you should be able to access all the features on your device.
Unlockit also supports removing the MDM lock enrolled by Jamf, AirWatch, MaaS360, MobileIron, Filewave, Meraki, and SOTI MobiControl. Just download it to have a try!
Remove Lightspeed MDM via Admin Dashboard
If you happen to have admin access, or in this case, a Lightspeed manager account, removing the MDM profile on your device will be a lot easier.
However, getting your hands on a manager account would mean that you got permission from the higher-ups, which is pretty hard to do.
Before proceeding with this method, you should check what MDM profile you are enrolled under.
You will need this information later on, so go ahead and check it by accessing Device Management in your Settings.
Once you have the needed information, follow these steps to use your Lightspeed manager account to remove the MDM from your device:
First, head to Lightspeed's website.
Log in using the Lightspeed manager account to access the Lightspeed Management Dashboard.
Next, select Device Management.
After that, navigate through the list and find your school name or MDM profile. Click on it and an interface will appear.
Now, click on the MDM profile you are enrolled under. This is the information you previously searched for.
After that, scroll through the menu on the left-hand side and select Devices.
Find and select your device. If you don't know the name of your device, you can check it through the Settings > General > About > Name.
Next, click on Options found on the upper right-hand side and select "Remove from this group".
Finally, a confirmation window should appear. Click on OK.
After following all these steps, your device should now be removed from the list of devices that are under the monitoring of the school. Congratulations! You can now use your device freely.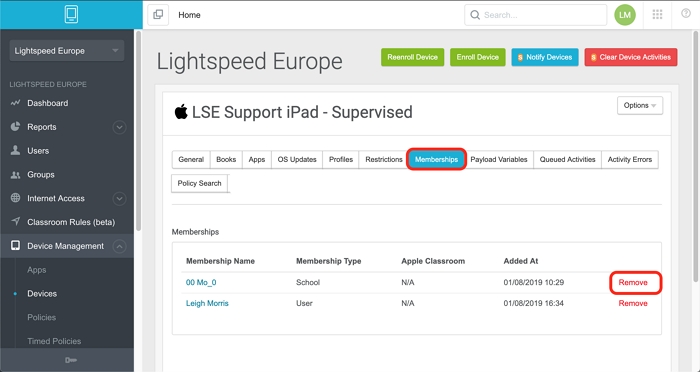 Conclusion
Lightspeed MDM is pretty useful for managing school-provided devices, though it prevents access to a lot of the devices' features.
This makes them practically unusable when it comes to things not related to studies. There are a lot of ways to remove it, as the general method of removing MDM profiles wherein only the password is needed.
If you don't have the password, you can always use external software such as Unlockit, which is easy to use and reliable.
You can also make use of a Lightspeed Manager Account to remove the MDM profile. If you have any comments, questions, or suggestions, please feel free to comment down below.