MaaS360 has seen a quick rise in popularity, with several companies in the Enterprise Mobility Management space preferring it over other solutions.
And if your employer decides to give this tool a go, you won't be able to access many key features of your device and your employer can track how you use your device.
That's probably why you clicked on this article – to learn how to remove MaaS360 from iPhone. Well, let us show you how it's done.
What is MaaS360
MaaS360 from IBM is a SaaS tool that lets you manage BYOD and other devices. It was introduced as a cloud-hosted solution but was later adopted for on-premises use in the corporate sector.
Companies can use MaaS360 to manage iOS, Android, macOS, Windows, iPadOS, and Blackberry.
MaaS360 has a simple enrollment process. The mobile device management system is compatible with all renowned platforms and enables IT specialists to add a new device via QR code.
What Can MaaS360 See?
If your company needs, MaaS360 could collect a significant amount of data. IT administrators can view the following information on a device with maas360 installed:
Determine whether it was rooted, encrypted, or correctly password secured.
GPS Location, geographical coordinates, and history;
IP address and SSID;
a list of all installed applications;
Monitor apps that are delivered through an enterprise App Catalog or that are mandated by the corporate security policy;
Enforce security policies such as password requirements;
Push the remote wipe button from control panel, and all of the data on your device may be erased;
And more...
However, it can not monitor the test messages and call records on your device.
Read also: Does MaaS360 track your browser history?
How to Verify If You Are Supervised by MaaS360 MDM Profile?
To check if your iOS device is being supervised by MaaS360:
Open the Settings app on your iOS device.
Go to the General tab.
Choose Profiles & Device Management.
Click MDM Profile.
If it shows a profile names Maas360, it means that the device is managed by the Maas360 MDM server.
Remove MaaS360 from iPhone Without Password
If the device management profile appears in your device's settings, your iPhone is under strict supervision. In this case, you may want to remove Maas360 from your device.
Unlockit iPhone is such an iPhone screen unlocking tool which can help you bypass MDM lock, turn off screen time passcode, unlock Apple ID, and more.
This tool lets you unlock any iDevice without much effort. Its prominent features include:
Bypass MDM locks without password in a few clicks.
Works with all iOS versions, including iOS 17.
Excellent customer service.
High success rate due to use of advanced technology.
Steps to Getting Rid of MaaS360 with Unlockit:
1. Download and launch Unlockit on your Windows or Mac.
2. On the tool's interface, select Bypass MDM Lock from the options on display.
3. Now connect your device to your PC using a USB cable. Make sure to switch off Find My iPhone.
4. Before going ahead, ensure that your iPhone is locked out of the mobile device management screen. Then you can click the Start button.
5. Once done, Unlockit will start the MDM bypass process.
Give it a few minutes, and your device will be free of MaaS360's restrictions for good.
Unlockit also supports to remove the MDM lock signed by Jamf, AirWatch, MobileIron, and Lightspeed. Just download it to have a try!
Remove MaaS360 from iPhone with Password
If you can get in touch with the IT department, it may be possible to remove MaaS360 from the device's settings with the paasword they provide.
Follow these steps and see if it works for you:
1. Open your phone and tap Settings – General – VPN & Device Management.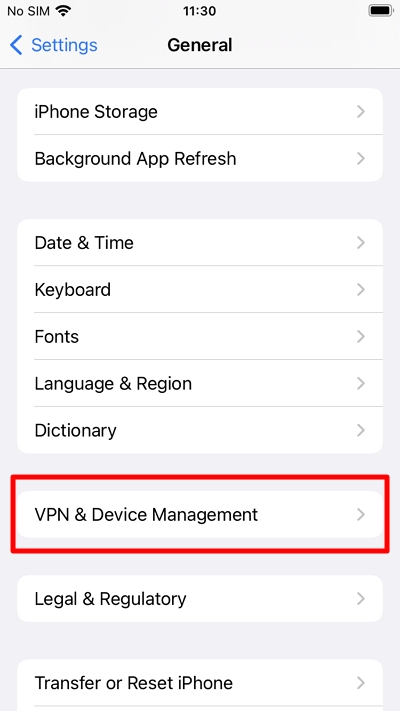 2. From Device Management, select MaaS360 from the options available.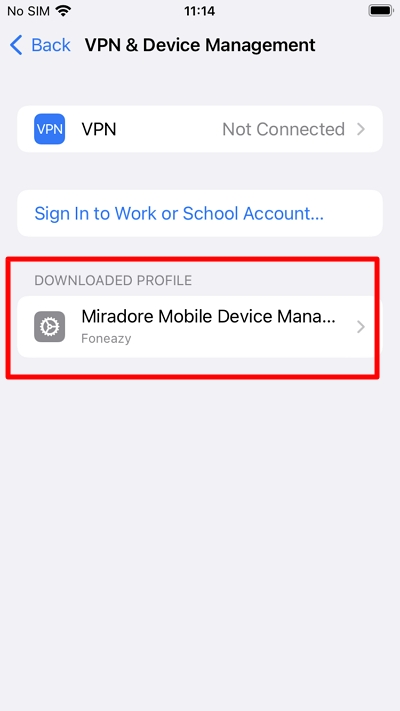 3. Then tap Remove Management.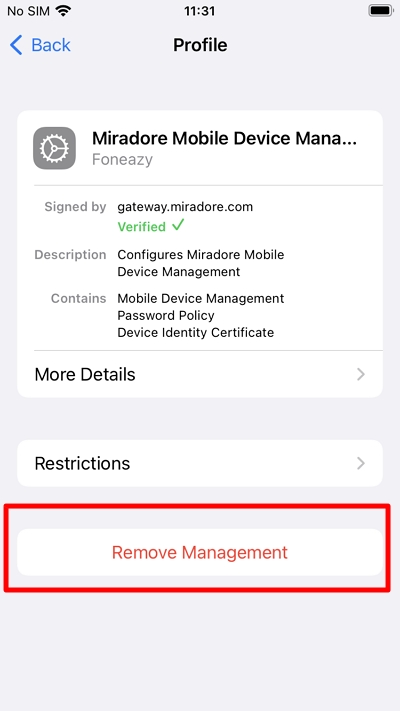 4. Follow the on-screen prompts to delete the MaaS360 profile. For the purpose, the iPhone may ask you to enter the passcode.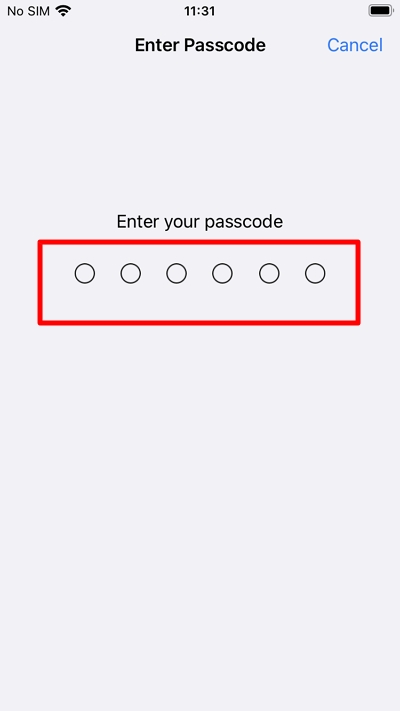 If you cannot remove the MDM profile because of custom configuration, try Unlockit iPhone instead to remove the MDM profile without password.
Conclusion
MaaS360 is a wonderful MDM software that does tons for enterprise productivity and security. However, you might want to bypass it as an employee to be able to access certain features.
Follow the steps above to safely remove MaaS360 from your device, and don't trust anyone asking for payment to remove the profile.
From the software tools available to remove MDM, Unlockit stands out due to its powerful features and swift MDM bypass process.
Moreover, the tool is simple to use and doesn't require you to mail your device to a tech store. So what are you waiting for? Download Unlockit today and get rid of MaaS360.