When it comes to games like Pokémon GO, a GPS spoofer is a must if you want to be able to cover more regions from the comfort of your home.
Whether you are looking for a Pokémon GO spoofer to fake GPS and get steps to hatch an egg or find Pokemon from different locations, this guide is the one for you.
Here's what we will cover:
Different Pokémon GO spoofing apps for iOS
Different Pokémon GO spoofers for Android
How to use Pokémon GO spoofers safely
So, let's jump right in.
8 Best Pokémon GO Spoofers for iOS (Desktop, IPA File and Hardware Solutions)
When it comes to iOS spoofing apps, MockGo is one of the most popular Pokémon GO spoofers running on PC. The app lets you teleport the location of your iPhone or fake GPS walking without physical moving to catch new Pokemon. It has a built-in cooldown timer and realistic speed mode to prevent your account from being banned. Here are its top features:
Pros:
Change the GPS to anywhere in the world in 1 click.
Support entering the address or coordinates to locate the desired location.
Simulate movement using 2-spots or multiple-spots mode.
Change the GPS of up to 5 devices simultaneously.
Support for joystick, GPX import, location history and favorite list.
It supports all iOS devices including the latest iPhone 15 and iOS 17.
The most affordable price in the market.
Cons:
It is only free on the trial version, after which there is a fee.
Here's how you can use MockGo:
Step 1. Download MockGo and install it onto your computer.
Step 2. Connect your iPhone via USB and press the Start button.
Step 3. Choose Teleport mode, then enter the location/address in the search bar and press Go.
Step 4. When the pin has moved to the desired area, click the Move Here button to change your loation.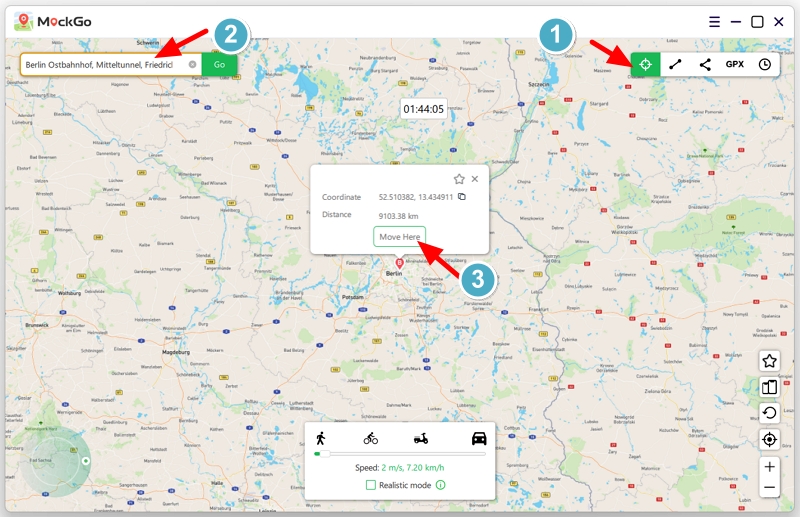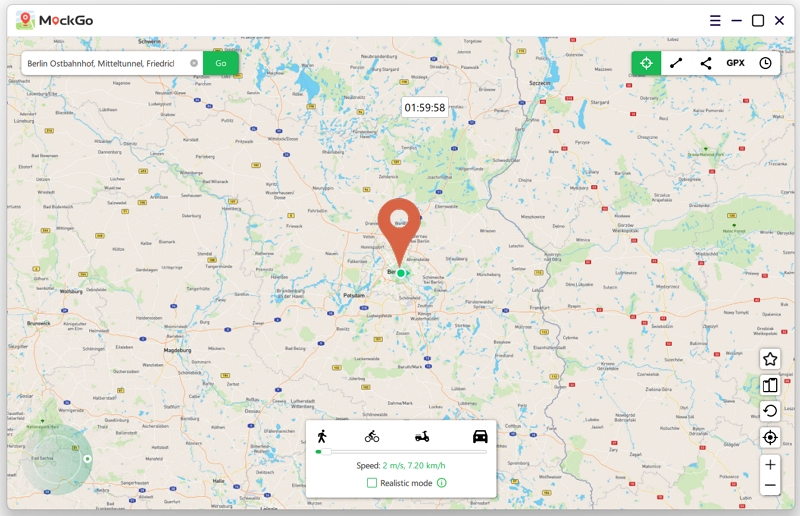 Then check the location on your device. It should show the new location you choose.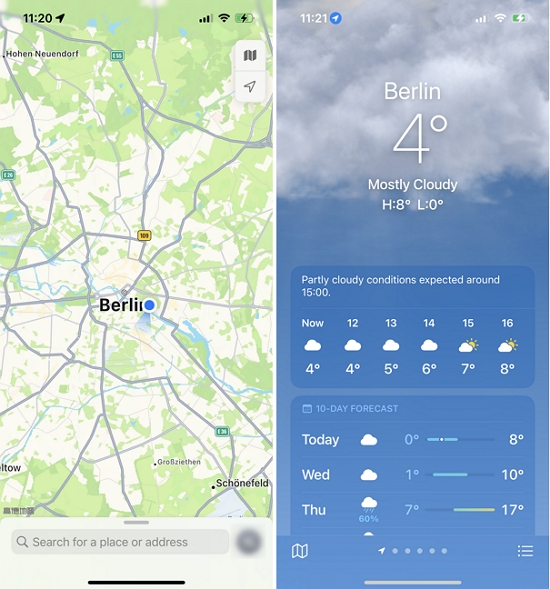 You can also use MockGo to set auto walking in Pokémon GO:
Step 1. You will notice three modes on the main screen of MockGo. Click the 'One-stop mode' option and select your starting location by entering it in the searching bar.
Step 2. Then, move the pin from the map to choose the destination location.
Step 3. Click the 'Move Here' button to start walking.
Step 4. It is now time to select the number of times you would like to move and then click the 'Start' option. The simulation will kick off, and you will be offered a chance to adjust the speed.
Dr. Fone – Virtual Location can also fake GPS for Pokémon GO and help your Pokémon GO character to move to various locations using its map interface.
Pros
There is no need to jailbreak your iPhone to use Dr.Fone - Virtual Location.
The one-click Pokémon GO spoof solution for iOS makes it simple to use.
You can also simulate walking between different locations at your own speed.
Cons
Doesn' t support Android devices.
The App installation process is complicated. You must first install the drfone suite before installing the GPS changer app.
Threre is no lifetime plan. And the one-year plan is much expensive than other tools.
To use Dr. Fone – Virtual Location, follow these steps:
Download Dr. Fone – Virtual Location from their official website and install it on your computer.
Launch the app and connect your iPhone via USB.
Choose the Virtual Location option and select Get Started.
Click Teleport from the toolbox and enter your desired place and coordinates into the empty field.
Then, position the pin onto the exact location and select Move Here to virtually move your character around that area.
3. LuckLuckGo
Another easy to use Pokémon GO spoofer for iOS is LuckLuckGo. With this application, you can teleport the GPS of your device and make it to any other location you wish to be at. Also, you can use this tool and fake the movements in a 2-spot route or multiple-spot route to let your hatch the eggs without walking easily.
Pros
Lets you change locations with one click.
You can pin previous locations of interest.
Two-spot moment lets you mimic movement.
Supports joystick controls for easy navigation.
Cons
It is not free to use.
There isn't a lifetime pricing plan to choose from.
If you're wondering how this tool works, here's a simple guide:
Download the LuckLuckGo tool on your computer, and install it.
Connect your iOS device to the computer and press Start.
Find the location on the pop-up map and set it to where you want to be.
However, even with its low ban rate, it is a costly app for the features it provides. We wouldn't recommend it for people who change their location frequently in the game.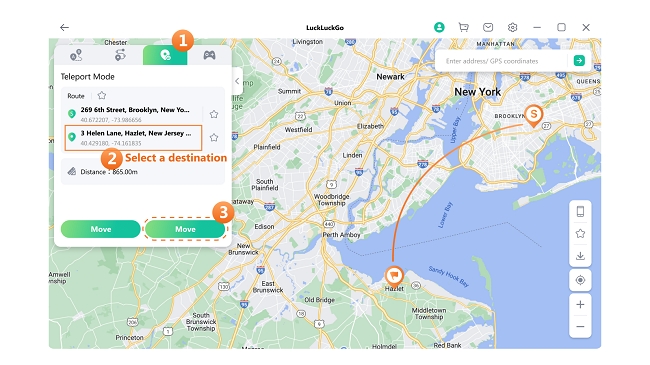 ThinkSky's iTools is another famous location spoofer app where you can fake your GPS location for Pokémon GO in just a few taps.
Pros:
iTools does not require jailbreaking your device to function.
Premium users get unlimited options for location spoofing.
iTools can back up and restore your iPhone data.
it runs on every system version.
Cons:
Only three location changes are allowed in the free version.
The premium plans start with $34.95.
The interface of iTools is a little complicated to operate.
To use ThinkSky's iTools, follow the steps below:
Download iTools Virtual Location from ThinkSky's official website and install the app on your computer.
Connect your iPhone to your PC via USB. Ensure that Pokémon GO is closed before launching iTools Virtual Location.
Launch the app and navigate to Toolbox > Virtual Location.
The map should show your current location. Use the search field to enter your desired destination or drop a pin onto the map to go to that exact location.
Let's look at the pros and cons of iTools before you go ahead with the download:
iPoGo is a another popular Pokémon GO spoofing tool which allows you to spoof your location and play AG games such as Pokémon GO in the comfort of your home.
Not only does it include the ability to spoof your location, but it also includes Pokémon GO Plus (Go-Tcha) emulation.
This emulation feature allows you to trick the Pokémon GO app that you actually have a Plus or Go-Tcha connected to your phone.
Combining this feature with GPX routing, auto walk, and auto-catching, you can have a fully functioning Pokémon GO bot that will do all the work for you.
Also, to stay on the safe side by spoofing your location and combining bot features, iPoGo allows you to set item limits for each item in the game so you don't get unwanted extra items.
iPogo costs $4.99 per month and is now available for both iOS and Android devices. You can download iPogo via its official website.
Now let's look at the pros and cons of this app:
Pros:
It functions as an automated version of Go-Plus, allowing you all the benefits of the device without having to purchase the actual physical device.
You can also set it up to skip catching Pokémon unless they are the more valuable shiny Pokémon.
It is very easy to use.
It supports both iOS and Android.
Cons:
There isn't a direct way to install iPogo onto your device.
It is risky to use this tool to play Pokémon GO.
It is a subscription app.
6. Spooferx
Spooferx is a tool made especially for GPS-based AR games like Pokémon GO. It allows users to spoof their location to practically wherever they want without being detected. On top of that, it also helps stimulate fake movement in the games, like walking, running, etc.
It doesn't have a lot of features and is pretty basic, but it's effective enough for gamers that are just starting off. Here are its top features:
Saves location histories for a quick teleport
Let's you make custom movements
It is free and works well
Here's how to use this free spoofing app:
Ensure you have iTunes on your computer and download Sideloadly and the IPA file for Spooferx.
Connect your device to the computer and drag the file to Sideloadly.
Now press Start and wait for the map to pop up. Adjust your location.
Sadly, it doesn't come with any joystick function to make gameplay easier.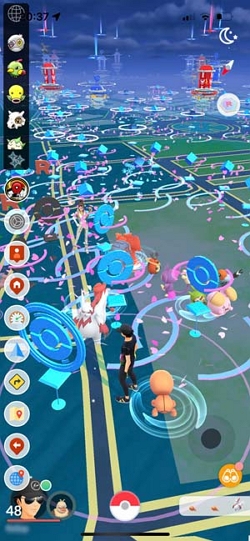 7. iToolsBT (Hardware for iOS)
While jailbreaking your device or using modified Pokémon GO versions for non-jailbroken iOS devices is easily detectable, another newest and the safest option as of now is the iTools Hardware.
iTools Hardware is a small device that you connect to using Bluetooth and yet this device allows you to spoof your location while you're playing Pokémon GO.
Therefore, you won't have to jailbreak your device, download any third-party game versions on your iOS device, and yet you'll be able to benefit from location spoofing without getting detected.
This way, you won't have to use fake accounts and you can enjoy spoofing your location using your main Pokémon GO account.
iTools Hardware device costs $79 which might seem a lot but considering it's the safest option, you might not have a better choice for a cheaper investment.
If you happen to invest in hardware that will help you safely spoof your location while playing your game, here is how to use iTools BT.
Download the TestFlight app to your iOS device.
Go to setting > Reset > Reset the location and network settings.
Turn on flight mode and disable location service in your iOS device's privacy settings.
Power on the BT device and open the BT app.
Teleport to a random place and accept the location service when it pops up.
If you aren't able to successfully connect the device, keep in mind that the iTools BT device can connect to only one iOS device at a time.
You have to use the original charging cable to charge the Bluetooth device, and you should never charge it using third-party chargers.
8. GFaker (Hardware for iOS)
The other way you can simulate GPS movement on your iOS device without jailbreaking the device is to use plug-and-play GOS modules such GFaker and Double Location.
These are physical devices that you connect to the device via the lightning module to help you simulate the GPS location to anywhere in the world.
The main advantage of using these tools is that they work on the system level, meaning that they can simulate movement across all apps on your iOS device.
They can however be very expensive, although they are also very accurate, allowing you to get a more realistic location with the longitude, latitude and altitude. They also provide a more realistic movement simulation.
Since they work system-wide, you can effectively use them to fake GPS location and movement to play Pokémon Go without having to worry that any app updates with interfere with the simulation.
The app is also less likely to detect location spoofing done this way, reducing the chance that you could get banned.
6 Best Pokémon GO Location Spoofing Apps for Android
1. Fake GPS Location – GPS JoyStick by The App Ninjas
If you have an overlay joystick controller, you can use it with the GPS JoyStick app from The App Ninjas to mock locations in Pokémon GO.
The best feature of the GPS JoyStick app is the flexible location choices given to the user.
You will have three location hack options to choose from, and from those, you can configure each of them to your liking.
The three location hacks are:
Manual Location - Use latitude and longitude coordinates to set the mock location manually. You can also use the search function to select the location.
Current Location: Choose this option if you want your current location to be the mock location. The app will use the in-built device GPS to locate your current position.
Last Location: This option is best if you want to go to the previously saved location.
The app also offers amazing features such as changing the settings of the movement speed or moving the character to an already predefined position.
2. Fake GPS Joystick & Routes Go by IncorporateApps
For the low one-time price of $3.99, Fake GPS Joystick & Routes is a spoofing app for Pokémon GO. You can enjoy the game to its fullest with the app's advanced features and operational modes. Some of these modes and features include:
Joystick movement for manually moving the character.
Auto-movement of the character to the desired location (within the radius).
Customize the speed of the character.
Option to update intervals.
However, there are other features specifically made for the Pokémon GO player. For a better spoofing experience the app has an expert mode. The app can also keep track of all your location in its history that you can access later.
It also has the option to add any custom location to the favorites list, which can be accessed anytime you're playing the game.
3. FGL Pro
FGL Pro is also an outstanding application when it comes to Pokémon go spoofing.
One aspect of this app that makes it stand out is that it has both advanced and essential Pokémon Go spoofing highlights.
The software allows you to employ fake GPS as if you're strolling, driving, or doing something else. It also functions well with other area-based apps.
However, it comes with a few challenges, including the fact that it comes with ads that become irritating at times.
For someone using the app to spoof Pokémon Go for the first time, it is easy to use. These might be the reasons why it might not turn out to be a suitable pick.
4. PGSharp
PGSharp is one of the best spoofing apps to use, particularly if you are worried about Pokémon Go detecting your spoofing activities and blocking or banning your account.
You don't need to root your device to use PGSharp to spoof the location on your device, nor do you need to install any additional apps to support its function.
You just need to install the latest version of PGSharp on to your devices, select the preferred location to spoof to on the map and play Pokémon Go.
You can get the free bets key version from the app's official website.
5. Fly GPS for Pokémon GO
If you're looking for a free and one of the oldest spoofing location apps. Then, you can check out Fly GPS, which has a large user base. Many Pokémon GO players use this app without any hassle.
This is the reason why many trust this Pokémon GO location spoofing app which is available on Android.
The advantage of Fly GPS is that you have an on-screen joystick available to you when playing Pokémon GO. You can use the joystick for many actions such as:
Easy navigation for the character on the map.
Ability to catch all Pokemons who are nearby in the area.
Go to PokeStop to collect items.
Visit PokeGyms around the city and battle.
You can perform all these actions from the comfort of your home. You do not need to leave your couch and go out.
The app also has many great features like searching a location, adding your favorite location, saving location history, and more. All of these features help you to catch a rare or legendary Pokemon.
6. Fake GPS Location – Lexa
Lexa has developed one of the best GPS spoofing app, the Fake GPS location app. It has the default tap-and-go location changer that you would expect from a GPS spoofing app. However, it has more to offer with its advanced features.
You can also pair the app with the automation app, Tasker, to automatically generate fake locations. You can hide a specified location in the game. It also gives you the option to search for any location and manually drop a pin on the map.
You can also search a location from the list of past visited places. You can install this app on your android smartphone for free.
FAQs
Can I Use VPN To Spoof Pokemon Go?
No, you can't. Another popular complaint Pokemon GO users make is that a VPN doesn't spoof their location in the game. This is because a VPN changes your IP address, whereas a location spoofer changes your GPS coordinates. There's a big difference between the two, which is why VPN doesn't work for Pokemon GO.
GPS spoofers interact directly with satellite geo-detection signals; a VPN cannot do that. Instead, it only acts as a proxy or masks your online identity. If you use a VPN with Pokemon GO, not only will you be unable to change your location, but the game might load much slower.
How to Use Pokémon GO Spoofers Safely?
If you don't want to get detected, receive a warning, or even worse yet, get banned from the game, you should use the spoofing apps or devices respectfully. This means that you should not change the location too quickly as you can easily get detected by the developer.
The developer catches any unusual behavior with the help of GPS data analysis so if you want to spoof your location and yet still go undetected, you should never change your location too quickly or frequently.
And even when you change location to catch a Pokemon, you should do it quickly as it won't leave a data trail that developers can use to analyze. Spoofing for more than 15 minutes can definitely raise a red flag.
Therefore, following teleportation cooldown chart can help you learn how much you should wait before spoofing another location, depending on the distance you've spoofed so far.
Conclusion
You can never be too sure when it comes to spoofing apps for Pokemon GO. That's why I'm recommending Foneazy MockGo as the best app for the job. Not only is it easy to use and affordable, but it also has a very high success rate.
The best part? It comes with a built-in cooldown timer based on your location skips. This prevents your account from being shadow banned or blocked in the long term. Plus, you can easily make routes, mimic realistic movements, and set location history.
With so much to offer, its the best choice to make. I know I would use MockGo. Would you?